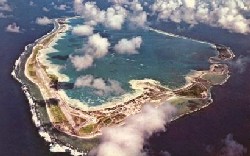 Kanton Island as seen from the air.

History of Kanton Island

by Peter McQuarrie, ZK3PM

Kanton (formerly Canton Island) is a small atoll in the remote Phoenix Group in the Central Pacific. It is a desert island, one with very low rainfall, situated close to the Equator. This perhaps explains why it is one of the few islands in the wide Pacific Ocean that had no traces of human occupation when it was first discovered by white men. It was reported that in 1937 there were only 11 coconut palms growing on the island, not enough to sustain human life.

The British claimed Kanton and several other of the Phoenix Islands in 1937, making them a part of the Gilbert and Ellice Islands Colony (now the independent countries of Kiribati and Tuvalu). The idea was to resettle people there from the over-crowded Gilbert Islands and also to use Kanton as a refueling stop for Trans-Pacific air routes between Hawaii and Australia.

Canton Island then became a bone of contention between the UK and US governments as the Americans did not recognise the 1937 British claim to Canton and in March 1938 the US President signed an Administrative Order placing Canton and Enderbury Islands under the jurisdiction of the US Department of the interior. Both sides in the conflict stationed small numbers of occupation forces on Kanton and for a time a three man British force stood guard over the Union Jack in the south, while a seven man American team watched over the Star Spangled Banner in the north. The matter was finally resolved in April of 1939 when London and Washington signed an agreement for joint administration of Canton and Enderbury for 50 years. The two governments agreed that they would set up joint control and allow the islands to be available for use as airports for international civil aviation. But only British and American airlines would however be permitted to use the airports.

When the Japanese bombed Hawaii in December 1941 and brought America into the Second World War, work was already under way on the airfield and a passage for ships had been blasted into the lagoon. The Americans hastened to complete the base for military purposes and the first land planes (B-17 bombers) landed at Kanton in January 1942. The US Army then sent 1124 troops to the atoll in February 1942 and the remains of the wreck of their chartered ship, S.S. President Taylor, can still be seen on the reef today. The ship missed the entrance to the lagoon and became permanently stuck on the reef.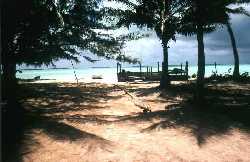 View to the lagoon from the village.

In the late 1930's Pan American Airways developed a seaplane base at Kanton as a stop over point for flights to Auckland, New Zealand. In 1940 the Americans approved the spending of $1.5 million on dredging work in the lagoon and on building runaways for land planes.

At the end of the war all Americans left the island and for a time the British maintained their small settlement at the south of the atoll but this was abandoned in the late 1960's. For a time Kanton was uninhabited again and then the US Air Force returned and set up a missile tracking station.

It was not until the mid-1970's when the US Government realised that its claims to many islands in the Pacific would adversely affect the friendly relations it wished to establish with newly independent nations, that it dropped its claims to Kanton and many other islands. Kiribati became independent from Britain in 1979 and since then the Kiribati Government has maintained a small care-taking presence on Kanton.
Double Trouble banner on Kanton Island.
My visit to Kanton Island
by Lech Tomczak, LA7MFA
I have been part of Double Trouble DXpedition to Kanton and Fakaofo in September and October 1999, and I stayed on the island for 11 days. I would like to express my gratitude for the people of Kanton, and in particular Mr. Roma, for their great hospitality. I would also like to thank Peter McQuarrie ZK3PM and Ueata Tetabo T31UT for their assistance in getting landing permission and amateur radio licenses in place. Without their effort this expedition would most probably not be possible. It has been my pleasure to have met you.
I would like to thank captain of our vessel Te-Ni Arnold, and his wife Jytte 3D2AJ for all the work they have done for this expedition, and for bringing us safely back to American Samoa.
On behalf of myself and entire team I would like to thank all our sponsors and contributors, and in particular our main sponsor NCDXF, for making this DXpedition possible.
Last but not least, I would like to thank the DXpedition organisers Mats SM7PKK and Nils SM6CAS for letting me be part of the team, and all the planning and administrating job they have done. Finally I would like to thank remaining team members Erik SM0AGD, Steve G4EDG and Ulrika SM6WYN for all support and patience they have shown during the trip and operation.
I will keep these great memories deep in my heart!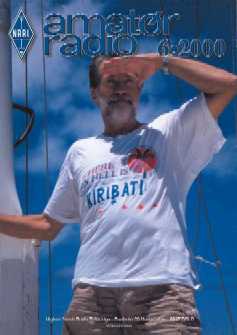 Erik SM0AGD looking out for Kanton.
With Double Trouble to Kanton
by Lech Tomczak, LA7MFA
It was just a coincidence. I would never expect to be granted 5 weeks leave from my office, and even more that my fiancée Mette would let me be away from her for so long. But when in July last year I saw an announcement on internet, where Mats Persson, SM7PKK was looking for an extra operator for his next Pacific DXpedition, I decided to give it a try. I have been licensed HAM for 20 years (SP5LGT since 1979 and LA7MFA since 1986), and I have never been on a real DXpedition. I was inspired by Einar Enderud, LA1EE I guess. I have known him already at the time of his fantastic DXpeditions to Peter I and Bouvet in the late 1980-ies. Last year in April, on the annual meeting of LADXG, which I am a member of, having heard his presentation of his sole trip to Tubuai (FO0EEN), I decided to plan a DX vacation with my YL. But I was never thinking of going on an expedition of such a scale.
I did not know any of the team members, which worried me. Erik Sjölund, SM0AGD was one of my DX idols already during my first years on the radio. He is a member of LADXG too, and I have seen him a couple of times on the DX meetings in Norway. I have had numerous QSOs with Mats during his backpack trips to the Pacific some 10 years ago, and later as 5X1Z. The only thing I knew about him was that he was an excellent operator. When in the end of July I received a telephone call from Nils-Göran Persson, SM6CAS, stating I was accepted, I would not believe it. I was one of two main CW operators of the Double Trouble Dxpedition to Kanton in Central Kiribati (read Kee-ree-bas) and Tokelau. I was the only newcomer in the group.
After summer holiday I spent most of my spare time designing our DXpedition's WEB page. This gave me an excellent opportunity to be acquainted with other team members, in particular Erik and Steve Taylor, G4EDG. Erik has been to these islands before. During his DX odyssey 17 years ago he operated from Kanton, while it was still under joint administration of USA and Kiribati, and counted both as T31 and KH1 for the DXCC.
I also spent many hours practising reception of Morse code with the RUFZ software, which I warmly recommend. I have never run real big pileup, and was afraid I would not handle it. I also bought flippers and snorkelling mask. At that time I was still thinking, I would have time for something else than radio. I received all recommended vaccinations, and made sure with my insurance company, that I would be picked up, and transported to the nearest hospital in case of emergency. I also brought with me a package of antibiotics, which is a must on a trip like this. I spent entire last week weighing every item I was to take with me. I was bringing my own IC751A, Butternut HF9VX vertical and lots of cables and accessories for Erik's low band antenna. As I only could take with me 20 kg in addition to hand baggage, there was not much space left for clothes.
It took me 35 hours to fly from Oslo to Pago Pago in American Samoa, via London, LA, Hawaii, and Apia. Next time I will for sure stop over in Hawaii. These islands look beautiful from the air, and already on the airport one could feel this special pacific atmosphere. Several hours later I landed in Apia, capital of the Western (independent) Samoa, where policemen were wearing skirts, and every tourist had a garland made of beautiful flours around a neck. I waited here a couple of hours, and after 45 minutes in a tiny Twin Otter I was finally in Pago Pago.
One of Force 12 C3 antennas was set up for testing in front of Apiolefaga Inn on Tutuila.

Here I joined the rest of the team. Steve, Nils and his daughter Ulrika, SM6WYN have already been on the island for a week preparing for our departure. Steve has made a great job cleaning and completing the antennas previously used on the Dxpedition to Conway Reef in 1995. One of the Force 12 C3 yagis was set up in front of the hotel for testing. But there was not much time for the radio. Steve has made over 300 CW QSOs during weekend with the callsign KH8/G4EDG.

I was lucky to be able to try my strength in the pileup already during the first evening. I came to Pago at 9 o'clock in the morning, and in the evening I was extremely tired. When the rest of the team left for the dinner in the city, I decided to stay in the hotel. I was using my American license KH8/KK6HC, which was never activated before, and was to expire in February year 2000. I had some problems with the pileup in the beginning. I even heard that I was being "LID" operator. How am I going to handle the T31 pileup? - I thought. This was not very motivating. I guess nobody knew I spent almost two days on the plane, and had real difficulties keeping myself awake. But after some time it improved, and I even started to enjoy it. The conditions to Europe opened up, and one of the first European stations in the log was Janne SM0DJZ, our pilot in Europe, who took over administration of our WEB page, and was our contact with people back home. I met him last year on LADXG meeting in Oslo. Janne is a great operator and a very fine person. A bit later I suddenly heard a callsign of my own brother Piotr, LA9HFA. It was a great feeling. I was talking to my family on the opposite side of the globe. My heart was beating real fast. But when I answered him, he did not come back. Instead there was at least 100 other stations calling on the frequency. Was it really my brother? I continued calling him, and after a few times the frequency become so clear, that he came through the QRM. But we were not given much time for a family chat. I just wanted to tell him that everything was OK, and that I was in a good health. Again people started tuning, sending "LID", "99" and other not very sympathetic words. Everything has its price. Now I understand why so many DX stations avoid working in the pileup, and prefer working a few normal QSOs. During 3 hours of this evening I logged over 500 CW QSOs on 20 and 15 meters.

Ueata's hut on Kanton was used as SSB shack of T31K.

We spent two next days shopping. We planned to be away for more than 5 weeks, and in addition we had to bring food and other articles for the people of Kanton and Fakaofo. The supply ship from Tarawa has not called in on Kanton for several months. People there had shortage of flower, rise and other important articles. Nils' linear amplifier was mistakenly sent to Russia, and never returned back. Fortunately we were able to borrow FL922A linear amplifier from Larry AH8LG, American HAM who was permanently living on the island. Larry stationed on Kanton 20 years ago, and was one of the last Americans to leave the island when Kiribati became independent. Larry had a small printer shop in downtown Pago Pago. He sponsored the banner for the DXpedition and T-shirts with the logo of our main sponsor - NCDXF.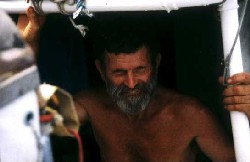 Husband of Jytte 3D2AJ, Arnold Captain was a real "flying" Dutchman.

Thursday September 16th the boat was packed full with food, antennas, generators, fuel and the radio gear. We were ready to leave the harbour at 18 o'clock in the evening. The trip to Kanton was supposed to take a week, while many of us have never sailed on the open sea before. We become instantly seasick, the motion pills did not help much. Jytte 3D2AJ, wife of our captain, stayed with a friend in Pago Pago, while her husband Arnold was to sail us to Kanton and back in their 70 foots Te-Ni. He was a real "flying" Dutchman, and even his second name was Captain.

We had little wind in the sails all the way to Kanton, and were forced to use engine. We had to be there before the weekend. Every day we had a sced with Peter ZK3PM on Fakaofo, and later with Ueata on Kanton. Erik tried to send and receive e-mails to our pilot in Sweden via a packtor link, but it did not work very well, and many times he had to give it up. After 3 days of sailing we reached Fakaofo. 24 small islets comprise an atoll of the size of 9 square kilometres. We stopped outside of the main island, while Peter ZK3PM came out in the motorboat with his stuff. He was travelling with us to Kanton as a tourist.
Peter, ZK3PM talking to Ueata on Kanton.

Peter has been living on Fakaofo for more than 2 years, working for New Zealand Telecom. His wife was I-Kiribati from Tuvalu, and he spoke fluent Kiribati. He has been talking to Ueata on Kanton for over one year now, and finally he had a chance to meet his friend. It was Peter and Ueata who helped obtaining licenses and landing permissions on Kanton. Without their help this DXpedition would probably never become a reality. During our conversations Peter and Erik found out that they had met before. Peter was working as Telecom officer in Tuvalu, and it was him that issued Erik's licence many years ago. Both were on Tuvalu at the time of an accident, in which a woman had fallen out of the sailboat during a nights sailing. Her husband, who was asleep at that time, did not find his wife on deck when he woke up in the morning. Erik was taking part in rescue action with his IC735 mounted in the cockpit of the small rescue plane.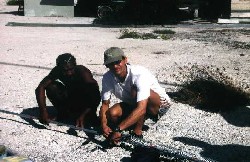 Lech LA7MFA and Tamiano are mounting the Butturnut HF9VX antenna.

It took another 4 days before we could finally reach Kanton. We were tired of being seasick, and exited to go on land. There was a man waiting for us in the port on Kanton. Tamiano was living alone here in a small hut 3 km away from the village. An hour later a couple of policemen in uniforms came on their bicycles. Mr. Roma who was representing Kiribati government, police, immigration and customs, welcomed us on the island. Then he started his customs and immigration proceedings. Roma has been working as a seaman on a German trade ship for many years, and even visited Norway. Suddenly a tracktor showed up with a trailer full of people from the village. They brought us coconuts - a welcome drink. The sun was high in the sky. We had to use a lot of sun block and drink a lot of water. We were almost on the Equator, and it was extremely easy to get too much sun. It took a couple of hours to load off the boat, which was then moved by Arnold into the lagoon.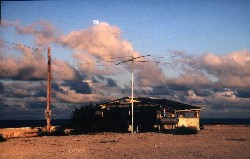 Ueata's cottage was used as T31K shack.

In the port area there was many primitive cottages, which were used by the villagers for picnic purposes etc. These were perfect for our demands, and we decided to set up the camp here. Already at 12 am the C3 yagi of CW station was up behind the hut belonging to Mr. Ruka. 17 years ago Erik had his shack in the building next by. There was not much of it left. We used it as a shelter for our generator. Steve G4EDG was first on the air on CW with T31T callsign running only 100W to start with. My IC751A could not be connected directly to Larry's linear amplifier. Later in the evening Arnold found an old relay on the boat, and Steve rewinded it to 12 V.
Erik SM0AGD talks to Mr. Roma, who bicycled 3 km everyday to bring us our daily bread.

Half an hour later Erik was QRV on 30m and later on 40m using only my Butternut HF9VX connected to his IC735 and 600W PA. The vertical was placed on the beach in the lagoon. The cottage where Erik set up his Low Band/RTTY/WARC station belonged to Peter and Kabaneiti, the preacher and the schoolteacher from the village. Another C3 yagi was up at the SSB station T31K behind the cottage that belonged to Ueata. This was Mats' Nils' and later Ulrika's QTH. SSB station had two TS570 transceivers and one Power Alpha linear amplifier. One of the stations was used exclusively on 6m. The next day we erected another Force 12 yagi, this one for 12/17m, and Erik's Battle Creek Special vertical between the CW and Low Band stations. We could exchange the antennas between our two stations, and Erik used our C3 yagi for the RTTY operation. HF9VX vertical was later moved to SSB station, while we received a 30m vertical in replacement.

We were ready for operation, and the conditions were great, at least during the first weekend.

to be continued ...