Profile:
Ronald D. Dole, Jr.
KA1EFO

---
My name is Ronald D. (Ron) Dole, Jr., and I am 39 years of age. I consider myself to be one of those lucky individuals lucky enough to have their lifelong hobby become their profession. I hope that a look around my website will give the visitor an idea of all the opportunities that an interest in communications has afforded me.
First Steps In Radio:
I was first introduced to shortwave radio at about the age of five by my father (Now KA1EFC). I spent many happy hours listening to ships at sea, aircraft flying the transatlantic air route and numerous shortwave broadcasting stations from around the world. I learned to copy Morse Code at the age of 16, and have not waivered over the years in my enjoyment to copying the dots and dashes. In the autumn of 1979, I enrolled in an Amateur Radio Licensing course sponsored by the Local Northshore Repeater organization. In January of 1980, I was issued a Novice License and assigned the callsign KA1EFO by the Federal Communications Commission. I have remained an active an enthusiastic Amateur over the years.
My Seafaring Years

Hailing from a family with a longstanding maritime tradition, the idea of going to sea held a great deal of attraction for me. Begining in the autumn of 1980, I began preparing for, and taking all the necessary examinations required by the Federal Communications Commission and the United States Coast Guard to allow me to sail the oceans of the world aboard American Merchant Ships as a Radio Electronics Officer. I began my seagoing career in April of 1983 and continued to sail on a number of different vessels until October of 1995. I spent the period from March of 1986 until October of 1995 aboard the M/V OMI MISSOURI/WBKX.
Back To School
After leaving the Sailor's life in late 1995, I completed a full course in PC Networking/Techniclal Support at the Computer Learning Center in early 1997.
Six Months "On Ice"
From August of 1997 until January of 1998, I had the opportunity of a lifetime to work "On the Ice " for the National Science Foundation at McMurdo Station, Antarctica.
Behind The Microphone Again
Since November of 1998, I have been employed as a Police/Fire/EMS/911 Dispatcher for the Town of Boxford, Massachusetts at the Boxford Communications Center.
Computers and KA1EFO
I first became involved with computers in 1986 through continuing education and training courses provided by the Maritime Institute for Advanced Graduate Studies, (MITAGS) in Linthucum Heights, Maryland. I have owned my own PCs since 1990 and presently am using a Dell Dimenison XPS333 with a 330 MHZ Pentium II processor, 8.1 GB Hard Disk and 128 KB of RAM. In addition to using my PC for various Amateur Radio related purposes, (Logkeeping, Packet Cluster checking etc.) I enjoy surfing the internet, creating webpages, and working with graphic images.
KA1EFO Off The Air.
When not chasing DX on the hambands, or having a look at what's on the World Wide Web, I enjoy all sports and travel. I have visited my good friends Collindy and Ian Cameron in Australia on two separate occasions in 1988 and 1996. I also spent an extensive amount of time travelling through the Eastern European country of Bulgaria in 1993 and 1994.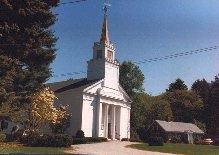 My QTH: Boxford, Massachusetts U.S.A.
Amateur Radio Station KA1EFO is located in the town of Boxford, Massachusetts. Located in Maidenhead Grid Locator Square FN2MP Situated in the Northeastern corner of Essex County, Boxford lies approximately in geographical coordinates 70°-39.8 North lattitude and 70°-59.8 West longitude. The capital city of Massachusetts, Boston is approximately 25 miles, (40 KM) to the south and the Atlantic Ocean with it's beaches and rolling surf is only about 9 miles (15 KM) away. The geography of the region is dominated by rolling hill country which boarder the Merrimack River Valley. Boxford was first settled in 1652 and was incorporated as a town in 1685. Approximately 8,000 residents now live in the community.

A rural farming community for most of it's existence, the last 20 years or so has seen the town become much more of an upscale, white collar residential community. With over 105 miles (169 KM) of paved roads, the town sprawls over a large area. Town residents enjoy a town operated beach, a number of playing fields, tennis courts as well as numerous hiking and walking trails. Commercial activity in the community is limited to two general stores, one italian cuisine takeout restaurant and a number of small home operated businesses.

Community Services include a full time Police and Public Works Department, On-Call Fire Department, Elderly Housing, numerous athletic activities and a Community Center. Tourists are attracted to the town for the annual Strawberry Festival held each June and the Apple Festival which is held each year during the month of October. A 6-KM Road Race is held each July 4th just prior to the town's traditional Independence Day parade and festivities. Historic cities such as Gloucester, Salem and Newburyport, (The birthplace of the United States Navy) are but a short drive away.
Boxford enjoys four distinct weather seasons each year. Spring usually does not begin in earnest until late in April or early May and is generally wet and mild. Summer lasting from June through September features periods of intense heat and humidity broken by clear and cool weather coming down from Canada. Autumn is a brillant season here punctuated by the brilliant colors of the leaves on the trees against a deep blue and clear autumn sky. Winter usually begins in late November or early December and can be quite snowy and cold.



Links





© Copyright 1999 KA1EFO WEB PRODUCTIONS