, but our port calls were quick ones. I enjoyed the fact I had a little more time to explore the countryside.

After discharging the last of our second cargo at Haifa, we headed back across the Mediterranean Sea, Atlantic Ocean and Gulf of Mexico and then up the Mississippi River to New Orleans, LA where I signed off the vessel for my scheduled leave.

I rejoined the ship in early September in Houston, Texas. My next voyage aboard WBKX would be with a cargo of grain down through the Panama Canal for discharge at Callao, Peru,Antofagasta and Arica, Chile. Northern Chilie is quite arid and has not seen appreciable rain for sometimes decades at a time. In Arica, we dumped the cargo directly on the dock since there was no fear of the grain being damaged by rain. Upon completion, it was a trip back north through the Panama Canal and then on to Norfolk, Virginia to load a cargo of coal for Alexandria again. We returned to the U.S. in mid-December calling at the port of Houston.

1988
I rejoined OMI MISSOURI in mid February of 1988 at the port of Port Manatee, Florida. The vessel loaded a cargo of "DAP", (Diamonium Phosphate fertilizer in Port Manatee and Tampa Florida which was transported to Karachi, Pakistan via the Suez Canal. After a painfully slow discharge in Karachi, the vessel proceeded back through the Suez Canal bound for Settubal, Portugal, (Near Lisbon) for annual drydocking work. After a week of vacation. I rejoined OMI MISSOURI when the vessel departed Settubal and headed across the Atlantic bound for Albany, New York on the Hudson River.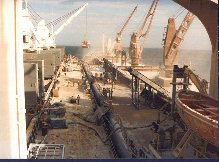 OMI MISSOURI Loaded grain in Albany and Norfolk, Virginia then got underway for a voyage to Pondicherry, India. Pondicherry is located in the southeast corner of the country near the city of Madras. OMI MISSOURI laid at anchor and discharged her cargo into smaller daughter vessels.
With discharging operations completed, OMI MISSOURI departed Pondicherry. After stopping in Singapore to take on bunkers, she proceeded across the Pacific Ocean bound for Sacramento, California. There she loaded a cargo of rice destined for Batangas, Philippines. Batangas is a small port located on the southern part of the island of Luzon. OMI MISSOURI then headed to the port of Portland, Oregon where I left the vessel.
1989
Due to mechanical problems and a slowdown in the bulk commodities trade, I did not rejoin OMI MISSOURI until mid July of 1989 in Portland, Oregon. Another cargo of Grain for Pondicherry, India was transported. Upon completion of discharge, OMI MISSOURI made a brief stop in Port Suez, Egypt to take on bunkers, then transited the Suez Canal bound for Norfolk, VA. Grain was loaded in Norfolk for discharge at Jorf Al Far and Casablanca, Morocco. 1989 ended with a trip from New Orleans, LA to Europort, Netherlands with a cargo of wheat.
1990
Early January of 1990 found the OMI MISSOURI chartered to Vulcan Carriers LTD and loading a cargo of wheat along the Mississippi River. After a few days of loading cargo, OMI MISSOURI headed east across the Atlantic Ocean, transited the English Channel, North Sea and then the Baltic Sea to arrive at the port of Gydnia, Poland. Our stay in Poland was an enjoyable if not frigid one! Upon completion of cargo operations at Gydnia, OMI MISSOURI next underwent about a week of drydocking in Amsterdam, Netherlands. It was there that the deck hardware was installed aboard to allow the transport of containers. Once the vessel was refloated, we proceeded to Bremerhaven, Germany and loaded containers of personal belongings of U.S. Military personnel which was delivered to Jacksonville, Florida and Houston, Texas.
I rejoined OMI MISSOURI a few months later in July of 1990 at New Orleans, LA. Our next voyage featured another trip through the Panama Canal and a destination of Acajutla, El Salvador with a cargo of grain.
The autumn of 1990 saw OMI MISSOURI Complete voyages to Damietta and Port Said, Egypt with cargoes of grain.
1991
After returning stateside in February from Port Said, Egypt, I remained onboard during the coastwise portion of the upcoming voyage to the Ivory Coast. OMI MISSOURI loaded pallets of bagged flour, and beans in New Orleans, LA and Jacksonville, FL. I left the vessel in Jacksonville just prior to her getting underway for a voyage to West Africa.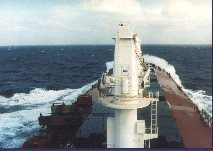 I returned once again to OMI MISSOURI in mid September of 1991 while the vessel was loading a cargo of grain in New Orleans, LA for delivery to Nacala, Mozambique in east Africa. After a month long sail, we arrived in Nacala, anchored and lightened our cargo into the holds of several daughter vessels. Underway again after about a week long discharge, OMI MISSOURI made a brief stop in Durban, South Africa before heading back to the states once again.
© Copyright 1999 KA1EFO WEB PRODUCTIONS