CQ CQ CQ
DE
KA1EFO
First Steps in Radio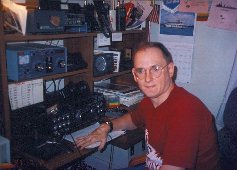 My first exposure to Amateur Radio came at the age of five when my father, (Now KA1EFC) introduced me to shortwave listening via a Hallicrafters SB-120 and a random wire antenna. In addition to listening to ships at sea, aircraft flying the transoceanic routes and shortwave broadcast stations, I also enjoyed listening to Radio Amateurs operating SSB on 75 and 20 meters. During the mid-1970s, I was active on the 11 Meter Citizens Band frequencies with a very simple transceiver and antenna system. While enjoyable, CB failed to satisfy my interest in communicating with fellow enthusiasts from around the world.

I taught myself Morse Code at the age of 16. However, I did not really become serious about obtaining my Amateur Radio License until the age of 19. A local Radio Club, the Northshore Repeater Association was sponsoring Amatuer Radio License classes at nearby Danvers, (MA) High School in the autumn of 1979. I signed up, and was soon hard at work preparing for my Novice License examination which was held in December of that year. A few weeks later, in January of 1980, I received the happy news that I had passed my exam and had been awarded the callsign KA1EFO.

KA1EFO Is On The Air


While waiting for my license to arrive from the Federal Communications Commission, I was busily assembling my first Amateur Radio station. My first transceiver was a Yaseu FT 901DE transmitter with 100 watts of output power courtesy of two 6146 tube finals. My first antenna was a simple, yet very effective Cushcraft R5 trap vertical mounted at a height of about 20 feet, (6 meters) with an extensive radial system. I happily pounded brass using a Nye " Speed-ex " hand operated telegraph key.

After installation and testing of all of the equipment, all was in readiness for my first on the air QSO. At about 2300 hours on Monday, February 4, 1980, I turned up the transceiver on the 15 meter Novice CW band and rattled off a CQ. In good order, I was answered by W6DTV in Savastapol, California. it was the beginning of what has become my longstanding interest and enjoyment in simply getting "on the air" and see what parts of the world are workable. The next morning, I returned to the air again and worked my first DX. The die had definately been cast. About five weeks later I was able to succesfully upgrade my license to it's present General Class.

KA1EFO Station Equipment - 1999



The HF transceiver presently in use here at KA1EFO is a Yaesu FT-1000D all mode, solid state rig with a maximum power output of 200 watts. Typically, power output is limited to 100 watts here. This workhorse transceiver has been my primarry HF rig since March of 1992. A Vibrophlex Iambic paddle keyer unit has seen constant use here in the ham shack as well as on a number of seagoing assignments since 1980 and is still going strong. Three HF and three VHF antenna systems comprise the KA1EFO antenna system. The primary HF antenna array is a Mosley TA33JR, three element triband yagi beam mounted atop a Rohn steel tower at a height of 50 feet (18 meters) and provides directional transmit/receive capabilities on the 10, 15 and 20 meter bands. A Yaseu G-1000SDX rotor unit is used to turn the array. A homemade G5RV multiband antenna mounted at a height of about 13 meters stretches from the tower to a large tree and allows operation on all Amateur HF bands from 160-10 meters. The third HF antenna is a homemade wire dipole for 17 meters which is approximately 10 meters in height. Antenna matching is provided by a Vectronics HFT-1500 Antenna Tuner unit. Remote antenna selection is by way of an Ameritron remote coaxial antenna switch. Other antennas mounted atop the radio tower include a Cushcraft 11 element 2 meter yagi beam and a Cushcraft 220 MHZ vertical. A Radio Shack UHF/VHF vertical antenna is mounted on the side of the tower and feeds a Uniden BC9000XLT VHF/UHF 300 channel scanning receiver which allows the monitoring of local police, fire and aircraft communications.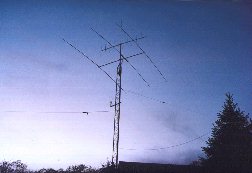 The UHF/VHF portion of the station consists of a 1981 vintage Yaseu CPU-2500R 25 watt 2 meter transceiver, a Santec ST-200E 5 watt handheld 2 meter transceiver and an Icom 02AT handheld 220 MHZ transceiver.

KA1EFO Operations
Even after a period of almost 20 years on the air, I remain an active and enthusiastic Radio Amateur. I spend the vast majority of my on air time working CW, chasing DX on the lower end of 20 meters. in the years since my first DX contact with St. Albans, England found it's way into my logbook, I have worked Amateurs in more than 173 countries. Beginning in 1988, I learned to speak the German, French, Russian, Bulgarian and Italian languages. This has helped me to make some very strong friendships around the globe.

While sailing as First Assistant Radio Officer aboard the Training Vessel STATE OF MAINE/WTWY in 1983 and 1984, I had the pleasure of operating Maritime Mobile. In addition to working a fair bit of DX in my off duty time at sea, I worked closely with the members of Maine's Pine Tree Traffic Net to provide an effective message handling service for the midshipmen, officers and crew aboard the vessel through the National Traffic System (NTS). Over 1,000 HamRadiogram messages were handled on behalf of all those on board the ship. I assited Brian Churchill - N1BBT with a similar service during the winter of 1984 while serving aboard the Training Ship EMPIRE STATE/WHMW for Massachusetts Maritime Academy. During that cruise, we also moved a fair amount of traffic via packet. During month long vacation trips to Bulgaria in August of 1993 and again in August of 1994, I operated as LZ/KA1EFO. In doing so, I became only the second American Amateur up until that time to be granted operating privlidges in that Eastern European nation(K2JV, Barry Cohen was the first U.S. Amateur granted operating permission in 1992).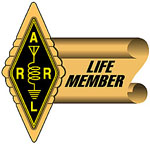 I joined the American Radio Relay Leauge (ARRL) in the autumn of 1979, and became a life member in 1994. I am also member #5567-M of The Society of Wireless Pioneers (SOWP) and member #5324 of the FISTS CW Club.




Links