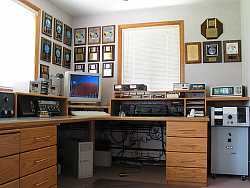 The left side of the is 10-feet long and the right side is 8-feet long.

(Left to Right) - Areritron AL-80B, Yaesu FT-1000D, M2 Orion Rotor Controls for 40m, 20m 15m and 10m yagis, 21-inch computer monitor, Yaesu FT-1000 Mark V, TIC RingRotor Controls for 3/3 40m Stack, Heathkit ID-5001 Weather Computer and Henry 5K Classic Amplifier.
Yaesu FT-1000D
Yaesu SP-5 Speaker w/Timewave DSP 599Y
Ameritron AL-80B
Orion Rotor Controls
Ameritron Remote Antenna Switches
Schurr Profi Keyer Paddle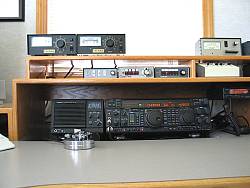 Yaesu FT-1000 Mark V
Yaesu SP-8 Speaker
40m Yagi Stack Control Switch
4-Square Control
Ameritron Remote Antenna Switch
TIC General RingRotor Controls (40m Yagis)
W2IHY Microphone Equalizer and Noise Gate
Bencher Mercury Paddle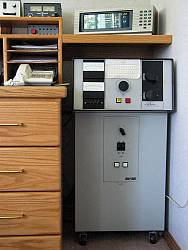 Henry 5K Classic Amplifier (2 x 3CX1200A7s)
Heathkit ID-5001 Weather Computer
Nye Viking RFM-003 Wattmeter

In the summer of 2003 I made several modifications to the Henry amplifier to make the cooling system more efficient while at the same time reducing the fan noise. Full QSK capability and a step-start inrush limiter for the HV power supply were also added.

CLICK HERE to go to my Henry Radio 5K Classic modification page.
It sure takes a lot of wire to make this 'Wireless' hobby fun!