<! ICON CODING ........> <! MENU .......... >
Amateur Radio: K3RLL - GEAR

---
<! PICTURE OF FL HAM SHACK>

FLORIDA
<! PICTURE OF PA HAM SHACK>
---
<! Recommended Portable Gear .........>

Some Recommended Portable Gear:
<! Portable Paddles ..................>

The nice, big heavy CW paddle used at home is less appropriate in the field than something smaller, more portable and probably a lot less expensive. Here are some examples of pretty good field paddles:


The Arizona ScQRPions QRP Club fund-raiser brass keyer paddle kit: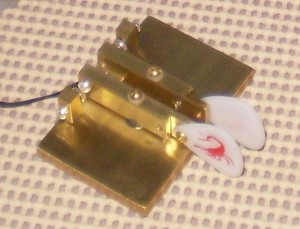 The Palm Radio Folding Mini Paddles collapse for safe transport

The P6 Mini Touch Paddles have no moving parts and transport well.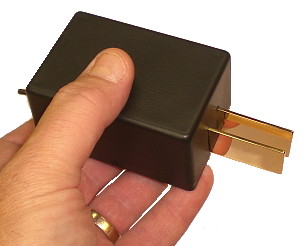 ---
<! Assorted Radios .......................>

Some Good Portable Transceivers:

<! SW-xx ........ >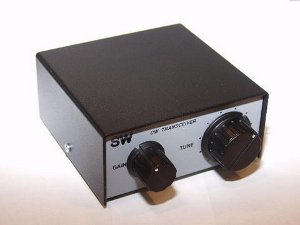 <== The Small Wonder Labs SW-xx Series Transceivers

These $55 single-band VFO tuned transceivers offer a lot for the price and are extremely trail friendly in size and weight. They are available for the 80-40-30-20 meter bands. Unfortunately, Dave Benson is no longer offering the nice optional silk-screened cases, but Ten-Tec offers a suitable one.
Currently, Dave Benson is developing an updated version of the SWxx series so they are temporarily unavailable. Keep an eye on his website for the new ones, however.


<! PFR-3 .......... >

Hendricks QRP Kits PFR-3 (now PFR-3a) ==>

Pictured above is an early Hendricks PFR-3 Personal Field Radio packed in a $5 gun case, complete with logbook, auxillary audio amplifier, paddle, earbuds and assorted cables as a fairly durable portable 'go kit'.
This 3-band CW QRP transceiver designed by Steve Weber, covers 40, 30 and 20 meters and includes an integral antenna tuner for coax or balanced line.
It produces up to 5 watts of power output using external power or perhaps 3 watts or so using internal AA cells.

<! ELECRAFT KX3 .....>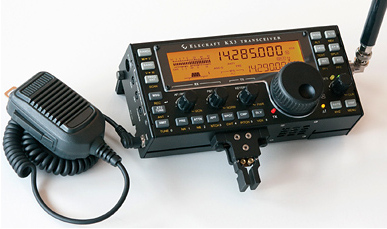 <== Elecraft KX3

The newest addition to the shack is the amazingly popular full-featured Elecraft KX3 portable transceiver. Though designed primarily for portable operations, the capabilities of this radio also lend itself to home use. The KX3 offers a diminutive internal speaker, produces up to 10 watts output power and, like all Elecraft radios, a programmable memory keyer. With the optional roofing filters and wide-range automatic antenna tuner, the KX3 becomes a very capable radio for home or field use.
Unlike the PFR-3, K1 or the KX1, the KX3 covers 160 to 6 meters with SSB, CW, Data, AM and FM modes. Mine was purchased as a 'kit', but really just requires about 5 hours of careful, no-solder assembly of the various pre-assembled PCBs and components.
Like the PFR-3 and KX1, the new KX3 also offers space for internal batteries. An internal NiMH battery charger / clock option is available for the KX3 from Elecraft to eliminate removing batteries for charging. Like others with whom I've operated portable, we've found the use of a 7 Ah SLA (Sealed Lead Acid) battery to be an inexpensive and capable power source that is easily charged with an inexpensive trickle charger.
My personal feelings about the KX3, which somewhat limit my use of it, is that it represents a fairly significant investment to risk to the rigors and risks of field use. This feeling does not appear to be shared by many however, judging from the number of them one now hears on the air from every possible location.
<! ELECRAFT KX1 .... >

Elecraft KX1 ==>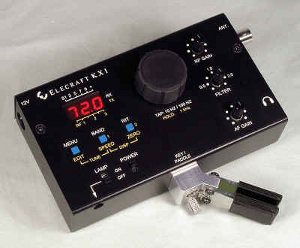 It is difficult to beat any of the Elecraft transceivers, and the diminutive KX-1 is particularly well adapted to field use.
Available as a 40/20 meter radio with an optional 80/30 PCB, as well as an optional internal automatic antenna tuner, the KX1 also features internal AA batteries and an optional integral CW paddle for self-contained portable operation.
Like the Hendrick's PFR-3, the KX1 features top-facing controls particularly well suited for portable and/or lap use. <! ELECRAFT K1 ......>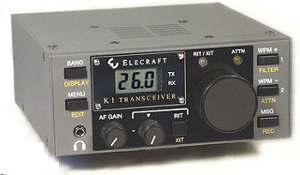 <== Elecraft K1

Another popular and capable small transceiver frequently used for portable operations is the Elecraft K1. Available in either the 2-band (of your choice) or 4-band (again of your choice), this radio features an optional automatic antenna tuner that works quite well. Capable of 7 watts output, the K1 also features an internal speaker and, like all Elecraft radios, a programmable memory keyer.
Unlike the newer design KX1 however, the K1 tunes only 80 (or builder-selected 120) Kc of each band and lacks the selectable slow tuning feature of the KX1 and K2.
<! IC-703 ..........>

Icom IC-703 ==>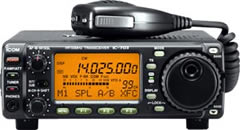 A lighter weight look-alike 'little brother' to the venerable Icom IC-706 series of 100 watt mobile rigs is the Icom IC-703 Plus. This unit, now unfortunately out of production, features SSB, AM and CW from 160 to 6 meters, includes an automatic antenna tuner and up to 10 watts of power output.

<! FT-817 ..........>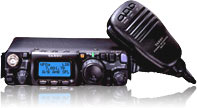 <== Yaesu FT-817 Transceiver


And no list of portable radios would be complete without the venerable Yaesu FT-817 (or FT-817nd) all-band, all-mode 'DC to light' self-contained transceiver. Although the most expensive radio on this short list, the '817 offers more features and versatility than the preceding entries and is quite popular.

<! OTHER ...........>

Please refer to my Antennas, Portable, and Projects pages for other portable operating gear, suggestions and solutions.
---
<! MENU .......... >

MENU: | HOME | ANTENNAS | BIO | LINKS | PORTABLE | PROJECTS | SHACK | TOYS | WALLPAPER| WSPR |