Someone suggested that it would be a good idea to gather all my projects together for a photograph. I'm going to try to do better and attempt to illustrate each one, showing the assembly process where possible.

ALTOIDS PROJECTS:
<! ACCUPROBE .....................>

NoTexQRP Accuprobe:



The North Texas QRP Club ACCUPROBE kit is another of the many Altoids tin friendly projects.

This helpful bench accessory interfaces to one's digital volt meter to help trace a signal through a problematic circuit.

Using a single small printer circuit board and powered by an internal 9 volt battery, the Accuprobe has a short lead with an alligator clip for grounding and a sharpened brass screw for probing through circuits.

Please see: http://www.kk5na.com/kk5na_files/accuprobe.htm for details.
<! ALTOID'S L-TUNER .....................>

Altoid's L-TUNER: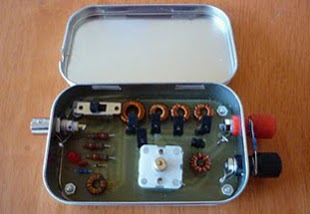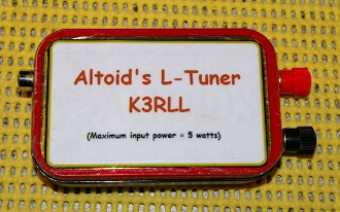 Produced in Pardubice in the Czech Republic by Hamshop.CZ and based upon Steve Weber's original design, this project is a versatile L-tuner for end-fed wire antennas. It is both highly compact and light in weight so as to be suitable for hiking.

Useful from 40 to 15 meters or more, this tiny tuner even has a built-in 50 ohm load with an LED tuning guide to protect the finals on your 5 watt or less radio.
Please see: http://hamshop.cz/stavebnice-c4/stavebnice-altoids-l-tuner-i50/ for details.
<! NorCal S-9 SIGNAL GENERATOR .....................>

NorCal S-9 SIGNAL GENERATOR: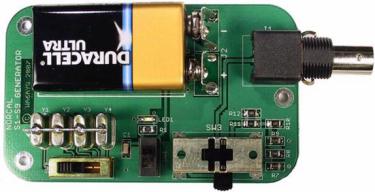 Produced by the Northern California QRP Club, this fund-raiser project features surface mount technology (SMT) components but wide component spacing on the PCB eases construction.

"The NorCal S9 signal generator is a crystal-controlled oscillator which produces switchable output levels at selectable frequencies. The S9 level is useful for testing and calibrating reciever S-meters while the S1 level can be used for receiver alignment and sensitivity checks."

Please see: http://www.norcalqrp.org/s1s9generator.htm for details.
<! HI-PER-MITE CW FILTER .....................>

Hi-Per-Mite CW FILTER: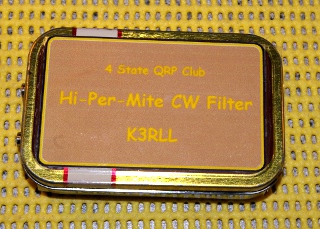 Produced by the Four State QRP Group, this fund-raiser project is an active audio CW filter designed by David Cripe, NM0S.

"The Hi-Per-Mite name designates HIgh-PERformance MITE (small) audio filter. It features a 200 cycle bandwidth with no ringing! It can be used as an external stand-alone unit with its onboard audio amp for driving a speaker or headphones. The small Hi-Per-Mite PCB can also be built into a project without using the integrated audio amp or with it if you need audio gain.

It provides comfortable listening while using earbuds, headphones, or a speaker. If you have a direct conversion receiver, you will love this filter."
Please see: http://www.4sqrp.com/HiPerMite.php for details.
<! NorCAL SMT DUMMY LOAD .....................>

NorCAL SMT DUMMY LOAD:



Formerly produced by the NorCal QRP Club, but now retired, this inexpensive kit was designed as a learning tool for working with (SMT) Surface Mount components.

With 44 2.2K SMT resistors, a .01mF SMT cap and a 1N5711 diode, the assembler gets plenty of practice identifying and soldering SMT parts. Additionally, the on-board Schottkey diode rectifies the RF voltage, so that the user can accurately measure power output from about 0.5W and up using a DVM.

Please see: http://www.norcalqrp.org/ncdummyload.htm for details.
<! 4SQRP TENNA DIPPER .....................>

FOUR STATES QRP CLUB TENNA DIPPER: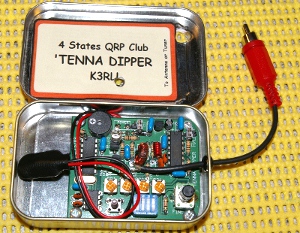 Designed by Steve Weber, KD1JV, the "Tenna Dipper" is a low power antenna analyzer and ATU tuning aid. With this handy accessory, you can trim your antennas to resonance or adjust your antenna tuner for a perfect match, all without adding to the QRM on the bands. It can be built into the ubiquitous Altoids tin with even sufficent room for the internal 9-volt battery to power the unit.

Please see: http://4sqrp.com/kits/td/td.htm for details.
<! SOFT ROCK 40 .....................>

TONY PARKS SOFTROCK40: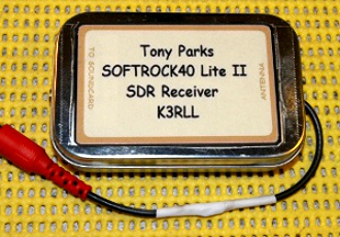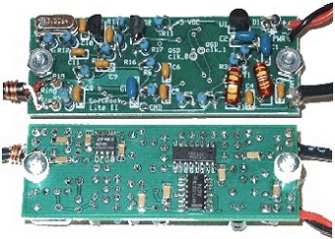 Perhaps the least expensive entry into SDR (Software Defined Radio), this tiny SDR receiver also fits in an Altoids box with room for the 9 volt battery to power it. The SoftRock Lite II is a simple to build SDR receiver kit with a fixed center frequency which when used with an adequate sound card in your PC and free SDR software, provides 96 kHz of band coverage.

Please see: http://softrocksdr.wikispaces.com for details.
<! SOFT ROCK RX-TX ENSEMBLE ...........>

TONY PARKS SOFTROCK RXTX ENSEMBLE: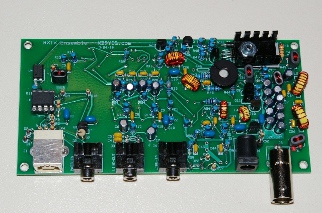 And, perhaps the least expensive entry into SDR multiband transceivers, the RXTX Ensemble Transceiver, while small, is too large for an Altoids box. Fortunately, Tony Parks, the SoftRock manufacturer, now offers a nice metal silk-screened enclosure for this little wonder. The SoftRock RXTX Ensemble is all SMT (Surface Mount Technology) construction and probably not for the beginner. However, Tony has begun selling completed PCBs that open the doors to far more hams interested in experimenting with SDR.

Tony offers a small selection of different possibilities, but the one pictured seems to be the overwhelming favorite. Various iterations cover 160m, 80m/40m, 40m/30m/20m, 30m/20/17m, and 15m/12m/10m. Components are included for all five options with the builder making the band decision on construction.

Setup with any of a number of free downloadable SDR software packages is not trivial, but semi-detailed instructions are available on a few Internet sites.

Please note that a sound card with stereo line-in connector for receive and stereo line-out connector for transmit are required for the computer running SDR software in order to operate. Most laptop computers do not have a stereo line-in connector and very few have stereo microphone connectors. In such case, an external USB sound card can provide the necessary I/Q connection to the laptop computer.

Please see: http://www.fivedash.com for details.

Update: Unfortunately, Tony Parks is no longer producing these amazing little SDR transceivers. Rumor has it he has chosen to join some of us in the boundless joy of retirement bliss. Happy Retirement, Tony!

<! NEScaf Audio Filter .....................>

The New England QRP Club NESCaf Audio Filter:

Many of our smaller field radios lack the selectivity and narrow bandpass of the larger, full-featured transceivers on our desk at home. There is, however, an inexpensive solution that, quite coincidentially, is fun to build.

Please see: http://newenglandqrp.org/nescaf for details.

The two NEScaf filters on the left were built by others and the one on the right is my Altoids version.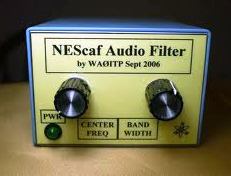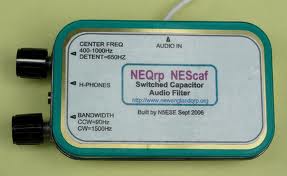 <! AA0ZZ EZKeyer .....................>

The Four States QRP Club AA0ZZ EZKeyer: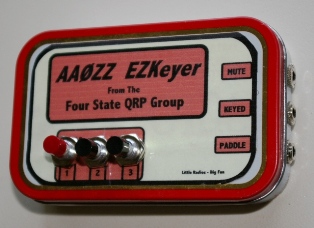 A summer weekend project was a small, portable memory keyer for field use with the highly portable Small Wonders Lab SW-20 transceiver. Four States, on their website, even provides a variety of color templates to duplicate and affix to the particular variety of Altoids tin you may be using. I see this project as a run-away bargain as it works well and does almost everything necessary for a light weight, highly portable keyer.

My original plan was to build a simple keyer into the SW-20 case, but I guess I just couldn't resist the suggested attractive housing options from Four States QRP Club.

Please see: http://www.4sqrp.com/EzKeyer.php for details.
<! DUAL BAND-PASS FILTER ..............>

Kits & Parts Band Pass Filters: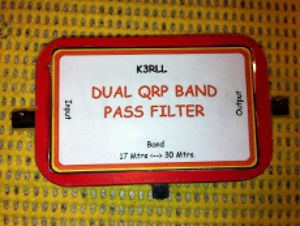 When some of us get together for group QRP portable operations, we sometimes run into pretty severe intereference from each other. Spacing out in the available space, putting our antennas at right angles to each other and the use of coax-fed resonant antennas all help alleviate this problem, but not entirely. In addition, some QRP radios transmit particularly 'harmonic-rich' signals that tear up the unsophisticated front ends of other QRP radios in the vicinity.

In an effort to further eliminate or at least reduce the serverity of this problem, WB4MNK and I embarked upon a project to build QRP-level band-pass filters. A search of the QRP vendors showed both single and dual-band filter parts kits available at very reasonable prices from Kits&Parts in Florida. Please see: http://www.KitsAndParts.Com for details.

After building a couple of these filters, we were excited to see the impressive adjacent signal attenuation they offered. However, we were disappointed to learn that they are intended for receive-only. This detail is not shown on the vendor website.
At any rate, pictured above is one of the completed two-band filters in the ubiquitous Altoids box with a DPDT switch to select the desired band of operation.

<! WORKING BAND-PASS FILTER ..............>

3 Pole Butterworth Band Pass Filters: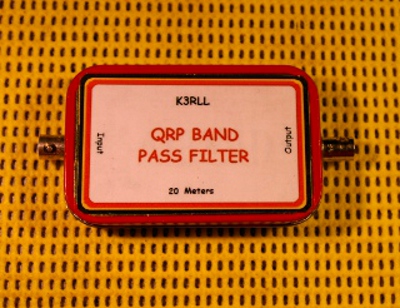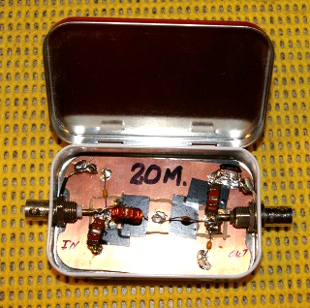 While the original effort to build band-pass filters was pretty neat with the dual-band option and convenient Altoids packaging, they turned out to only work on recieve. The transmit signal was totally attenuated.

Therefore, starting over with help from Terry WA0ITP, appropriate capacitors from Dan's Small Parts (http://DansSmallPartsAndKits.Net/), more toroids from Diz at Kits And Parts (http://www.KitsAndParts.Com), as well as some interpolation of values for additional desired bands of operation, WB4MNK and I have managed to fabricate working single-band, Altoids packaged, high Q transmit AND receive band-pass filters with negligible signal attentuation.

So far, we have built these greatly improved filters for 40, 30, 20 and 17 meters with good results, thanks to Art WB4MNK, a real craftsman who found and fixed the errors in my initial efforts. <! Small Wonders Labs Rockmites .............>

The Small Wonders Labs ROCKMITES:

The popular Rockmite series of QRPp transceivers from Small Wonder Labs, offer a lot of fun for very little money and make a great first project for the aspiring builder. These single-band, crystal controlled rigs are an easy build and include one SMT device for experience in this technology. They are available for a number of different ham bands, but the 40 meter versions appear to be the most popular.
They can be packaged nicely in something like the Mitybox from American Morse or as seen more frequently, the ubiquitous Altoids tin. Or, if more interest is with tinkering and experimentation than operating, they can be mounted to a block of wood as shown below.
More (a lot more) information on Rockmites can be found on The Rock-Mite Group

From left to right: completed Rockmite PCB, complete Rockmite station using "traditional" Altoids box and Rockmite in American Morse Mitybox.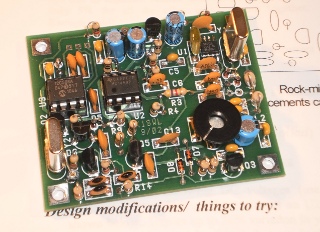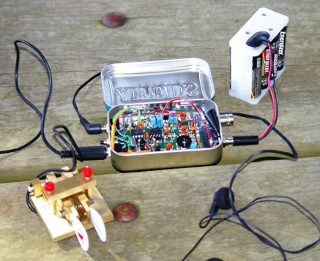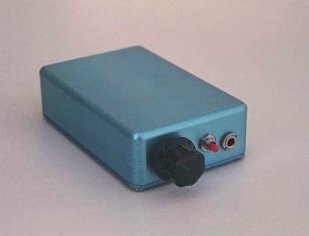 Pictured below is a Rockmite in open architecture for experimentation using Molex pins for sockets on crystals and final transistor.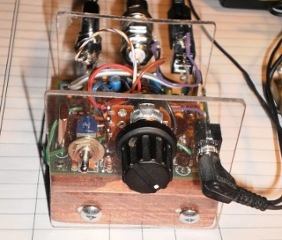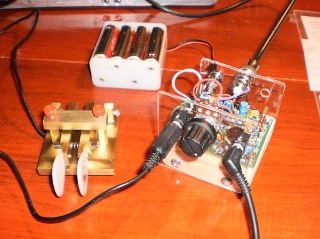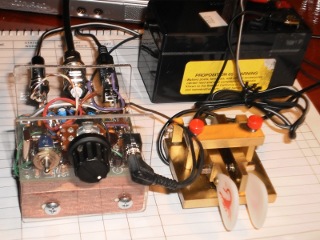 OTHER FUN PROJECTS:
<! PIG RIG ................................>

Flying Pigs PIG RIG S/N #129

Produced by Diz at KitsAndParts.Com, the Pig Rig was a limited run, crystal-controlled, five watt transceiver for 7.030.7 MHz.

This fun but inexpensive transceiver was designed to encourage even more activity between members of the Flying Pigs QRP Club. Some builders have modified them for other frequencies, but since the receiver uses a 3-pole crystal filter, that task is something more than trivial.

Diz sponsors a monthly 24-hour PIG RIG QSO PARTY as well as the soon-to-be world famous WORKED ALL PIGS Award for working the somewhat limited number of other Pig Rigs out there in the 'barnyard'.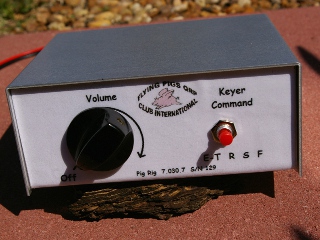 <! MORSE CODE BUDDY.........................>

Here are a couple of photos of another fun project - The Morse Code Buddy.

This one-inch square PCB interfaces a standard PS/2 keyboard and/or a keyer paddle to the transceiver. This may be a slick way to take a keyboard portable with QRP as the MCB runs on the included AA battery pack. It has 8 keyer memories and comes in one of three varieties, depending upon which chip you select. Mine has the "Beacon" microcontroller chip so it will call CQ, wait and call again until someone comes along.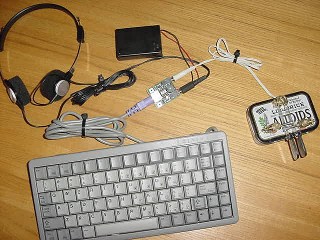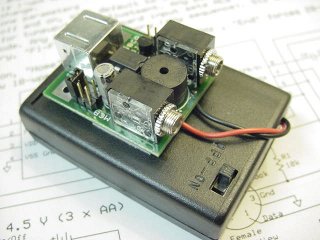 Photos courtesy of K5JHF and K5BCQ.


<! Project Labels ................................>

Making Labels for Projects

Click the preceding link to access step-by-step instructions.



<! SWR/Power Meter Conversion ........>