Long before SOTA was established I had the idea (around about 1994) of the Lake District Fells Award (LDFA), which was to be loosely based on the WAB principle of either activating a fell top or working someone else on a fell top (or a mixture of the two). With 244 Lake District Fells (and a further 56 outlying fells) the awards were to have been for 50 (Basic), 100 (Intermediate), 200 (Senior), and 244+ (Supreme) fell tops gained. The idea never progressed beyond the discussion stage with other local amateurs, who were out at that time activating fell tops, including my old friend G4FBC.
Whilst SOTA is a very well organised amateur programme that I enjoy, it omits far too many very enjoyable fell tops in the Lake District (57 only at the last count, instead of 244 or Wainwright's original 214). This I think is a fundamental flaw in the SOTA programme that may also prevent fuller participation by the young, the elderly or the handicapped, for whom the majority of accepted summits may be simply too difficult to ascend or are not ascendable in sufficient safely. The programme may discriminate against these groups of individuals. Why not have all the summits count? We all know that with line of sight VHF signals the lower summits are the ones that are the most difficult to hear stations on and not the likes of Helvellyn or Coniston Old Man.
Great news, in 2010 Wainwrights on the Air (WOTA) has been established, allowing many more fells to be activated.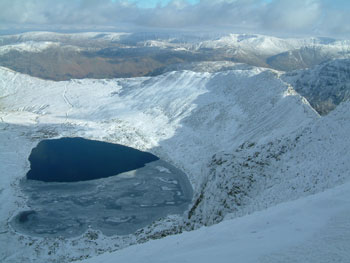 Several years ago I had only just started using a Miracle Whip aerial with my Yaesu FT- 817, in a few minutes of the evening of 2nd March 2002 using just 5W SSB voice and no counterpoise, indoors, I worked Yugoslavia (28MHz), USA and finally Venezuela (14MHz).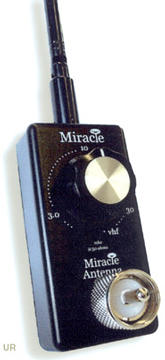 An amazing aerial, highly recommended, and very easy to tune.
FT-817 WIDEBAND SOFTWARE MODIFICATION
Using FT-817 Commander 2.2 and a CAT cable I have been able to easily modify all my memories and settings, much easier than doing it through the radio's controls. I have also modified my FT-817 TX/RX range by a software modification using Softjump which allows TX coverage throughout HF and extended VHF/UHF (Useful if you have 5MHz NoV or intend travelling to the USA etc.)
To do this mod you need a Yaesu CAT CT-62 cable to connect your FT-817 to your computer, this terminates in a 9 pin din so you may also need a USB adaptor if you have a more modern computer. Set the FT-817 CAT Rate to 38400 (menu 14). Run 'FT.exe' from the Softjump folder within Windows using an MSDOS prompt (it will not work from DOS). Take note of the your original EPROM settings of your FT-817, mine was 'CC BF', using the command 'ft F8 BF' change the EPROM settings and confirm.
Your FT-817 will now be wideband TX enabled throughout HF and at least 144-148, 430-450 etc. 50MHz will be there too. The only UK setting you will lose is the ability for auto repeater offset, which you can get around by programming repeater frequencies into memories. N.B. Broad banding your transceiver will necessitate you being particularly careful that your transmissions stay within the limits for emissions and frequencies you are permitted to use in the terms of your amateur radio licence.
Send formatted VHF DX Cluster spot

If you cannot see the full index shown on the left edge of your screen, please go to my main page at

© Copyright 2000-2012 G0ISW. Page last modified 8th March 2012. All Rights Reserved.