The main window of spectrum lab contains the most important controls and output of the spectrum analyzer:
Other functions may be implemented in other windows, which you can open from the "View" menu (in SL's main menu).
See also: Spectrum Lab's main index.
---
The main window contains the main menu, the spectrum display (on the right side) and -optionally- some control elements on the left side, and some in the control bar on the bottom.
The main menu contains the following items: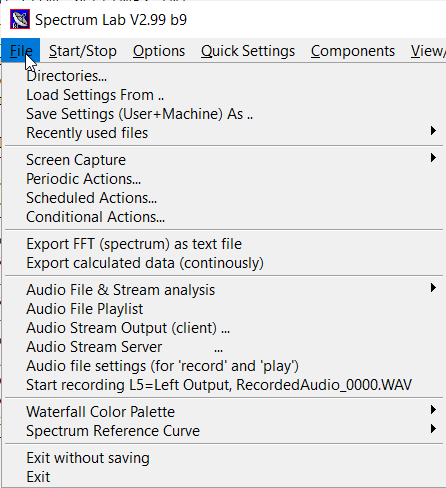 The 'File' menu is used to..
load settings, change directories and select file names for screen captures, etc
configure screen capture, periodic and scheduled actions
Select audio files for logging and for analysis
Select, import, export, or edit a waterfall colour palette
Terminate the program with or without saving the (possibly modified) configuration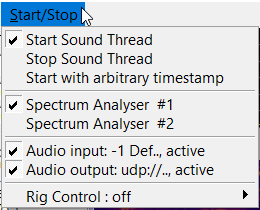 The 'Start/Stop' drop-down menu (part of the main menu)..
starts and stops the audio processing thread,

the spectrum analyzer,

can temporarily disable and re-enable the audio input device
can temporarily disable and re-enable the audio output device
shows the state of the 'Rig Control' (on/off indicator),
with shortcuts (in a submenu) to configure and supervise it.
Most of the items in 'Options' drop-down menu (part of the main menu) open Spectrum Lab's 'Configuration and Display Control' dialog, and switch to one of the many tabsheets in that window; with...
Audio settings, including the selection of in- and output devices,
FFT settings (for the spectrum analyzer),

display settings, colours, etc,

configure the Radio Direction Finder (RDF),

change options for saving and analyzing wave files,

launch the soundcard's volume control program for "record" and "play",

and many other special functions.

This menu allows to change all settings of Spectrum Lab very quickly. There are some predefined settings in this menu, and some user-defineable entries which are initially empty. More about creating and adding your own set of settings can be found here.
Some of the built-in configurations in the "Quick Settings" menu are described further below.