Duoband Yagi 2m/70cm with 4 Elements on 2 m
and 5 Elements on 70 cm and one Feedpoint
Version 1: Ultralight with 3,2-mm-Elements
Version 2: With 8- and 10-mm-Elements (see down), built by SQ9VPA

The 4-El.-Ultralight-Yagi for 2m can be used on 70cm with an SWR of 1,5 without any changes. The pattern and the currents of the Yagi are shown down. The Yagi has three forward lobes (according to the three current maxima in the 3/2-lambda-radiator) with 5,39dBd - 4,35dBd -5,39dBd gain. We can use this Yagi without any changes on 2m and 70cm.
Feeding of the Duoband-Yagi with a coax-choke.

here you can see the solution by

Emmanuel, LU5HED

For increasing the gain and for a better pattern we add 5 elements for 432MHz.
| | |
| --- | --- |
| | The bandwidth is small, the Yagi is designed for the CW-/SSB-part of the 70cm-band near 432MHz. |

Element currents in the Duoband-Yagi on 432MHz

Gain 8dBd at 432MHz

Data of the Yagi on the two bands for the SSB-Frequencies
| | | | | |
| --- | --- | --- | --- | --- |
| 144,3 MHz | 7,1dBd | 11,5dB | 58,0° | 81,8° |
| | Gain | F/B | 3dB-angle hor. | 3dB-angle ver. |
| 432 MHz | 8,09dBd | 9dB | 30,4° | 80,8° |
All elements made with 3,2mm-Aluminium-welding rods, except the radiator (4mm)
| | | | |
| --- | --- | --- | --- |
| El.-Nr. | Element | Length | Position |
| 1 | Reflector for 2m | 1022 mm | 0 mm |
| 2 | Reflector for 70cm | 329 mm | 110mm |
| 3 | Radiator 2m and 70cm | 977 mm (4mm) | 260 mm |
| 4 | Director 1 für 70cm | 322 mm | 300 mm |
| 5 | Director 2 für 70cm | 320 mm | 440 mm |
| 6 | Director 1 für 2m | 935 mm | 470 mm |
| 7 | Director 3 für 70cm | 285 mm | 750 mm |
| 8 | Director 4 für 70cm | 297 mm | 965 mm |
| 9 | Director 2 für 2m | 915 mm | 985 mm |

| | |
| --- | --- |
| | The 4/5-El.-Yagi with 8 and 10-mm-Elements (redisigned by SQ9VPA) |
The Duoband-Yagi

built by

Mich, ON8DM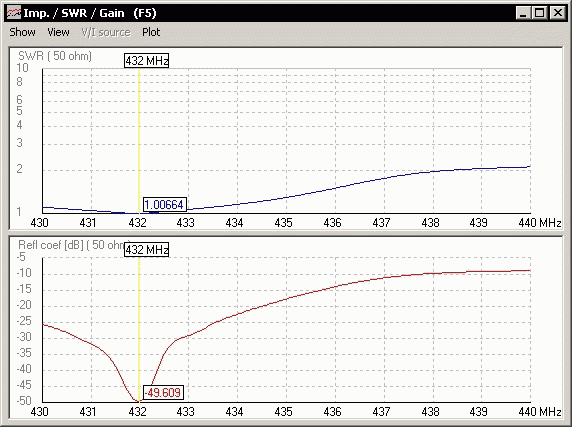 The Duoband-Yagi

built by

Emmanuel, LU5HED
El.-Nr.

Element

Position

Length

(8 mm)

Length (10 mm)

1

Reflector for 2m

0 mm

1013 mm

1011 mm

2

Reflector for 70cm

110mm

343 mm

332 mm

3

Radiator 2m and 70cm

260 mm

973 mm (12 mm)

973 mm (12 mm)

4

Director 1 für 70cm

308 mm

319 mm

316 mm

5

Director 2 für 70cm

440 mm

312 mm

310 mm

6

Director 1 für 2m

465 mm

919 mm

911 mm

7

Director 3 für 70cm

750 mm

267 mm

261 mm

8

Director 4 für 70cm

965 mm

283 mm

278 mm

9

Director 2 für 2m

985 mm

879 mm

870 mm