---
Software


With
G7TO Ron Henderson has created a very good tool for the data transfer with GPS receivers. In contrary to Waypoint+ (Win-95) it runs in a DOS window an can be incorporated in Batch files for automation purposes without problems. With G7TO you can store waypoints, routes and tracks as text files on the computer and the data can be managed easyly with a text editor. Under Linux I'm using gpspoint.
For displaying stored tracks and planing routes at this time I use Navigate GPS . Using it online it often hangs but for displaying trackslogs and creating routes it can be used if you have managed to overcome some pitfalls. For me it has the advantage that it is a 16 bit Windows program and runs under OS/2. For Windows-95 you can use Fugawi , but I had some problems with their demo version. I have now registered OziExplorer , and I'm happy with it, besides the fact that I have to boot my notebook under Windows-95. Creating routes is not as easy as in Navigate but this should change in a future version.
Scanning and adjusting topographic maps is some work but afterwards you have maps in the desired quality and resolution. In the meantime there are 75MB of maps on my notebook . . .
A new route will be assembled by clicking on the map on the screen and later transferred to the GPS receiver using a Batch file. This now can show the desired course with an arrow pointing in the correct direction.
The track data that was collected during the driving (or flight, hiking . . .) could be displayed on the map after downloading to the computer. So you can see, where you really have been.
For use in the States have a look on Street Atlas 5, it is a CD based software with a GPS interface and knows nearly every street. I used Street Atlas 4 during a visit to Boston.
---
GPS on my Bike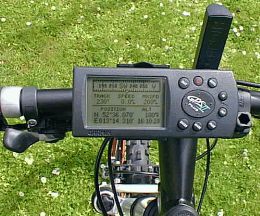 Besides the car mount I also bought the bicycle mount for my GPS receiver. And in the meantime I bought a suitable Mountain Bike for the GPS ...
And that's the GPS receiver on the handle bar: