Expeditions and visits to other radio amateurs
June 1990 - VHF/UHF Expedition to Usedom Island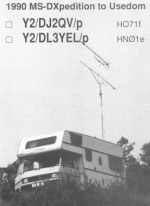 This was my first expedition. Together with Ulli DL3YEL and Markus DL5YET we hired a camper and went to Usedom Island for a pure VHF/UHF-Expedition. In about a week we worked about a hundred QSOs on Meteorscatter and several hundred via Tropo from the (at that time) rare Gridsquares JO74 and JO73. The equipment was rather simple - about 300W on 2m and about 150W on 70cm - using only single Yagi antennas for each band.
June 1991 - DL3YEL/p from JO71EC
After the success of Usedom we went to Saxonia and activated JO71 Gridsquare. The location "Picho Baude" was close to the border to Poland on a little hill near Wilthen and apart from Tropo and Meteorscatter DX we also had a nice Aurora opening during our expedition where we worked OJ0 on 2m... again a pure VHF activity. Apart from the activity in the VHF-net on 20m to arrange all the skeds.
August 1992 - OK/DJ2QV and OK/DL5YET from KN09DB
During Perseids Meteorshower DL5YET and myself went to the far eastern part of Checheslovakia (which is now Slovakia OM). From a camping site in the high Tatry mountains we worked mainly CW Meteorscatter - using good old Tape recorders and ETM memory keyers. The location was not the best as we did not manage to go to the top location (Lomnicky stit) and had to setup our VHF station at only 800m asl with blocked Take-off to the West. However we enjoyed the expedition and the local slovakian beer !
July 1994 - Slovenia S5/DJ2QV
In the summer 1994 I was doing a practical training in Ljubljana , the captital of Slovenia. Of course I took my VHF equipment with me. Using only a small 8 ele Yagi and 10 Watts from my portable rig I worked from different portable locations in JN75 and JN76. But I also used my 4 weeks stay in Slovenia to meet with a lot of radio amateurs from this great country. A few people I visited or met in Ljubljana were Miran S57EA, Boris S51AT , Tili S53AC and Bojan S57TW at his impressive EME station.
Oct 1995 to June 1996 - G/DJ2QV from Sheffield
During my studies in Electrical Engineering I had the chance to attend two terms at the University of Sheffield in northern England. Again I took some equipment with me - mainly for 2m. The house in Sheffield where I lived had a very poor take-off so most of my VHF activity was from portable locations at the border of the Peak district. During the last few months I was also QRV on 40m using an old AEL marine radio that I modified after it was given to me by a local radio amateur.
July 1996 - Tunisia 3V8BB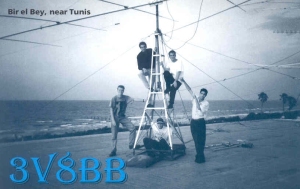 This expedition was a real success ! Also it did not start very well. Together with Heiko DK3DM and Frank DL8YHR we went to Tunisia for an activation of 3V8BB the clubstation in Bir el Bey near Tunis (JM56EQ). The focus was on VHF (Meteorscatter, EME) and also on HF (IARU Contest operated by DK3DM). There were a lot of hurdles to take at the beginning with the customs and with the site itself. But in the end it was a very successful activition of a really rare country on VHF. Via Meteorscatter we made 131 QSOs using high-speed CW keying by a laptop with OH5IY-Software and a DTR for recording. Reflections were usually quite good during the night hours and early morning. The ODX was a QSO with OZ1FDJ in JO65FR covering a distance of 2120 km. There was also the possibiliy to make a few QSOs via IONOSCATTER. On July, 7th we worked 5 stations from south of Germany (JN58) with quite good signal over a distance of around 1250 km. Unfortunately there was no Sporadic E during our expedition, but we had two good FAI-openings, one of them via the scatterpoint above Geneva, where we worked stations from I1, I2 , I5 and EA3, and another weak opening via Budapest scatter to LZ (KN32, KN33). The EME acitivity yielded only about 10 contacts due to some problem with the Elevation Rotator. In the end a total number of 590 QSOs on 2m and 70cm were logged, working 95 different locator squares in 24 different countries. We were also very active on shortwave where approx. 7500 QSOs were logged, 90% of those in CW. Great support from the local guys at 3V8BB. Here you can have a look at the VHF/UHF Log of 3V8BB
July 1998 - San Marino T77WI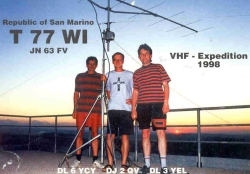 Another pure VHF activity from the country of San Marino. Together with Ulli DL3YEL and Maik DL6YCY we activated the rare country on 2m (Tropo and Meteorscatter). Without the great help of Giancarlo T77WI this expedition would have been impossible ! The QTH was on the roof of a hotel in the center of San Marino - the highest possible location in this country. Although the original plan was to operate from the location of Clubstation T70A - but a week before the start of the activity we were told that we are no longer welcome to the site. License situation was difficult - there is no CEPT agreement and foreigners are only allowed to operate on VHF/UHF with a power of 10W. So Giancarlo joined us and provided his callsign to make it a legal expedition. On our way home we visited well known VHF DXers Claudio I4XCC and IK4DCX at his beach resort in Rimini.
November 1999 - Morocco CN8WW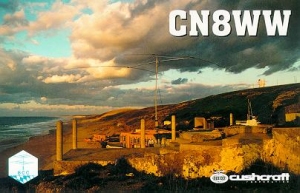 I joined BCC on the CN8WW activity in CQWW-CW. A great chance for me as a relatively unexperienced HF Contester. Before the Contest we used the special Callsign 5C8M and the pile-ups were already big. But nothing compared to during CQWW and after 48h a total of 23.000 QSOs was logged - setting a new world record in the M/M class with more than 70 Million points. This record is still valid today but I am sure somebody will attack it during the coming sunspot maximum 2010 or 2011. Details and lots of more pictures can be found on Ben DL6FBL's webpage We were also invited by Kacem CN8LR to a nice dinner and we visited the Clubstation in Rabat CN8MC.
November 2000 - Åland Islands OH0N
On one of my business trips to Finland I met Jukka OH6LI - he invited me to join him in CQWW-CW on the Åland Islands. We left Turku by ferry on Thursday evening before the Contest, leaving only Friday for Antenna work and setting up the stations.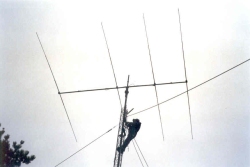 While Jukka operated 10m HP as OH0V I used the Nokia Club Call OH0N and entered as Single OP on 15m LP using a single 4 ele Yagi at about 14m over ground. This year we were both able to set new European records which are still holding today. A confirmation that the QTH atop Geta mountain in the northern part of the main island is really an excellent location. The take-off from here is breathtaking with nothing but sea into the directions USA and Japan. After this great success it was clear that for me that I will come back here to operate another Contest.
July 2001 - Åland Islands OH0V & OH0N IOTA/VHF Expedition
Right after my first activity from Åland Islands I had the idea to do a combined expedition for HF and VHF. With Nico DK5DQ and Heiko DK3DM I found two supporters and in July 2001 we left Germany heading for Aland again. This time we took equipment also for VHF. Jukka OH6LI was heading towards Åland with a small team as well - Jari OH6QU and Pentti OH8VJ joined him. At the same QTH on Geta Bergen we set up antennas for a few days to operate the RSGB IOTA Contest as a team. In the meantime we were also QRV on WARC bands and on 2m and 6m and worked a great number of stations via propagation modes like Meteorscatter (blue), Tropo (red) and Sporadic E (green). The map shows the gridsquares that were reached from OH0V in JP90VJ.
All Meteorscatter QSOs during the expedition were made in CW using the WinMSDSP Software from 9A4GL. During RSGB IOTA Contest the 2m station moved to another gridsquare. From the location of Sture OH0JFP in KP00AB Nico DK5DQ worked for another 2 days on 2m and 6m using the callsign OH0N.
In the meantime the rest of the team operated the RSGB IOTA Contest on HF from Geta Mountain. Using two FT-1000MPs and AL-1200 amplifiers we managed to work over 3000 QSOs in 24h and placed 5th in the Multi Operator category worldwide. Pile-ups during this Contest were again great. More Info about OH0V can be found here. An article that appeared in the german Funkamateur magazine can be downloaded here
November 2001 - Åland Islands OH0N again
After the success in CQWW-CW the year before I was really looking forward to come back to "my beloved Island" for

this Contest. Jukka OH6LI agreed to swap bands for this year. So I was on 10m with Low Power using OH0N again and Jukka aimed for a new record on 15m with High Power. Everything could have been great... but a very special friend called "Lady Aurora" made all our plans redundant. Being north during the peak of the sunspot cycle is generally a good idea, but the risk of being hit by an Aurora is obviously very high. The target to reach a new European record was out of question already on the first day with only 300 QSOs in the log on 10m. Finally I still achieved 3rd place in Europe which is really ok taking into account the poor propagation so far up north.
July 2002 - OI2HQ Finnish Headquarter station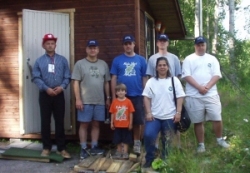 During summer 2002 I was again on a business trip in southern Finland which I could extend over the weekend and participate the IARU HF Championship. In parallel also the WRTC (World Radio Team Championships) were happening in southern Finland with about 50 teams from all over the world competing under similar conditions. The crew of OI2HQ was a multi national team with many experienced Contest operators. I was operating from the OH4A Contest Station on 20m SSB using the new built array of 6 times 4 element Yagis on 2 towers of 44m and 48m height. During the night time I also gave a helping hand on 160m together with OH9MM. In the end we reached 2nd place among the Headquarter stations. More information about the OI2HQ activity can be found on the SRAL website
November 2002 - Madeira Island CT3/DJ2QV and CT9L during CQWW-CW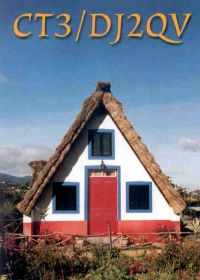 After the bad experience with Lady Aurora the year before I decided to go somewhere south where the old lady could not hurt me so bad...
So I joined Walter DJ6QT on the Island of Madeira for my first ever M/2 Contest entry (actually it was the year where M/2 class was introduced in CQWW-DX-Contest). The RRDXA team on Madeira was multinational again. Walter DJ6QT, Marcus DL1EKC, Franz DL3PS, Carsten DL1CWI, Rein PA0RCT (now PA0R), Ken W8LU and Kaz JA1IST. Our location in the village of Santana on the north side of the island was excellent. Overlooking the sea towards Europe and North America. Only towards the south we were blocked by the high mountains in the center of the island. The antenna setup was really simple - using 3 tribanders, a foursquare for 40m and dipoles or short verticals for the low bands. We had to cope with some extreme weather conditions.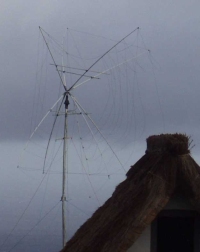 Most of the damage could be repaired before the Contest started but during the second day of CQWW we were again hit by a strong storm which destroyed the only 160m antenna and really twisted the Quad... However we made about 9000 QSOs and finished in 4th position worldwide. As we stayed for 2 weeks on the island there was enough time for other activities like walking and hiking and sightseeing on this wonderful island. We were also invited by the local CT3 Radio Club to visit the CQ9K Contest Station which was operated by Frank DL2CC during the Contest in Single OP category. Our special thanks goes to Jose Luis CT3EE who supported us with equipment and antennas during the Contest. Apart from the Contest activity I logged about 1700 QSOs before and afterwards using CT3/DJ2QV - mainly on WARC bands. My original plan to take also some VHF Equipment with me was not possible because the TS-850 HF Radio had priority this time.
July 2003 - Finland OH2HQ and Åland Islands OH0N again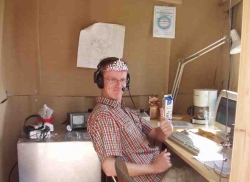 This was a great three weeks holiday in Finland. Contest activity started again at OH4A where DK3DM and myself were operating 20m SSB in the Finnish Headquarter Team OH2HQ. It was also one of the worst ever Contest experiences in my life. Sitting there with enough power and a huge antenna system of 6 times 4 element Yagis it felt like operating a Contest with QRP and a dipole. Lady Aurora had come back with her vengeance ! The conditions were so bad that we just could not believe it. Almost no DX and holding a frequency was almost impossible.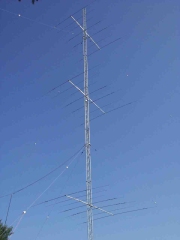 After 24h we ended up with just under 2000 QSOs but more than 50 mosquito bites on DK3DMs legs. Despite a very well organized Headquarter activity the 12th place that was achieved was disappointing compared to the year before. But the conditions did not allow anything better so far up north in Europe. After the Contest we drove all around Finland and visited some radio amateurs on our way.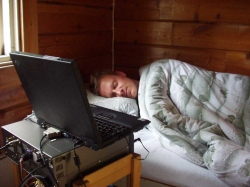 In Kuopio we met with Mikko OH4XX and in Vasa we did a nice ship cruise with Jari OH6QU. Jari's antenna system uses 3 stacked Tribanders - and from the boat we could see that it is almost right at the baltic sea. On the way back to Germany we stayed for three nights in a very small wooden cabin on a camp site near Lumparland on Åland. It was time for the RSGB IOTA Contest and I entered it as OH0N in the 12h CW Island Expedition class using only a simple inverted Vee Antenna but I had some fun...This was my last activity as OH0N - my sincere thanks go to Jari OH1BOI for managing all the QSL cards ! Somehow it was an exhausting holiday as my wife shot this picture of myself sleeping in front of the radio - dreaming of the next DXpedition !
February 2004 - Florida W4/DJ2QV
Not really an expedition. We were on holiday in Florida and I had to promise my wife not to take any radio equipment with me. I said ok, but let's try to visit some of the DX and Contest guys over there... So we visited Eric K9ES and Larry KJ4UY invited us for a nice dinner and let us stay at his house for a night. During the ARRL CW Contest I operated a couple of hours from the station of Fred K9VV using the callsign W4YR and also W4/DJ2QV. A very interesting experience to compare the signal strenghts of all the big European Contest stations on the other side of the Atlantic. Prior to my trip I had also arranged a meeting with K4OJ through the Florida Contest Group reflector. We even had a QSO about a week before I left Germany. Sadly, Jim died during a heart surgery a few days before we had scheduled to meet.
May 2005 - July 2006 England
From May 2005 until autumn 2006 I lived and worked in Basingstoke, England. I got my UK Callsign M0RUN in July 2005 but the antenna situation at my house at the outskirts of Basingstoke was very difficult (see also Equipment & Antennas). One of the first radio amateurs I visited after arriving to the UK was Bill G4AEP. Bill is very active on 2m from his cottage which is a really nice countryside location in IO91MB. I operated part time in the May 2005 VHF Contest using M/DJ2QV and also in the Marconi Memorial Contest in November as M0RUN/p.
For the WPX CW Contest in 2005 I got an invitation by Paul G6PZ to join him and his team in the M/S class from his fantastic location near Weston-Supermare.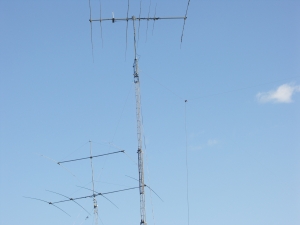 Team members for this event were (pircture below from left to right) myself, G6PZ, M0CLW, HA3LN, G4TSH M0DXR and G3TJE who took the picture. Teamspirit was very good and in the end we managed to work over 5000 QSOs and reached #1 in Europe. The station at G6PZ is fully automated including bandfilters and antennas. Both operating positions use ACOM amplifiers. The antenna system is relatively small compared to some of the competitors. Two towers of about 25m height with Tribanders, a 2 ele "Shorty forty" and loops for 80m and 160m.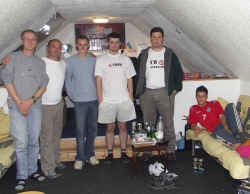 The Titanex Vertical was not in use for WPX - but during both CQWW Contests which I also operated from G6PZ in M/S class it was used as an alternative to the 80m loop. There were no beverage RX antennas in use at that time. The last Contest I operated from Paul's station was Russian DX Contest in March 2006 - but only with a small team - G6PZ, G3TJE (part time) and myself. After moving back to Germany I heard that Paul has been rebuilding his antenna system completely using Steppir antennas. The crew at G6PZ consists of many very young radio amateurs. Thanks to Paul they have the possibility to operate from a really competitive station during the major Contests. The G6PZ station is also a regular site of the GB5HQ RSGB Headquarter activity during IARU HF Championships.
September 2006 - W1/DJ2QV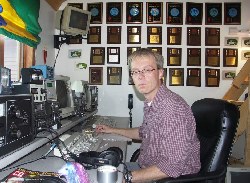 A business trip to the Boston area gave me the chance to visit some of the big Contest stations in MA and NH. I made initial contact through the Yankee Clipper Contest Club, and during my 2 weeks trip I had the chance to meet and visit the following radio amateurs from the area. Dave KM3T not only showed me the fantastic KC1XX station. He also took me on a 3 hour flight over the area in a Bonanza aircraft with him as a pilot. At Mat's station I felt really small when I looked up the 100m tower with the stack of Delta loops for 80m.
It is just amazing how the antenna farm has been planted into the woods. I also had the chance to operate for about 20 minutes in the Scandinavian Activity Contest signing W1/DJ2QV.
Later the same evening I visited Ken WO1N at his house in Billerica. Ken is a frequent operator at K0TV or K1TTT during Contests. His station at home is rather small with a tribander on a smaller tower and a 40m Vertical in the garden. However I worked a few more scandinavian stations from his house during that evening. Again very interesting to compare the signal strength of all the "big guns" in Scandinavia on 40m.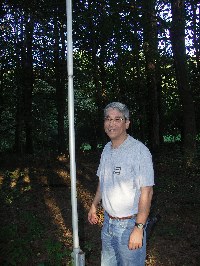 A few days later I got an invitation from Fred K1VR . First he showed me his antenna system which is pretty well hidden inside the woods on his property near Lincoln MA. Afterwards we went to Jim K1IR and had a look at his amazing tower and shack. Jim's station has been very successful in the M/S class in the USA for the past years. He just uses a single tower that is fully loaded with Antennas - most of them individually rotatable.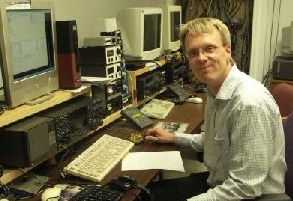 After working a couple more QSOs with his new Icom IC-7800 and a 3 ele Beam on 40m I even had a small Pile-up of European stations so the signal must have been loud... This very interesting visit ended with a nice dinner at K1VR's house. Thanks to everybody for the great hospitality and showing me some of the really big Contest Stations in the Boston area.
August 2011 - SV9/DJ2QV - QRP activity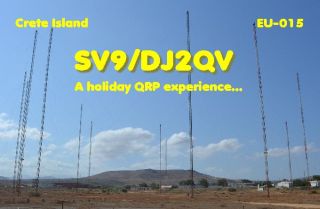 After a couple of years without radio on holidays, I got the permission from my family to take a small rig with me on our family holiday to Crete. We stayed in a holiday resort about 20km east of Iraklion, and luckily our room was nicely situated on the 2nd floor with two balconies - one facing towards the sea and therefore more or less in the direction of central Europe. I used an Elecraft KX1 QRP Transceiver with 2 Watts output (tnx DJ6ZM) and the antenna was approx. 7m of wire sloping down from the balcony.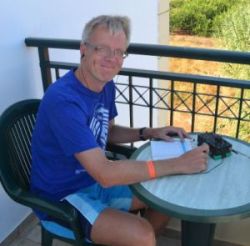 Activity was focussed on 30m and 20m mainly during the evening hours when the kids were asleep. A few QSO were also worked during early mornings and mid-day siesta time ;-) This was my first QRP activity and I was really amazed what can be worked with 2W and a bit of wire. Even calling CQ on 30m yielded in reasonable rates with two JA stations calling in one night as ODX. A total of 142 QSOs were worked during this part-time expedition.
The picture on the QSL shows the masts of a log.-periodic antenna system that once belonged to the Iraklion Air Station which was abandoned by the U.S. Airforce in 1993, after being in service for almost 40 years. It is now a site in ruins and the masts are accessible to anybody...
Another interesting "radio attraction" is the large refelctor antenna located on mount Edheri near Gouves.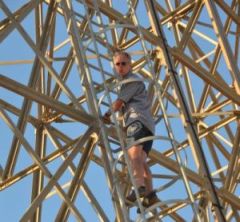 They belonged to a Troposcatter System also run by the U.S. - now the area is occupied by hundreds of goats and those who dare to climb the reflector (like myself) will find a "treasure" at the top. But this is part of another hobby I started a couple of months ago. Anyhow, the view from this hill is just amazing.
May/June 2012 - EA6/DJ2QV - QRP activity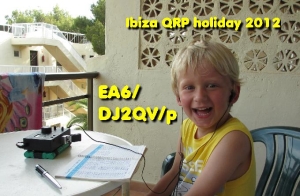 After the successful activity from Crete last year, I took the KX1 with me again on our family holiday to Ibiza. We stayed in a holiday resort about 5km from Sant Antoni, and from the balcony of our hotel room it was possible to install a simple wire of approx. 12m length towards another building. The take-off towards central Europe was not so good, but it was still possible to work CW-QSOs with just 1-2 Watts output. When we arrived at the hotel on Sunday, the CQ-WPX CW contest was still running. In the evening I just threw a bit of wire over the balcony and workd a couple of QSOs.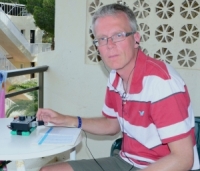 Later on I installed the 12m longwire between the buildings. Another good test for the "ears" of the operators was the CW-Fieldday where I worked about 65 QSOs - mainly with DL, G, ON, HB9 etc. Unfortunately I forgot to take the charger for the KX1 battery with me, so towards the end of our 2 weeks stay, the battery was at 10 V and the output was less than 0.5 W. Finally 105 QSOs were made in the holiday-style expedition. Ibiza is a really great island, nice beaches, crystal-clear water and very friendly people. So the whole family is looking forward to coming back here in 2013 again.
November 2012 - OH0V - Aland Islands in CQWW-CW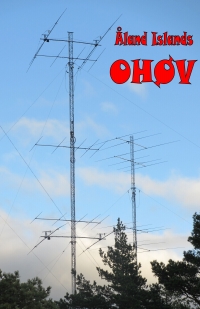 More than 9 years after my last activity from this beautifull Island in the Baltic Sea, I returned here for a serious effort in CQWW-CW. As a team of 8 operators we participated in the M/2 class from OH0V. This would have been impossible without the dedication of Jukka OH6LI who has meanwhile established a really competitive station at Geta Bergen on Aland's main Island. The setup consists of 5 towers with multiple stacked monoband Yagis. We were running with two Operators and two Radios at each running station for almost the entire contest. However the station setup was still a big challenge as this was the first M/2 operation from here. But due to good advanced planning everything worked fine - apart from a short power failure. Unfortunately Lady Aurora visited us on the Saturday of the Contest and rendered the upper bands (especially 10m) useless towards USA or JA.
So we ended up with lots of QSOs but somehow less multipliers and points/QSO as expected - for details see Contest and Scores The operators (left to right) were DJ2QV OH6LI DL5KUT DJ4MZ DJ0ZY DL6RAI DK2OY and OH7EA. QSL cards will be sent via the DARC QSL Buro automatically.
August 2014 - Meeting hams in the USA
In 2014 I was on a business trip to St. Louis in the USA. Alex KU1CW who works for the same company organized a meeting with some local hams over there. So we visited Paul K0JPL at his house and we had a meeting with ward N0AX at our hotel. The picture shows myself next to Ward N0AX, Alex KU1CW and Harry VA3EC underneath the famous arch of St. Louis.
May 2015 - WPX CW on Crete Island - SW9AA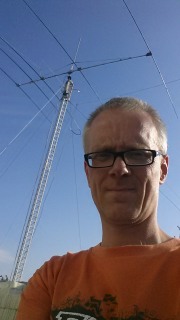 In 2015 I spent two weeks of family holidays on the wonderful island of Crete again. The WPX CW Contest was right in the middle of my stay, so I had to be QRV. Original plan was to operate a single band entry with low power and some wires from somewhere near the hotel.
But then I got in touch with Giannis SV9FBG who was hosting a Multi-Single entry at his station near Iearapetra. Together with Vesko LZ5VK, Christo LZ3FN and George SV9DJO we operated as SW9AA. Despite relatively moderate condx we have a lot of fun and ended up 5th place in Europe. Thanks again Giannis for the invitation including great hospitality (food and drink more than enough !) and Christo and Vesko for setting up a very competitive station. Hope we can meet again in the future.