"Ham CV"
early days...
I was infected with "the radio bug" when I was about 11 years old - at this time my parents bought me an experimenters kit called "KOSMOS - Spiele mit Radio". This tiny kit contained a breadboard and a few components to build a simple AM detector Radio. A year later I had a more advanced kit from Philips called EE2003. At this time I had great fun to string antenna wires around a friend's house and garden... At the age of 14 a schoolfriend (now DL5YET) introduced me to CB radio and I was active on this band for about a year but we soon found out that this is not really the thing we wanted. In the meantime we had read a lot about Amateur Radio and luckily a neighbouring club was offering a license course.
first license
In February 1987 I passed the exam for a class C (VHF only) amateur radio license and I got my first callsign DG9YEP. With some saved pocket money I bought my first Radio a Yaesu FT-290-R 2m allmode Transceiver with 2,5 W output power. Luckily I also got the permission to install an antenna on top of the house - a simple 10 Element Yagi for 2m with an old AR-40 rotator did the job. Ulli DG9YN (now DL3YEL) lived just a few hundred meters away and he introduced me into VHF DXing. I still remember the excitement of working my first Sporadic E QSO to southern spain - or the first SSB Meteorscatter contact with Alex I4YNO. As I was still in school I had lots of time for the hobby...
CW is just the better mode...
Very soon I learned that the real DX on 2m is worked on CW - at least at that time. I was eager to learn the "Morse music" and the DL0JK course made this relatively easy. After about 8 weeks of intensive training - listening to those tapes again and again and with the great help of my mentor DF1QG I passed the Morse test in April 1988 and got my full license with the callsign DJ2QV. During the next years I was very active on 2m working DX via Aurora, Meteorscatter and Spordic E. I still have a tape recording of my 2m ODX QSO with UG6AD (now EK6AD) from 1989 over a distance of more than 3000km. And also the fantastic Super-Auroras from 1989 and 1990 with QSOs down to YU are still remembered. Around 1990 I started to work in Contests more seriously - together with my Radio Club DF0WD we entered mainly VHF/UHF Contests.
growing interest in shortwave
In 1991 I started studying Electrical Engineering at the University of Bochum. I became a frequent user of the University Club Station DK0UB. In the beginning I was mainly active on VHF from this station but as there was also some decent HF equipment my interest in the Shortwave bands grew more and more. At the beginning it was just chasing DX but around 1994/1995 we also started to participate in HF Contests like WPX or CQWW. A DK0UB M/S entry together with DL1EFD, DL1EFO, DL1EKA, DK7FP and others really got me into HF Contesting around the mid 90's. But it took a few more years before I was really infected with the "Contest Virus". Activities together with DK3DM, DL8OBQ or the "Teuto-Contest-Gang" (ex DL0WAE, DF0DX) have been leading to this - together with my first really serious M/M participation at CN8WW in 1999.
no time for a break...
Interesting is the fact that I have never really lost interest in the hobby over the past 20 years. While I hear from others that they have been QRT for a certain amount of years, my activity on the bands has never come to a total stop. Of course there have been periods where my QSO rate went close to zero for a couple of months but altogether the rate is quite impressive. I estimate that I have crossed the 100.000 QSO mark already but I don't keep track of this exactly. In 2007 I worked roughly 5000 QSOs but it was not my most active year at all.
Personal & Professional CV
I was born in 1971 and grew up in the town of GŁtersloh near Bielefeld.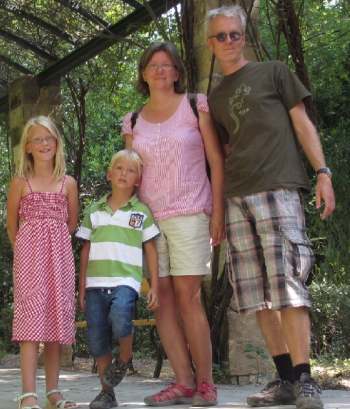 After school education and the complementary military service I studied Electrical Engineering at the Ruhr University Bochum. I also spent two terms as an exchange student at the University of Sheffield, England. In 1998 I started working as an RF Design Engineer for NOKIA in Bochum. Product development of Bluetooth Modules and GSM handsets has been my main work topic during the following years. In 2005 I decided to join Motorola in Basingstoke, UK as a senior RF Engineer and worked on a 3G handset. But due to various reasons we returned to Germany about 18 months later. In autumn 2006 I joined M/A-COM Tyco Electronics in Schweinfurt, Germany where I worked on RFID Systems and Automotive Radar sensors with a focus on the antenna design. After almost 10 years in Research and Development I decided to leave the RF labs in 2008 and now work as a Product Manager for Antennas at Rohde & Schwarz in Munich, Germany. I am married to my wonderful wife Kirsten and we have a 10 year old daughter and a little boy who will turn 7 years soon.