! DOCTYPE HTML SYSTEM "HTML.DTD"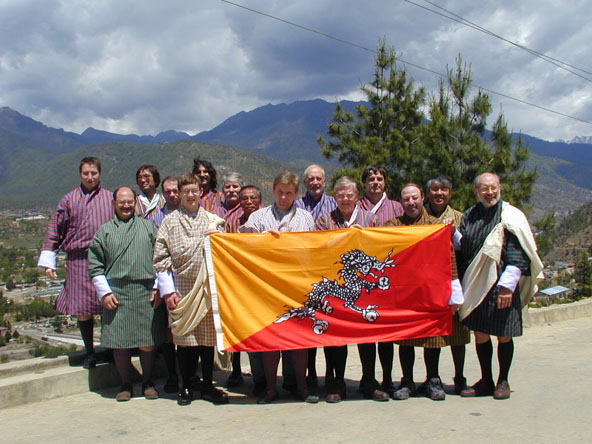 The flag of the Kingdom of Bhutan

MAY 2-12, 2000...THE INAUGURATION OF HAM RADIO IN THE KINGDOM OF BHUTAN
A52A
After decades of waiting and with only short limited Dxpeditions in the past, the Kingdom of Bhutan recently passed new regulations that permit amateur radio operation in a country that has been near the very top of the most wanted list for decades.
Even though amateur radio licenses are now available, Bhutan strictly limits visitor visas to a mere 2300 each year. This is done to protect and preserve the Bhutanese very unique and special way of life. We owe a tremendous debt of gratitude to those in the Royal Family and in the Ministry of Communications for making this first operation from Bhutan possible!
Our dxpedition was limited to 100 watts. Yet we had a goal to remove Bhutan from near the top of the Most Wanted List and to give a new one to as many of our Amateur friends as possible. We are very proud that we made over 82,000 qsos, the second highest qso dxpedition in history and the highest for a low power operation..
Thanks for the qsos...
CONTENTS:

On-line log lookup

Facts about Bhutan--learn more about this wonderful country
Bhutan2000 web site in Japanese
Our cast of operators

Our operating frequencies and Great Circle Chart

Press Releases, operating news, hot items, and scuttlebutt
Our photo Album
Our sponsors
QSL ROUTE:


DIRECT:
W0GJ
Glenn Johnson
14164 Irvine Ave NW
Bemidji, MN 56601 USA


---
Our DXPedition employed the use of regional pilots to keep the operators in touch with their audience. They did a wonderful job...thanks from the team.

East Coast North America/South America Pilot:
N1IUN Doug Caron, [email protected]

Central / West Coast North America Pilot:
NI6T Garry Shapiro, [email protected]

Europe/Africa/Middle East Pilot:
DL1XX Klaus Wagner: [email protected]

Japan/Asia/Australia/New Zealand Pilot:
JA1ELY Toshi Kusano, [email protected]



---
You are visitor number
since 04/24/00

This page designed and maintained by N1DG.
Last updated 8 August 2000