VE3DRY Repeater
147.255+
VE3DRY has been running since 1989, located 6 miles north of the City of Dryden at an elevation of 1340' above sea level.
Dryden is part of the Pine Tree Intertie System, the west link is to Sioux Narrows and the northeast link is to Sioux Lookout.
The tower is a 96' T-200 Trilon with a Sinclair 210-C4 antenna and 7/8" heliax for the VHF repeater . The top beam antenna is a modified Larsen YA-1-420, 8 element antenna with added directors to make the 22 element antenna for the UHF link to Sioux Narrows. This link covers a distance of 106 km, with the same 22 element antenna at that end. The bottom UHF antenna is a Larsen YA-1-420, 8 element pointed towards Sioux Lookout. Both are fed with 1/2" heliax.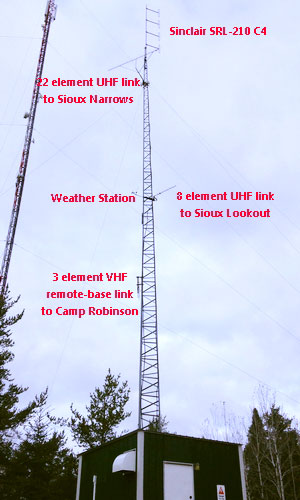 Shack refurbished July 2015 by Neil, VE3VNM, Bryan, VA3BRY & Bob, VA3GUN.
Click on the pictures to see the equipment inside.
Thanks to Bert's Auto Wrecking & B. Taylor Home Hardware Building Centre Dryden for materials.