Honolulu Police Department
You are here: Public Safety > HPD Main
Introduction
The Honolulu Police Department is the largest metropolitan law enforcement agency in Hawaii. With over 2200 sworn officers and its civilian component, the department serves Oahu's 880,000 residents, including military personnel. Over 7 million tourists visited the state in 2007.
Department Headquarters
The main police station is located in the historic Honolulu civic center district at 801 South Beretania Street.
Patrol Districts New! Under construction 2/7/2008
District 1 | District 2 | District 3 | District 4 | District 5 | District 6 | District 7 | District 8
Patrol Division
Oahu was divided into four "logical" patrol districts in the 1970s: Metro Honolulu (District 1), Central Oahu/North Shore (District 2), Kaena Point to Pearl Harbor (District 3), Windward Oahu (District 4). Demographic changes and population shifts further subdivided Honolulu with three new districts: Kalihi (District 5), Waikiki (District 6), and East Honolulu (District 7). Leeward Oahu and the Kapolei/Ewa areas became District 8.
Originally, the Central Patrol Bureau (Honolulu) had two-digit beat designators (20-94), while the Regional Patrol Bureau had three-digit beat designators. In June 1997, the district and beat boundaries were redrawn and renumbered. All beats now have three-digit identifiers, beginning with x50. In some districts (most notable in District 2), some beat designators are not consecutive, so that beats could be added and renumbered at ease if needed.
Interestingly enough, beats in Districts 2, 3, and 8 were redrawn and renumbered again in 2002.
District 2 added Beat 255 to address the growing community of Mililani-Mauka.
District 3 beats were renumbered to distinguish the four patrol sectors (35x, 36x, 37x, and 38x)
District 8 added Beat 871 as Kapolei began to grow into Oahu's Second City. Beat 870 now covers the entire Kapolei Business District north of H1 Freeway, while Beat 871 includes all of Kalaeloa south of H1 Freeway. Beat 872 includes all of the residential areas in the Villages of Kapolei.
In terms of records management, crime classification between residential and business is made easier with the redrawn beats. Ala Moana Shopping Center is located entirely within Beat 180, while Ala Moana Beach Park is located entirely within Beat 172.
Today, there are eight patrol districts and 156 patrol beats on the island of Oahu.
Radio Communications
All department communications are on the City & County of Honolulu 800 MHz radio system. Here is some history regarding patrol communications:
Until 1996, the department used 8 VHF radio frequencies, one for each district.
The city began installing the 800 MHz radio system in 1996. HPD began simulcasting communications on both the VHF and 800 MHz radio system about mid-1996.
On June 1, 1997, the department ended its VHF/800 MHz simulcast and switched all patrol communications to "analog patrol" on the 800 MHz system. At that time, officers were using Ericsson M-RK II portable radios.
Later in 1998, the department briefly switched patrol communications to AEGIS digital, only to encounter major communications difficulties. They switched back to analog patrol.
In 2001, the radio system was upgraded from AEGIS digital to ProVoice digital format. The M-RK series radio did not support the ProVoice format; the department switched to newer radios, the Jaguar 700P. The radios and latest digital mode was successfully tested during the Asian Development Bank conference in 2001.
In November 2001, additional frequencies were added to all radio sites.
On April 9, 2002, the department ended 800 MHz analog patrol operations and switched all patrol communications to "digital patrol".
Radio Callsigns
HPD patrol call signs are easy to decipher. The graphic below shows that the beat officers callsign is comprised of three distinct parts: the shift (or watch) designator, the car type, and the master beat.

Shifts: There are three-shifts, or "watches", designated 1 (Night), 2 (Day), or 3 (Evening).
Car Types: There are two car types. Cars designated "Bravo" are the 'blue and white' patrol cars, while cars designated as "Mike" are subsidized private vehicles with either a single blue dome light or the new LED bar lights. HPD also operated Cushman GO-4 units, which were given a "Charlie" unit designation. They were discontinued in 2001 after safety issues resulted in injuries to several officers.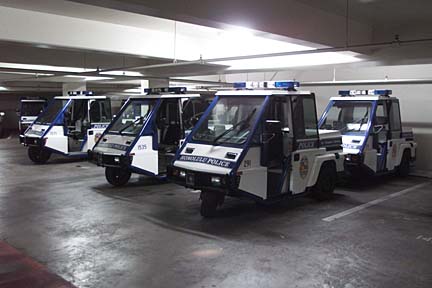 HPD Cushman vehicles in 2001
Photo credit: George Lee (Honolulu Star-Bulletin)
Beat: The master beat is the primary area of responsibility for this patrol officer. The first digit is always the district number. The implementation of a new Computer Aided Dispatch system did away the practice of assigning two-man units a unit suffix (i.e. 2B180A) as the new system was not designed to handle six-character callsigns. Two-man units are assigned a single callsign, but only one officer is considered the primary.
In this example, Beat 180's boundaries are Kona Street to the north, Atkinson Boulevard to the east, Ala Moana Boulevard to the south, and Piikoi Street on the west. As you might have guessed, Ala Moana Center lies totally within Beat 180.
While beat officers are assigned to a particular beat, dispatchers may send them on any case within their sector. During major emergencies, beat officers may be called out of sector, or even out of the district.
There are a total of 156 beats on the island of Oahu.
Other Callsigns
Non-patrol units are given four-digit callsigns, which are detailed here
CALLSIGN	UNIT DESCRIPTION
150-180		District 1 Beat Officers
250-272		District 2 Beat Officers
350-384		District 3 Beat Officers
450-480		District 4 Beat Officers
550-573		District 5 Beat Officers
650-662		District 6 Beat Officers
750-784		District 7 Beat Officers
850-879		District 8 Beat Officers
1100		District 1 Captain
110x		District 1 Lieutenants
111x-119x	District 1 Sergeants
1200		District 2 Captain
120x		District 2 Lieutenants
121x-129x	District 2 Sergeants
1300		District 3 Captain
130x		District 3 Lieutenants
131x-139x	District 3 Sergeants
1400		District 4 Captain
140x		District 4 Lieutenants
141x-149x	District 4 Sergeants
1500		District 5 Captain
150x		District 5 Lieutenants
151x-159x	District 5 Sergeants
1600		District 6 Captain
160x		District 6 Lieutenants
161x-169x	District 6 Sergeants
1700		District 7 Captain
170x		District 7 Lieutenants
171x-179x	District 7 Sergeants
1800		District 8 Captain
180x		District 8 Lieutenants
181x-189x	District 8 Sergeants
3100		Missing Persons Detail
3200		Criminal Investigation Division (CID)
3500		Narcotics/VICE Division (NVD)
3700		Vehicular Homicide Section (VHS)
3800		Solo Bike Detail
3900		Specialized Services Division (SSD)
3990		Police Helicopter 1
3991		Police Helicopter 2
4400		Police Reserves
7700		State of Hawaii DPS
7800		Traffic Light Units
9100		District 1 Crime Reduction Unit
9200		District 2 Crime Reduction Unit
9300		District 3 Crime Reduction Unit
9400		District 4 Crime Reduction Unit
9500		District 5 Crime Reduction Unit
9600		District 6 Crime Reduction Unit
9700		District 7 Crime Reduction Unit
9800		District 8 Crime Reduction Unit
Work Schedules
On 13 August 2006, Honolulu Police implemented a change in the patrol schedule. Officers now work more days a week but have shorter shifts under a new contract between HPD and SHOPO, the police union. A 45-minute meal break is factored in, which is why the shift ends 45 minutes past the hour.
DISTRICT	1ST WATCH	2ND WATCH	3RD WATCH	4TH WATCH
All Districts	2200-0645	0600-1445	1400-2245	1800-0200
Recall Time	2230		0630		1430
Units begin to test 15-20 minutes after the times indicated above, to account for lineup and roster changes, if any. Recall of the previous watch is indicated with the recall time above.
The fourth, or Power Watch begins at 1800-0200 in Districts 1 and 6 only. This watch usually augments the district with additional officers during the early and late evening, when these districts may experience a heightened number of cases.
From 1 June 1997 to 12 August 2006, patrol officers in Districts 5 and 7 worked a 3/12 schedule--three days of 12-hour shifts for two consecutive weeks and four days the third week. which averages out to 40 hours per week. The rest of the island shifted to a 3/12 schedule in August 2000. The shifts were different, depending on which district an officer works in. A 45-minute meal break is included in the shift schedule, which is why the watch ends past the hour.
DISTRICT	1ST WATCH	2ND WATCH
1, 2, 5, 6	1800-0645	0600-1845
3, 4, 7, 8	2100-0945	0900-2145      
With the department now on a 5/8 schedule, it is likely that dispatchers now work 40 hour-per-week shifts. Shortages continue to plague the Communications Division, and it is likely that dispatchers work beyond their normal shifts if needed.