Home
>
Emergency Communications
>
Fireworks - New Years 2000
Fireworks over Honolulu
December 31, 1999 - January 1, 2000
Every year, (illegal aerial) fireworks adorn the skies above Honolulu. Combined with legal firecrackers, it doesn't take long for the smoke to clog the air.
Enjoy, and feel free to drop me an e-mail if you have any questions.

This is the 10:00 pm view towards the University campus and St. Louis Heights. You can see the smoke beginning to obscure the street lights. Off towards the left, you can see the bursts from two aerials. The "show" over Alewa Heights and Nuuanu Valley were just as active.
(Fuji Super G 800, 85mm f1.8, approx. 1/4)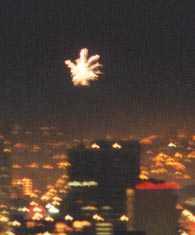 At times, the aerial fireworks were amazing, rivaling commercial aerial displays. (Fuji Super G 800, 85mm f 1.8, approx. 1/4)
The Honolulu Advertiser reports that the pollution levels that night were ten times that of Los Angeles during a bad day! Click here
January 8, 2000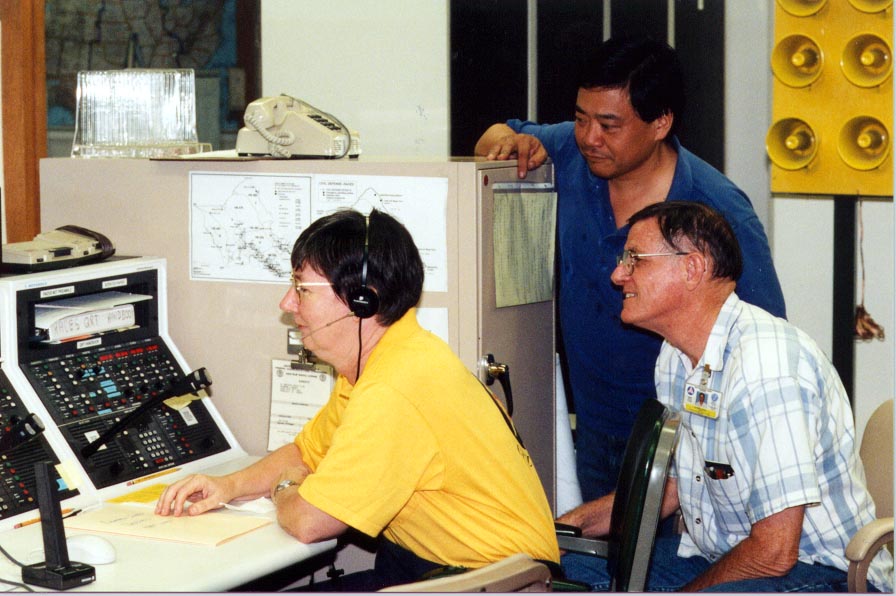 Starting on 5:00 pm on Friday, December 31, 1999, amateur radio operators serving as RACES emergency communicators manned their positions in the OCDA communications room and received communications and reports of Year 2000 status. Here Bev Yuen, AH6NF is at the console with Randy Kurashige, WH6AJ and Ray Moody, AH6LT listening intently on the report. Information was routinely passed to Wayne Jones, NH6GJ who serves as the OCDA Communications Officer. (Nikon N90s, 85mm f1.8, f5.6, 1/250, SB-26 TTL, Fuji Super G 800)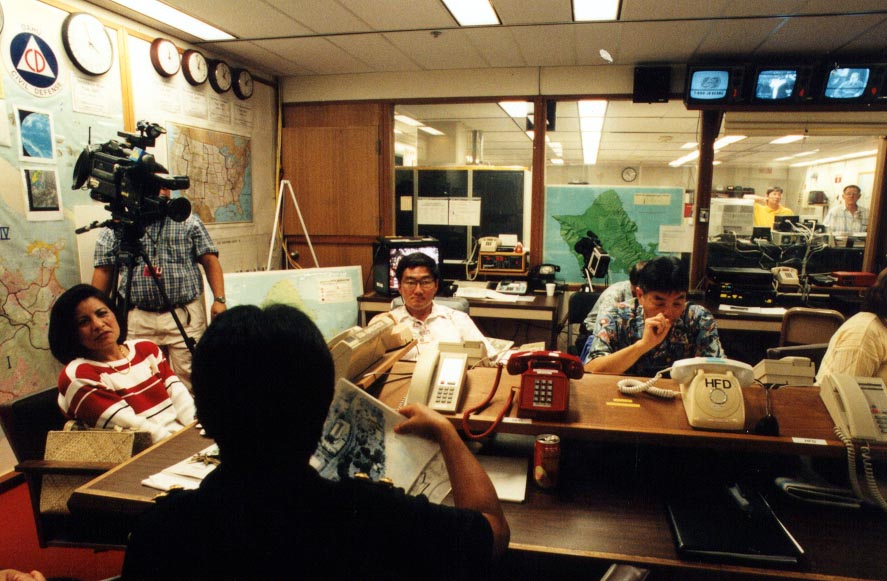 Situational information is assembled in the OCDA operations conference room and presented to the mayor hourly, or sooner if needed. You can see the communications room and the RACES operators to the right, and above them are the four major national TV networks. CNN is monitored on a floor TV set. This is a slow moment between reporting periods. (Nikon N90s, 20mm f2.8, f2.8, 1/60, SB-26 TTL, Fuji Super G 800)
After Mayor Jeremy Harris receives the reports and makes a determination, the news is released to the media. Here, Mayor Harris is ready for a live interview for the 10:00 pm news. Directly in front of us, Toby Clairmont, the emergency coordinator for Healthcare Assocation of Hawaii (and amateur radio operator KH7FR) receives and logs readiness reports from hospitals into the laptop. (Nikon N90s, 20mm f2.8, f2.8, 1/60, SB-26 TTL, Fuji Super G 800)
Note: The conference and operations rooms have been remodeled since these photos were taken. They are now combined into a state-of-the-art "auditorium" type arrangement.
Find out more by contacting: rhashiro(remove this part)@hawaiiantel.net
Copyright © 1997-2015 Ron Hashiro
Updated: January 8, 2000 and August 31, 2002
DISCLAIMER: Ron Hashiro Web Site is not responsible for the content at
any of the external sites that we link to and therefore
are not necessarily endorsed by us.