LA8G
Radioamatørklubben P35

PLEASE EVERYONE:
1 USD DOES NOT COVER RETURN POSTAGE NOWADAYS. IT DOESN'T EVEN COVER SURFACE MAIL WITHIN SCANDINAVIA! USE 1 IRC (NEW TYPE, STAMPED ON LEFT SIDE!) OR 2 USD INSTEAD!!!
AND, NO - WE ARE NOT $ COLLECTORS. WE JUST CAN'T FUND YOUR DIRECT QSL REQUESTS. THANK YOU!
JW8G was active from March 22nd to March 24th 2002. The following calls were also used: JW4OFA, JW4PHA, JW9GY and JW9IY.
JW8G was also QRV March 2003.

The JW8G-operators in front of a very special road sign. From left JW4OFA Torfinn (Tor), JW9IY Bjørn, JW4PHA Magnus and JW9GY Morten. Photo: JW5NM Mathias.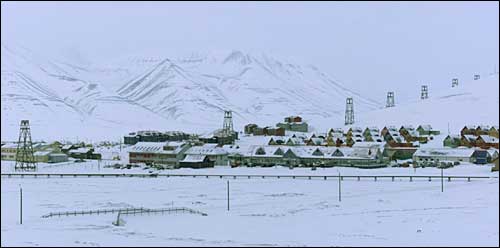 Longyearbyen, Svalbard (Spitsbergen) Photo: JW9GY
QSL as follow:
JW4OFA to LA4OFA Torfinn Horn, Øvre Møllenberg Gt 76, 7043 Trondheim, Norway.
JW4PHA to LA4PHA Magnus Pedersen, Falkvn. 2 b, 7562 Hundhammaren, Norway
JW9GY to LA9GY Morten Antonsen, Hallsetreina 6, 7027 Trondheim, Norway
JW9IY to LA9IY Bjørn Digre, Statsing. Dahlsgt. 38, 7043 Trondheim, Norway
JW8G via LA9GY
(Please notice that one dollar does not cover the postage fee!)
TX8G - TX8G - TX8G - TX8G - TX8G - TX8G - TX8G - TX8G - TX8G - TX8G - TX8G - TX8G - TX8G
From the TX8G-operation. In the home of Eric's Parents about 30 kilometres NW of the airport and 75 kilometres NW of Nouema. This was the location of the WPX-stations.
Frank FK8HC and Johnny LA5IIA (sitting). Through the window you can see John "the trainee".
---
The Norwegian radio amateur's club P35 has a handful members who enjoy DX and contests. The shack LA8G is located outside the city of Trondheim. In addition to operate in multi-op class as LA8G, members have travelled the world. Operations include: 8P,SV9,ZK2,JW,TA,Z3,SV2,YU8,9A,9Q,TY,FK,VK,W1,YA,etc .....and more to come.....
---
Some members: LA4OFA - LA9GY
Other clubs: LA1K - LA2T - NRRL
---
Mail address: POB 941 Sentrum, NO-7409 TRONDHEIM, Norway
E-mail: la8g@qsl.net
---
Updated January 13th 2005 by LA5IIA