Traps of Luck
By LA9GY/JW9GY, Morten Antonsen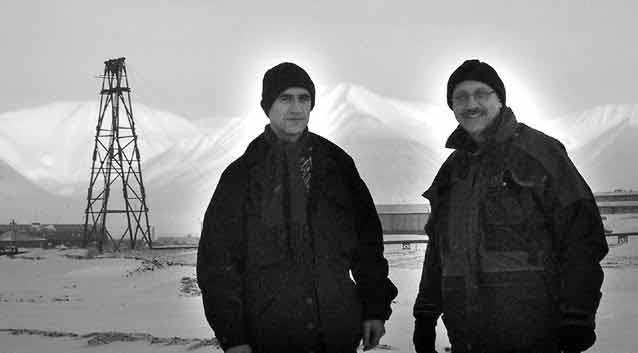 Longyearbyen, Spitzbergen (Svalbard) March 2001: Bjørn JW9IY (left) and Morten JW9GY. Photo: JW5NM
Spitzbergen, way up north in the Artic regions.
We, LA9IY Bjørn Digre and LA9GY Morten Antonsen, were heading north to take part in the WPX test.
We were going to operate the group station JW8G (Radio amateur club P35, LA8G).
In addition, to participating in the competition, part of the objective was to obtain contact with LA5IIA,
who was situated in New Caledonia as TX8G.
We did, by the way, finally manage to do so.
It was finally March and the time had come for another WPX SSB-test from Spitzbergen
(or Svalbard, if you want).
As agreed, JW5NM Mathias was waiting for us when the plane landed at Longyearbyen Airport. And, as we had feared, he had bad news.
- Sorry guys, but the traps on the HF beam is still not working. I have new traps, but I haven't had time to replace the old ones.
The flight from Trondheim (in Mid-Norway) took some hours, subsequently on arrival late at night at group station JW5E, we rolled out our sleeping bags right away. A few hours of sleep, and we got started as JW9IY and JW9GY, primarily on 30 metres.
But something had to be done with the traps before the competition started, and at the same time we had to get some food and drinks. Longyearbyen is not a big place, and on our way to the shop we just happened to run into Mathias (JW5NM) again.
- A cup of coffee, boys? suggested Mathias, always in a good mood.
The coffee shop was crowded, but we managed to find us a table. The subject of the conversation was naturally the traps that should have been changed. At the same time we were watching new guests, in vain looking for a free table.
- Excuse us, do you mind if we sit here?
The newcomers with full trays looked hopefully at us. Of course, it was possible to make room. As we did, Mathias took another look at the new guys.
- Hang on a moment, I know you, don't I? You were working with the aerial masts for the Norwegian Telecom, didn't you?
Yes, they confirmed that, but added that they were now running their own company engaging in masts and aerials. Now they were up north doing a job, and had found time for a coffee break.
- And you are Mathias, the boss in the ATC tower and of the coastal radio station for the Svalbard islands? Yeah, we remember you too. Hope was in the air. Still twelve hours until the start of the WPX test. Maybe this was our lucky day after all?
- Perhaps you'd like to take a look at a couple of traps we need changed? Hopefully, it's a quick and simple job.
Minus 25C plus wind chill factor. JW5NM Mathias (left) and two of the mast fitters (right). Photo: JW9GY
Down by the shack the three fitters from AnTech AS took a quick look. Conditions could have been better. A 30 metre (99 ft.) high mast with an inside ladder. Well, we could have climbed that ourselves, with appropriate safety equipment, of course. The low temperature caused another problem:
25C below zero (- 13F), plus the wind chill factor.
So, if you don't fall down and break your neck, you will freeze to death. And if you fall and just break your legs, chances are good that you will be eaten by a polar bear. All in all, chances were bleak.
Only twelve hours until the WPX test.
The professionals looked at each other, then turned to us:
- Piece of cake. We can do it, say, day after tomorrow.
- Day after tomorrow! we sighed, we came all the way from Trondheim in Norway and the competition starts soon!
Seconds later, the three mastfitters were on their way up the ladder. Their efficient work under rough artic conditions impressed us. Twenty minutes later we could switch on the radio and make sure that the SWR ratio was as it should be.
Did they want any payment for the job? Nope, not at all. At least we managed to give them a bottle of cognac as a token of our gratitude....
Great guys.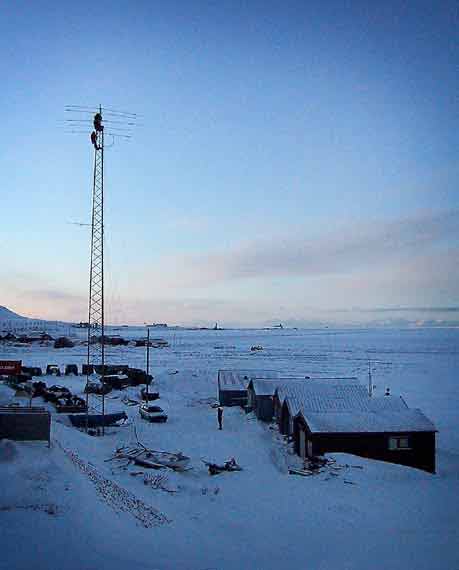 The mast fitters working with the driven element
of the 10-15-20 metres beam
of JW5E
(QTH of JW8G/JW9IY/JW9GY).
The JW5E shack is in the middle of the five boat-houses.
The village Longyearbyen is situated a few hundred metres left of the antenna mast.
How did JW8G do in the contest?
Well.... you see, we had another bottle of brandy and celebrated of course the change of traps. Our explanation is that we had a rather late start - and a great hangover. But it was big fun, though.
The competition, I mean.
Updated 8th of June 2001