JW8G
Radioamatørklubben P35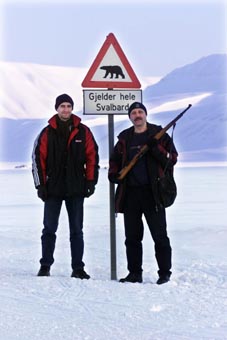 LA9IY Bjørn and LA9GY Morten operated JW8G on Svalbard Isles.
This road sign warning for polar bear is taken seriously.
Photo by JW/DL3NRV Jörg
During March of 2000 two members of the norwegian radio amateur's club P35 went to the norwegian possesion Svalbard (Spitzbergen) in the arctic. With appreciated assistance from the Radio Amateur Club of Svalbard, JW5E, and Mathias Bjerrang, JW5NM, this proved to be a great journey. We also have fond memories from a good time with Jörg, JW/DL3NRV. Beautiful nature, the pleasant people we met and a constant pile-up on the HF make us want to return.
Perhaps you wonder what the weather can be like in Spitzbergen in winter? Well, room temperature in the boat shed we used as radio shack was pretty low; we took the beer cans out of the fridge and placed them on the floor in order to make them really cold…
During 5-6 days we worked app. 1.400 QSOs as JW8G at the CQWWWPX contest. On VHF/UHF satellite and HF Bjørn had about 1300 QSOs with his JW9IY call. Morten, JW9GY, had 2400 QSOs on HF, mainly CW.
---
We, LA9IY Bjørn and LA9GY Morten, enjoyed the trip so much that we returned in 2001 as well (and Morten had also a week-end with the JW-prefix in December 2000, also this time from Longyerbyen and the JW5E-shack).
In March 2001 about 2500 QSO's were made. The band- and mode-spread were likely in the 2000-operation.
---
In March 2002 we entered the JW5E-shack in Longyearbyen again, and this time we were four HAM's travelling together. LA4OFA Torfinn (Tor) and LA4PHA Magnus visited Longyerbyen for their first time. We arrived at 3 AM friday March 22nd and soon after LA4OFA was calling "CQ de JW8G". During the week-end we worked over 2000 QSO's on HF, with the calls JW8G, JW4OFA, JW4PHA, JW9IY and JW9GY. Unfortunately we had some long periods with Aurora (Northern Light).

JW4OFA Torfinn working 20 meter SSB with the call JW8G. There are no penguins on Svalbard. But you will find both ice beer and ice bear on the artic island. Photo: JW9GY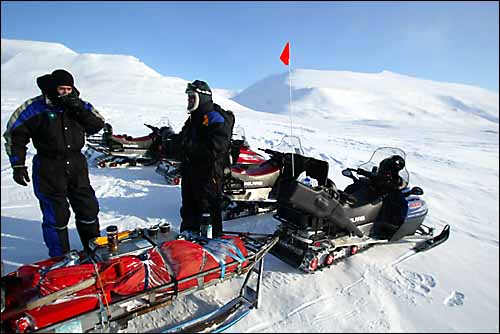 March 2003 Going to the Russian settlement Barentsburg on snowmobile.
It was freezing 22 degree C below 0.
Bjørn JW9IY (left) and Martin JW3JJA.
Photo: Morten JW9GY.



March 2003 Outside of the combined cinema and souvernir shop in Barentsburg,
Spitzbergen. Morten JW9GY has bought a bit too small russian military hat.
Photo: Bjørn JW9IY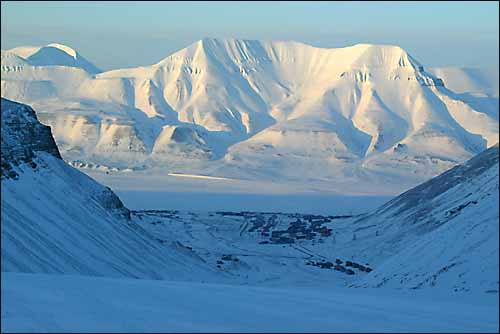 March 2003 The village of Longyearbyen and the Advent valley.
A frozen Advent fjord close to the village. Between the village and the fjord
you will find the shack with the JW5E (and JW8G).
Photo: Morten JW9GY.
The Polar bear, the WARC-antenna and the Kebab.
---
Do you want to QSL direct? Read about the stamps.
Mail address: POB 941 Sentrum, N-7409 TRONDHEIM, Norway
E-mail:
---