---

Clover Sound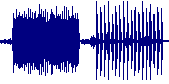 You can hear Clover Sound.

NB6Z's"About Digital Modes Page"
---

Hardware and original Software of HAL Communication Corp. (From Home Page).

For more information, please look at following URL. (Please contact directly for details)
Home Page is as follows (Updated 11-May-98),

HAL Corp. Home Page dated 11-May-98
---

HAL PCI-4000/2K HF MODEM


Now you can send error-free data at high data rates over high frequency (HF) radio links. The HAL PCI-4000/2K modem plugs 
into your computer and gives you the highest performance possible when running CLOVER-2000 data mode. 
Installation and connection to your radio equipment is simple with the included software, cables, and user-friendly
interface. 
Sending data via HF radio is not a simple task. Ionosphere conditions constantly change, often causing distortion 
and errors in the received data. 
CLOVER-2000 mode continuously measures the actual parameters of the received signal and adjusts the transmitted signal to 
compensate for these inescapable problems. Whatever the conditions, CLOVER-2000 adapts to give you the highest error-free 
data rate possible.
To assure interoperability with all other HF data radio stations, the PCI-4000/2K also includes the standard FSK data modes. 
Digital Signal Processing (DSP) in the PCI-4000/2K sets new standards for receive data recovery and transmit data purity 
when using these modes. Hear and work all of the signals - not just the loud ones.
The PCI-4000/2K plugs into any PC-286 or higher personal computer, requiring one full-length I/O card slot. 
Complete software for all modes is provided with the PCI-4000/2K and a growing number of "3rd-party" PC-based programs are
now available at little or no cost. 

---

HAL P38 HF MODEM

The P38 is a multi-mode HF data modem that gives you top performance operation using RTTY, AMTOR, P-MODE*, and CLOVER 
waveforms. The P38 is a full-sized plug-in card for PC-AT and faster personal computers. Multi-screen menu-driven HAL 
software is included with each P38 modem. Many popular "third-party" user programs are also available for the P38 - W0RLI, 
WINLINK, XPPCI and WF1B, for example.
The P38 is complete and ready to run. Plug-in the board, connect three phono cables (not included) to your radio, 
and install the software -that's all there is to it!! Whether you want to rag-chew, chase DX, or contest, the P38 is 
the modem of choice. 

 

                                                        P38 SPECIFICATIONS 

        CLOVER-II
        Format
                                4-tone emission
        Bandwidth
                                500 Hz @ -50 dB
        ARQ Mode Modulation 
                                BPSM, QPSM, and 8PSM
        FEC Mode Modulation
                                2DPSM, BPSM, QPSM, and 8PSM
        Tones
                                2250 Hz Center
        Symbol Rate
                                31.25 per second
        Error Correction Coding
                                Reed-Solomon code: 60, 75 or 90% code rate
        ARQ Protocol
                                2-level, multiblock auto adaptive modulation
        Adaptive Mode Control
                                Measure S/N & Phase on all data, set TX Mode
        ARQ Thru-put
                                8 to 35 bytes/second
        FEC Thru-put
                                4 to 25 bytes/second
        FSK 
        Rtty Codes 
                                Baudot and ASCII
        ASCII Codes
                                45, 50, 57, 75 Bd
        RTTY Tones
                                1275/1445 or 2125/2295 Hz
        AMTOR Code
                                CCIR-476 & CCIR-625
        AMTOR Modes
                                ARQ or FEC
        AMTOR Tones
                                1275/1445 or 2125/2295 Hz
        AMTOR Rate
                                100 Baud
        P-MODE Modes
                                Auto-ARQ & FEC
        P-MODE Rates
                                100/200 Baud
        HARDWARE
        Circuit Board 
                                Full-size for PC-AT
        DSP Processor
                                TI TMS320C25-50
        Control Processor
                                Motorola 68EC000
        Analog I/O
                                TI TLC320AC01 14-bit Codec
        Memory
                                Boot EPROM; RAM loaded from PC
        PC Interface
                                PC-AT ISO Bus
        PC Address
                                200 to 3FF Hex
        PC Requirements
                                PC-286 Minimum '386 or '486 preferred
        Radio Performance
                                Tune in 10 Hz steps, +/- 15 Hz stability
        Radio Connection
                                RX Audio, TX Audio, PTT, FSK, SEL-CAL
        Radio Connectors
                                Phono and Mini-phone
        SOFTWARE
        HAL Software
                                Included with the P38
        Software Updates
                                Code loaded from PC hard disk. Updates available from Web page or dialup BBS (217)367-7373
        3rd Party Software
                                For more information click on one of the following: EXPRESS, Rag-Chew, WINLINK, 
                                W0RLI, WF1B , XPPCI . 
        

*The word "P-MODE" is the HAL designation for a communications protocol that may also be known as "Pactor", a registered 
trademark of the Spezielle Communications Systeme GmbH (SCS) firm in Hanau, Germany. HAL affirms that, to the best of its 
knowledge, "P-MODE" is compatible and interoperatable with the protocol SCS calls "Pactor" and with the link establishment 
and weak signal modes of the protocol SCS calls "Pactor-II". 


---

HAL DSP4100 /2K HF MODEM


The DSP4100/2K is an HF data modem that provides CLOVER-2000, a 2000 bits/sec., voice bandwidth, adaptive waveform 
specifically designed for HF radio data communications. 
CLOVER-2000 measures real-time HF signal conditions and sets the most efficient modulation for these conditions. 8-bit data 
is sent without extra manipulation or modification. ARQ mode is simultaneously bi-directional (duplex) and does not require 
an "OVER" command. FSK waveforms CCIR-476/625 "TOR", P-MODE*, Baudot and ASCII are included. Housed in an RF-tight 
shielded enclosure, the DSP modem operates on 10 to 18 volts DC. Internal modem software can be uploaded into the DSP4100/2K 
into non-volatile "flash memory", greatly simplifying addition upgrades. 
The DSP4100/2K is particulary well suited for use with lap-top terminals (PC's) in a portable and/or field enviroment. 
Many "third party" software packages are available.

                                                  DSP-4100/2K SPECIFICATIONS

                                CLOVER 2000
                                Format
                                                         8-bit transparent
                                Bandwidth
                                                         2000 Hz (500-2500 @ -50 dB)
                                ARQ Mode Modulation
                                                         BPSM, QPSM, 8PSM, 8P2A, 16P4A
                                FEC Mode Modulation
                                                         2DPSM, BPSM, QPSM, 8PSM, 8P2A, 16P4A
                                Tones
                                                         1500 Hz Center
                                Symbol Rate
                                                         62.5 per second
                                Error Correcting Coding
                                                         Reed-Solomon code: 60, 75, or 90% Code Rate
                                ARQ protocol
                                                         2-level, multiblock auto adaptive modulation
                                Adaptive Mode Control
                                                         Measure S/N & Phase on all data, set TX mode
                                ARQ Thru-put
                                                         28 to 250 bytes/sec. 224 to 2000 bits/sec.
                                FEC Thru-put
                                                         14 to 167 bytes/sec. 112 to 1336 bits/sec.
                                FSK MODES
                                FSK Tones
                                                         500-3000 Hz, programmable
                                TTY Codes
                                                         Baudot and ASCII
                                TTY Rates
                                                         45, 50, 57, 100, 110 Baud
                                TOR Codes
                                                         CCIR-476 & CCIR-625
                                TOR Modes
                                                         ARQ, FEC, SEL-FEC
                                TOR Rate
                                                         100 Baud
                                P-MODE Modes
                                                         Auto-ARQ & FEC
                                P-MODE Rates
                                                         100/200 Baud
                                HARDWARE
                                Cabinet
                                                         Extruded 5.7x9.6x1.7 inch
                                DSP Processor
                                                         Motorola DSP56001
                                Control Processor
                                                         Motorola 68EC000
                                Analog I/O
                                                         TI TLC-320AC01 14-bit Codec
                                Memory
                                                         Flash RAM loaded via serial I/O
                                I/O Interface
                                                         Serial RS-232 9.6 kbps
                                Power Input
                                                         10 to 18 VDC, .25 A
                                Indicators
                                                         STBY, Call, Link, Error, TX, RX
                                Radio Performance
                                                         Tune in 10 Hz steps; +/-50 Hz stability
                                Radio Connections
                                                         Rx Audio, TX Audio, PTT, FSK, SEL-CAL 2nd serial I/O
                                Radio Connector
                                                         DE-9S
                                SOFTWARE
                                HAL Software
                                                         Included with DSP4100/2K
                                Software Updates
                                                         DSP & 68000 code uploaded via serial I/O
                                Option
                                                         DSP-4100 w. CLOVER-II 500Hz BW Mode
                                Warranty
                                                         One Year Parts and Labor

---
[Top Page] [Information] [News Flash] [What's Clover] [Clover Callbook (DX)] [Clover Call Book (U.S.A.)] [XPWARE] [XPWin Special Keys] [Easyterm] [ZS5S's MBO(Clover)] [JA3BN's Bookmark] [My shack]