Latest 50MHz DX spots
If you cannot see the full index shown on the left edge of your screen, please go to my main page at
50MHz is probably the easiest VHF band to achieve regular long distance (DX) communications, but radio conditions can vary tremendously depending on the time of year and the solar cycle. The best time of year is from MAY to AUGUST during the Sporadic-E season, where with low power and simple aerials anyone can work most of Europe up to 2,300km distance from your station and with very strong signal strengths in both directions.
Double hop Sporadic-E is sometimes seen in the Summer with distances in the order of up to 4000km to areas like Israel (4X) or the Canary islands (EA8). Some distances worked when at solar minimum in June and July 2007 have been in the order of 6000km to parts of the USA; is this triple hop Sporadic-E or something else such as the less well known Short-path Summer Solstice Propagation (SSSP)? It cannot be F2 layer reflections as we are at solar minimum in 2007.
However, outside of the summer months conditions can generally be poor and the band appear totally deserted. There are exceptions as at the maximum of the solar cycle when 50MHz signals are reflected by the F2 layer just like on HF and it is possible to work all continents including Australia! The pileups can be frustrating to break though.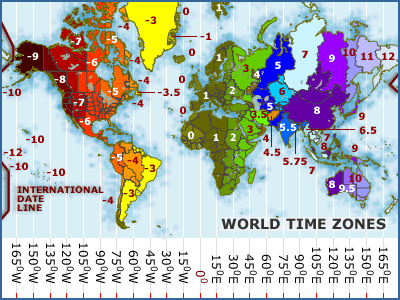 Also it is possible at all times of year to work stations in Europe up to 2,300km away by bouncing your signals off the ionised trails left by meteors entering the Earth's atmosphere. You will need WSJT software and a computer linked by a soundcard interface to your USB transmitter, but there is plenty of Meteor Scatter activity, most mornings and evenings, around 50.230MHz using JT6M mode. You will also need a directional aerial. N.B. 50MHz is considered poorer than 144MHz for tropo scatter communications.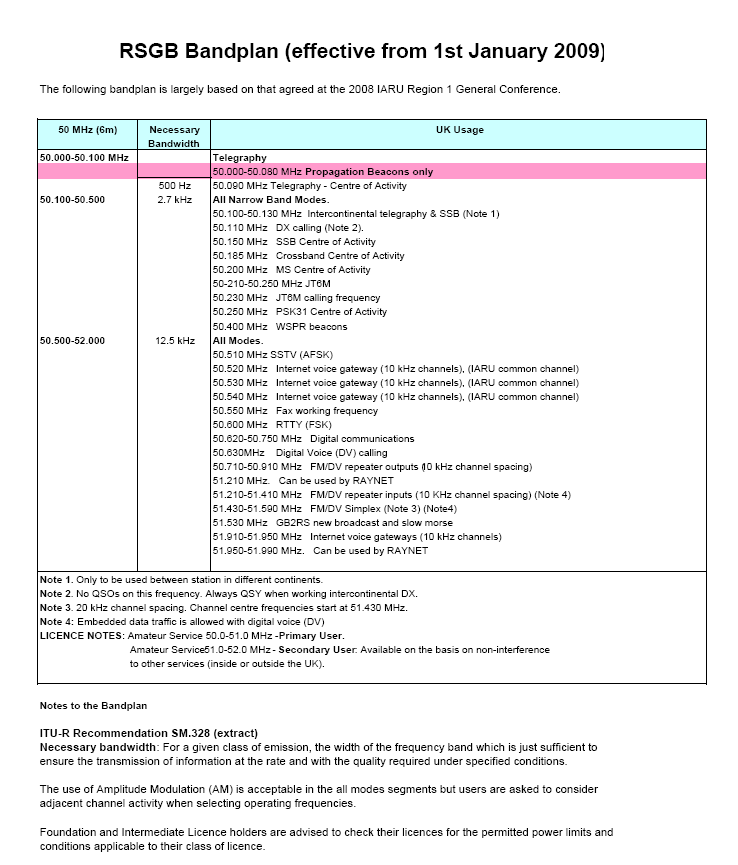 New IARU Region 1 - 50 MHz Band plan 2012

MHz
Usage
Mode / Max.Bandwidth
50.000
Synchronised
Beacons
Beacons
50.030
50.030
50.050
Future International Calling
CW
Effective 1st January 2012
CW
50.090
Intercontinental Calling
500 Hz (note a)
Notes on the bandplan
50.100
a - The intercontinental calling frequencies
50.110
Intercontinental Calling
SSB (note a)
should not be used for calling within the
2700 Hz
European part of Region 1 at any time.
50.130
50.150
International Activity Centre
SSB
DV - Digital Voice
2700 Hz
50.200
CW & SSB - General Usage

2700 Hz

50.285
Crossband Calling
50.300
50.305
PSK Centre of activity
50.310
EME
50.320
Meteor Scatter
MGM, Narrowband & CW
2700 Hz
50.380
50.400
50.401
WSPR
WSPR +/- 500 Hz
Beacon
MGM
Exclusive
CW
1000 Hz
50.500
50.510
SSTV
50.540
Simplex
FM Internet
All Modes
Voice
12 KHz
50.580
Gateways
50.600
RTTY
50.620
Digital Communications
50.630
DV Calling
50.750
51.210
FM/DV
Repeater Input
51.390
20KHz spacing
51.410
FM/DV
Simplex
51.490
51.510
FM Calling
51.810
FM/DV
Repeater Output
51.990
20 KHz spacing
52.000
VHF DX Year Planner

One of the very best and easiest ways to work DX from the UK on the 50MHz (6 metres) band is via the Sporadic E propagation for which the season usually occurs between May - August each year. With low power it is possible to work all over Europe via single hop or as far as Israel and Cyprus via double hop propagation. Many theories exist for the cause of Sporadic-E propagation such as thunderstorms, lightning and wind shear.
In 2011 there remain a few Band 1 TV transmitters in Europe that can still be used to monitor for Sporadic-E openings, before they appear on the Amateur Radio bands, due to their very high power levels. The TV station in Prague, JN79 locator square, on a carrier frequency of 49.740 MHz CW being very useful. The Sporadic-E clouds are often associated with thunderstorms.
On the evening of Tuesday 1st August 2006 at around 1930-2030 UTC there was an intense Sporadic E opening from the UK in the less common direction of Scandinavia. Shown below is a map indicating the DX being worked from the UK. There is a distinct concentration of reflecting areas just to the West of Denmark over the North Sea.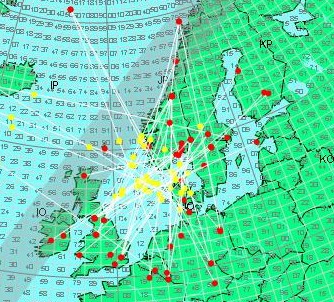 When I viewed the animated lightning map for Europe, I was able to observe that throughout the day there had been multiple lighting strikes near Denmark and therefore thunderstorms. This would appear to confirm that there might be a link between the two.
In my experience by far the best way to monitor band conditions on 50 MHz is to monitor Band 1 VHF TV video carrier frequencies. These television transmitters often use many kW's of Effective Radiated Power (ERP) and signals can be detected before weaker amateur radio transmissions. In Navacerrada, Spain the TV video carrier on 48.250 MHz CW, locator square IN70, was, until 2010, almost always be heard here in the UK when there was the slightest Sporadic E propagation, it could be heard as pings via MS reflections at all times. The map below shows some historical stronger 100kW+ TV transmitter sites in Europe, together with their channel number from 1-4, their ERP in brackets and their polarisation h - horizontal or v - vertical.
N.B. I have been advised from several sources, over the last few years, that Spanish Band 1 VHF TV transmissions would eventually cease as UHF TV takes over, although I was still receiving these transmissions in 2007. The latest information I have is that analogue TV in Spain has finally ended in 2010.
Most European Countries are closing down their Band 1 TV transmissions, so time is running out to monitor the signals as 50MHz propagation indicators.
Below is a table of Band 1 TV carrier frequencies, which I always used to monitor and which will showed Sporadic E propagation before it appeared on the Amateur 50MHz band, due to the extremely strong TV RF power levels measured in kW.
TV Carrier Frequency (CW)
Locator
Comment
48.250 MHz
IN70

Spain

Earliest indicator of Sporadic E

(This now been shut down in 2010)

49.739.68 MHz
JN79

Czech Republic

Sporadic E indicator

49.750 MHz
KO33

Russia

Sporadic E indicator

49.760.46 MHz
KO07

Latvia

Sporadic E indicator

55.250 MHz
JO20

Belgium

Due to the short distance away, if this is heard consider also 144MHz Es
When the F2 layer is open on 50 MHz early warnings can be made by monitoring an Australian, Queensland TV video carrier on 46.171 MHz CW (power 300kW) or an American TV video carrier on 55.250 MHz CW. These will not be heard near solar minimum. I was able to receive the Australian TV carrier back in 2001. The tables below show the Band 1 TV video carrier frequencies, which can be heard on amateur radio transceivers using CW mode and sound like a constant carrier.
West Europe:
Ch:E2
48.25 MHz
Ch:E2a
49.75 MHz
Ch:E3
55.25MHz
Ch:E4
62.25 MHz
Italy:
Ch:E2-
47.25 MHz
Ch:A
53.75 MHz
Ch:B
59.75MHz
Ch:C
82.75MHz
Ireland:
Ch:A
45.75MHz
Ch:B
53.75 MHz
France:
Ch:F2
55.75MHz
Ch:F3
60.50 MHz
Ch:F4
63.75MHz

Australia:
Ch:AU0 (300kW)
46.171MHz
Ch:AU1
57.25MHz
Ch:AU2
64.25MHz
Ch:AU3
86.25MHz
Ch:AU4
95.25MHz
New Zealand:
Ch:NZL1
45.25MHz
Ch:NZL2
55.25MHz
Ch:NZL3
62.25MHz
China:
Ch:C1
49.75MHz
Ch:C2
57.75MHz
Ch:C3
65.75MHz
Ch:C4
77.25MHz
Ch:C5
85.25MHz
0

East Europe:
Ch:R1
49.75MHz
Ch:R2
59.25MHz
Ch:R3
77.25MHz
Ch:R4
85.25MHz
Ch:R5
93.25MHz
North / South America:
Ch:A2
55.25MHz
Ch:A3
61.75MHz
Ch:A4
67.25MHz
Ch:A5
77.25MHz
Ch:A6
83.25MHz
Japan:
Ch:J1
91.25MHz
Ch:J2
97.25MHz
50MHz yearly propagation worked by G0ISW

Year
Month

Mode

DX/Comments

1987

June
Sporadic-E
Europe ZC4VHF/5B4 / 9H1CG

1988

June to August
Sporadic-E
Europe

1989

March

Aurora

Europe
May to August

Sporadic-E

Europe
November to December

F2

USA & South America & West Indies & Africa WA1OUB / K8EFS / VE1YX / HC1BI Best ODX (VP5D got away) (EL2FO Liberia got away)

1990

House Move - no activity

1991

June

Aurora

Europe
June to July
Sporadic-E
Europe

1992

May to September
Sporadic-E
Europe

1993

May to July
Sporadic-E
Europe

1994

February

Aurora

Scotland
May to August
Sporadic-E
Europe / JY7SIX & EA8/DJ3OS

1995

June to July
Sporadic-E
Europe

1996-1999

House Move - left with no external VHF aerials for DX

2000

May to August
Sporadic E
Europe

2001

March

Aurora

Europe
June to September
Sporadic-E
Europe
August

TEP??

Africa - Reunion Island (FR1GZ heard calling CQ on 50.120 I didn't call him straight away, because I thought it was France, by the time I realised he had gone!!!!)
October to December

F2

Israel / Lebanon/ Ghana / Cyprus / India (VU2ZAP got away!) / Canada / USA / Jordan / (Australia got away aaarghhh!)

2002

May to August
Sporadic E
Europe

2003

May to August
Sporadic E
Europe (TF8GX got away!)

2004

May to July
Sporadic E
Europe

2005

May to June
Sporadic E
Europe

2006

June to August
Sporadic E
Europe

2007

April to August

Sporadic E

Europe

2008

May to August

Sporadic E

Europe/ Sporadic Es seems very poor this year!

2009

House Move - no activity

2010

May to July

Sporadic E

Europe

2011

May to July

Sporadic E

Europe
50MHz European Beacons

Frequency
Callsign
Locator

50.000
GB3BUX
IO93

50.004
I0JX/B
JN61

50.010
SV9SIX
KM25

50.013
CU3URA
HM68

50.014
S55ZRS
JN76

50.016
GB3BAA
IO91

50.021
OZ7IGY
JO55

50.023
SR5SIX
KO02

50.025
OH1SIX
KP11

50.026
9H1SIX
JM75

50.028
SR6SIX
JO81

50.029
SR8SIX
KN19

50.030
CT0WW
IN61

50.032
CT0SIX
IM56

50.035
ZB2VHF
IM76

50.040
SV1SIX
KM17

50.043
YO2S
KN05

50.042
GB3MCB
IO70

50.047
4N1SIX
KNO4

50.047
JW7SIX
JQ78

50.050
GB3NHQ
IO91

50.051
LA7SIX
JP99

50.052
PA3FYM
JO22

50.052
SK2CP
KP07

50.055
OZ6SIX
JO57

50.057
TF3SIX
HP94

50.058
HB9SIX
JN47

50.060
GB3RMK
IO77

50.064
GB3LER
IP90

50.065
GB3IOJ
IO89

50.067
OH9SIX
KP36

50.070
SK3SIX
JP71

50.070
EA3VHF
JN01

50.073
ES6SIX
KO73

50.078
OD5SIX
KM74

50.088
YU1SIX
KN03

50.163
IS0SIX
JM49

50.230
F6IKY
JN35

50.499
5B4CY
KM64
Send formatted VHF DX Cluster spot

If you cannot see the full index shown on the left edge of your screen, please go to my main page at

© Copyright 2000-2012 G0ISW. Page last modified 9th January 2012. All Rights Reserved.