THE RADIO AMATEURS RESPONDED TO THE TSUNAMI DISASTER IN NORTHERN SUMATRA.
This website is dedicated to all Indian Ocean tsunami victims, survivors, emergency relief volunteers and donors. God bless you!
To all readers: Please take a silent moment and pray for the tsunami victims, survivors and those who have been supporting humanitarian relief effort. Thank you.

Burma microplate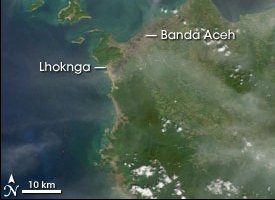 Lhoknga <-- 15km --> Banda Aceh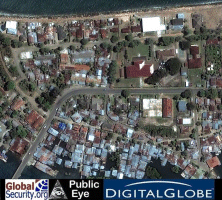 Banda Aceh pre & post tsunami

Lhoknga pre & post tsunami - totally washed away
[BREAKING NEWS]
[TSUNAMI PHOTOS]
[ARES PHOTOS]
[NIAS PHOTOS]
[NIAS UPDATE]
[NORTH SUMATRA UPDATE]
[WEST SUMATRA UPDATE]
---
The original report of "The Radio Amateurs Responded to the Tsunami Disaster in Northern Sumatra." You may find the QST magazine's version of this report on its May 2005 issue.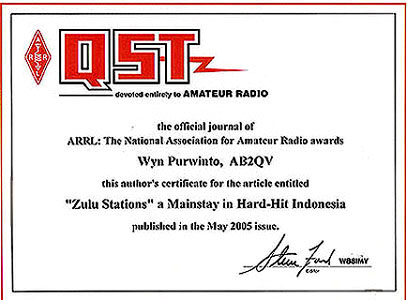 REUTERS: Tsunami Quake Stronger Than Believed
More than one radio operator may have become an indirect victim of the tsunami. After operating at IARES station YB0ZZ in Jakarta for the better part of 15 days straight, Maliki, YC0XSM, from Jakarta died January 11. Achadi Isnaryanto, YC1IHD, from West Java, died in Banda Aceh March 3, following several weeks of nonstop volunteering. YC0XSM and YC1IHD were among many heroic Amateur Radio volunteers in Indonesia who never gave up in their efforts to help others during the tsunami disaster relief effort.
Among many concerned people in America, Syracuse University has held vigil on Friday 1-21-2005 for victims of tsunami. Also the Society of Indonesian-Americans (SIA) has conducted a nationwide candlelight vigil in several cities including Washington, D.C. at the Embassy of Indonesia on Friday, February 4, 2005, at 7:00 – 8:30PM.
A magnitude 6.8 under ocean quake occurred on Sunday afternoon 4-10-2005 at 17:29 local time located between 70km-100km southwest of Padang, capital city of West Sumatra Province. It was near Siberut island in Mentawai region off west coast of West Sumatra Province. This quake followed by several smaller tremors with magnitude 5.5 to 6.3 until Monday early morning at 00:34 local time. The quakes damaged a high school in southeastern Siberut island and triggered mount Talang to explode. The ORARI-ARES volunteers of District 5/West Sumatra Province have responded to the events.
An Enormous Disaster Suffered Nias Island. A deadly under ocean magnitude 8.7 quake occurred on Monday 3-28-2005 at midnight and located off west coast of Sumatra island or between Nias island and Simeulue island. More than 1000 people are reported to have died as a result of the earthquakes.
Another article in Bahasa, "Analisa daerah rawan gempa".
---
COMMENTS:
From: [email protected]
To: [email protected]
Date: Wed, 19 Jan 2005 21:07:19 EST
Subject: Indian Ocean Tsunami & Hamradio
Hi Wyn: The tragedy gets bigger and bigger but prayers multiply and aide will come. This was truly a disaster but prayers go out to the victims. After being in Viet Nam in the Medical Corps, I was shocked by the pictures. It took me a while to even read and look at the pictures. God Bless all the victims living and all those gone to rest. God bless also the many who are helping out in this terrible tragedy. Ham Radio stands for just these causes, and will continue to serve. God Bless, Lew, W2PDY.
Dr. Lewis Malgieri, W2PDY
Public Relations, CNY Hamradio Support Group.
Psychologist, Oswego Hospital, Central New York.

---
From: [email protected]
Date: Fri, 14 Jan 2005 20:45:00 EST
Subject: Tsunami Ham Operations
To: [email protected]
Dear Wyn,
You did a great job on your webpage covering Indonesian post-Tsunami ham operations. I am expanding the Wellington Radio Club's Anthology of Tsunami Ham Communications and would like your permission to include sections of your write-up.
--deleted--
Thanks in advance... & 73
Larry KS4NB, President
Wellington Radio Club
Wellington, Florida

---
From: [email protected]
To: [email protected]
Date: Thu, 31 Mar 2005 09:40:37 - 0500
Subject: Update On Nias Island
-Hello Wyn!
My goodness the troubles continue to afflict this region of the world. My heart goes out to all of our brothers and sisters in this region. Bless you for all the wonderful work that you have and are doing to maintain our awareness of this crisis.
Take care,
Your brother.
Doug

---
Date: Thu, 21 Apr 2005 08:23:06 -0400
From: "Lee Badman" [email protected]
To: [email protected]
Subject: QST piece
Wyn,
Great piece in QST about the radio response to the tsunami, and condolences on the loss of the operators during the effort.
I spent 18 months in the Philippines during my 10 ½ years in the US Air Force, had Typhoon Dot swing through during that period. Not a huge storm compared to other typhoons, but it still ripped up the area and most of Luzon pretty good. The typhoon stuff bubbles up my stay in the Philippines to memory- that part of the world will forever fascinate me and I follow military history somewhat going back to WWII and current stuff as well.
Anyhow- well written, congratulations on the piece.
-73 Lee/KC2IYK

---
Date: Tue, 10 May 2005 16:25:06 -0400
From: "Lindquist, Rick, N1RL"
To: [email protected]


Hi, Wyn

Thanks very much for the thoughtful card of appreciation. We certainly appreciated your efforts to bring this important story to our members and to the Amateur Radio community at large. I'm pleased that it worked out so successfully.

73 and please stay in touch!
Rick, N1RL
---
[AB2QV page]