THE RADIO AMATEURS RESPONDED TO THE TSUNAMI DISASTER IN NORTHERN SUMATRA.
This website is dedicated to all Indian Ocean tsunami victims, survivors, emergency relief volunteers and donors. God bless you!
To all readers: Please take a silent moment and pray for the tsunami victims, survivors and those who have been supporting humanitarian relief effort. Thank you.
---
[TSUNAMI PHOTOS]
[ARES PHOTOS]
[NIAS PHOTOS]
[NIAS UPDATE]
[NORTH SUMATRA UPDATE]
[WEST SUMATRA UPDATE]
[BREAKING NEWS]
---

(Courtesy of Faisal, YB1PR)

Boyke, YC1DLV, operated YB6ZAT zulu station at the Blang Bintang airbase, Banda Aceh. (Courtesy of Boyke, YC1DLV)

From left: Zulkarman, YC6PLG, Sardjoko, YD2PEQ, Hidayat, YC1XDS, and Syafri, YC5XIP, operated YB6ZES emergency net control station in Medan, North Sumatra. (Courtesy of Zulkarman, YC6PLG)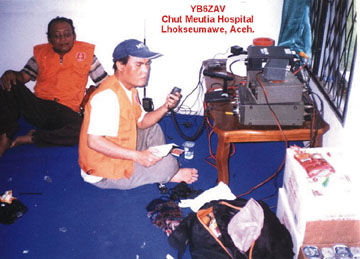 From left: Suryatno, YC6HSS, and Zulkarman, YC6PLG, setup and operated YB6ZAV station in Chut Meutia Hospital's physician housing, Lhokseumawe, east coast of Aceh. (Courtesy of Zulkarman, YC6PLG)

YB6ZAM zulu station in Lhoknga, Aceh. (Courtesy of Faisal, YB1PR)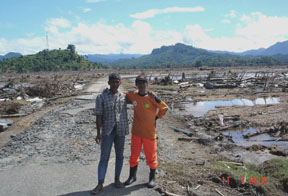 Ahmad, YC0LJH, with a survivor in Lamno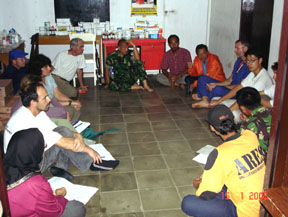 Ahmad, YC0LJH, joined an emergency service meeting in Lamno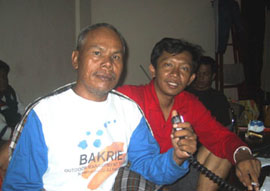 Andi, YD0WBY and Rasidi, YC0FIM operated YB6ZAT Zulu station in Banda Aceh
---
[TSUNAMI PHOTOS]
[ARES PHOTOS]
[NIAS PHOTOS]
[NIAS UPDATE]
[NORTH SUMATRA UPDATE]
[WEST SUMATRA UPDATE]
[BREAKING NEWS]
---
www.qsl.net/ab2qv/tsunami.htm