There is no official bureau in Bahrain. I occasionally receive some cards through the Amateur Radio Association but due to recent problems I regret that I no longer reply to cards sent via the bureau.
Direct QSL cards should be sent to:
David Smith
P.O. Box 1976,
Manama,
Bahrain.
Please include a return addressed envelope. Return postage costs approximately $1.00. IRC's and Japanese prepaid envelopes are not accepted by the Bahrain Post Office.
I also QSL via electronic cards with both The Logbook of the World ™ and eQSL ™.
I have issued five designs of QSL card: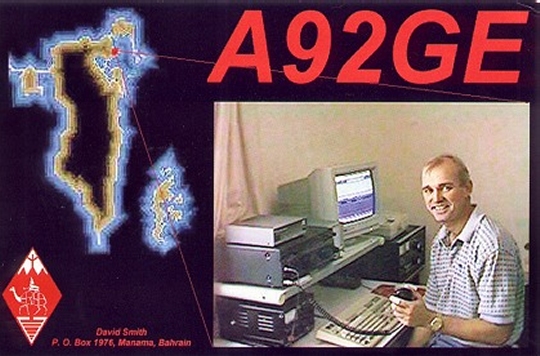 The photograph for the above card was taken by a friend of mine, Jack Higbee whose brother is Steve, KD6JDM.
My eQSL card shows me in St. Andrews on a cold January day: