---
Dassen Island 2002
---
Navigation: Home Articles Diary Digital Voice RAE Course Station Guestbook
During International Lighthouse and Lightship Weekend 2002 I operated from Dassen Island Lighthouse using the callsign ZS1AN/P. Dassen Island is a member of the IOTA group AF-064 and the Lighthouse has the ARLHS identifier SAF-042 and the World Lighthouse Award number LH-0423 which was specially allocated for this expedition.
I operated from 1720 UTC on 16 August until 1330 UTC on 18 August on the 40, 20 and 15m bands and made over 400 contacts, almost all on CW. This was my first experience of DXpedition operating after having had my license for exactly a year so I made many mistakes! I would like to thank all the operators who waited patiently while I struggled to identify callsigns in the pile-ups, and corrected me when I got them wrong. My appologies also to those stations that tried to contact me but were unsuccessful.
There are more pictures of the expedition in my photo album.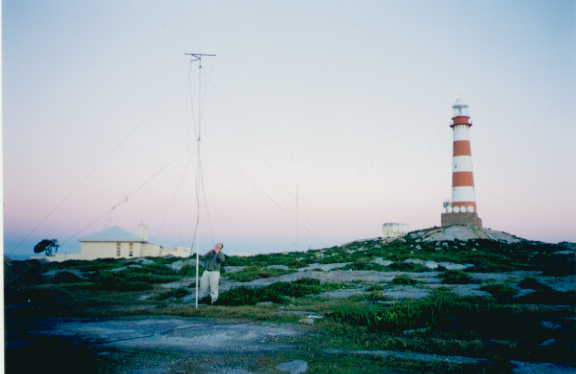 Putting up antennas on Dassen Island at Sunset
QSL Information
I am printing a special QSL card for the expedition with all the information required for IOTA, ARLHS and WLA awards. I expect the cards to be printed by the end of August so I should start sending QSLs in early September. Please QSL direct to:
PO Box 350
Newlands 7725
South Africa
If you would like a direct response then please enclose an IRC or green stamp. All other replies will be via the bureau.
If you are a FISTS member and your QSL card (with your FISTS membership number) reaches me before the end of September then I will QSL via the FISTS bureau at no charge. I intend to send a single parcel of cards to the FISTS bureau in early October. My FISTS number is 8921. Unfortunately I don't have envelopes at the FISTS bureau so please don't send your card to me by this route.
The QSL Card for Dassen Island
Above is an image of the QSL Card I printed for Dassen Island. I intentionally scanned it with low resolution so that the image could not be used to forge a card. On the original card, all lines, images text are smoothly rendered. (I hope you like my penguins!) The card is printed on 270 gsm off-white card with a linen texture. I got the cards back from the printers on 12th September 2002 and started sending them immediately to people whose cards I had already received. I don't anticipate more than a one-week delay in replying to QSLs received from now on.