Science fact: Incredible weather
·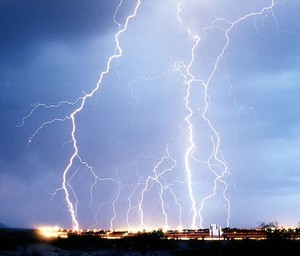 Lighting strikes
Photo: United States Government
The heaviest snowfall to ever be recorded was in Mt. Rainier, Washington State, when 98.4 feet of snow fell during the 1972 winter.
The most rainfall to ever be recorded in a 24 hour period was in Foc-Foc, la Reśnion, where they had almost 80 inches on the 8th of January of 1966, during the tropical cyclone Denise.
The highest temperature that has ever been recorded in Antarctica was only 59 degrees F, on the 5th of January, 1974. The lowest ever temperature to be recorded in the world was also in Antarctica, when it reached -129.28 degrees F at Vostok Station on the 21st of July, 1983. And the highest temperature ever to be recorded anywhere in the world was 136.4 degrees F on September 13th, 1922 in Al'Aziziyah, Libya.
The country with the most tornadoes is United States, with an average of about 1200 a year. This is because of the area called 'Tornado Alley', which forms a unique geography that helps in the development of twister clouds.
There are over 100,000 thunderstorms in the U.S. every year, and about 16 million over the entire planet. Almost 2,000 cells of thunderstorms are over the world at any given time.
The most lightning strikes occur in the mountains of eastern Democratic Republic of Congo.
The strongest wind to be recorded was at a speed of 231 miles per hour, on Mt Washington, New Hampshire.
Yuma, Arizona is the sunniest place on Earth, with an estimated 4,000 hours of sunshine a year.