The second 39pf is located at the tuning capacitor, leave one end unsoldered until the tuning capacitor has been mounted. Bend the capacitor toward the large hole so that most of the lead length is underneath the board. The short lead will barely reach the main tuning capacitor if mounted flush with the board. Push unsoldered lead against the PCB to keep out of the way. Some kits will have one with longer leads.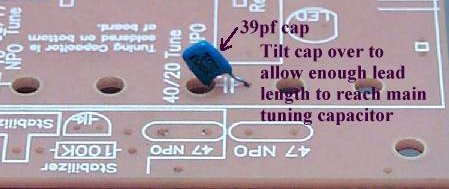 Solder

____2 - 3.3pf NPO (Bag 4), Orange colored, small square, leads flared out, labeled "3R3 D", or short leads, grey with black top, labeled "3R3" (R looks like a P). Both located next to the "Frequency Cntr" box. May be a ceramic 3.3pf in kit, note different ones in the picture.
____1 - 68pf NPO (Bag 6), orange colored, small square, long leads, labeled "680". NOTE! Silkcreen is labeled wrong, 47pf is incorrect and put this 68pf in its place.
____2 - 100pf POLY (Bag 5), Clear plastic, tubular part with long thin leads, labeled "100". One next to Relay, one next to FET (2N5486)
____2 - 120pf POLY (Bag 5), Labeled "120". Same as above, both located near the FET.
____1 - 10pf NPO (Bag 5), Orange colored, teardrop, labeled "100, A1J". One lead is unsoldered and goes through the large main tuning capacitor hole. The 10pf will reach 10MHz WWV as well as the amateur bands.
____1 - 82pf NPO (Bag 6), orange, small square, short leads, labeled "820K".