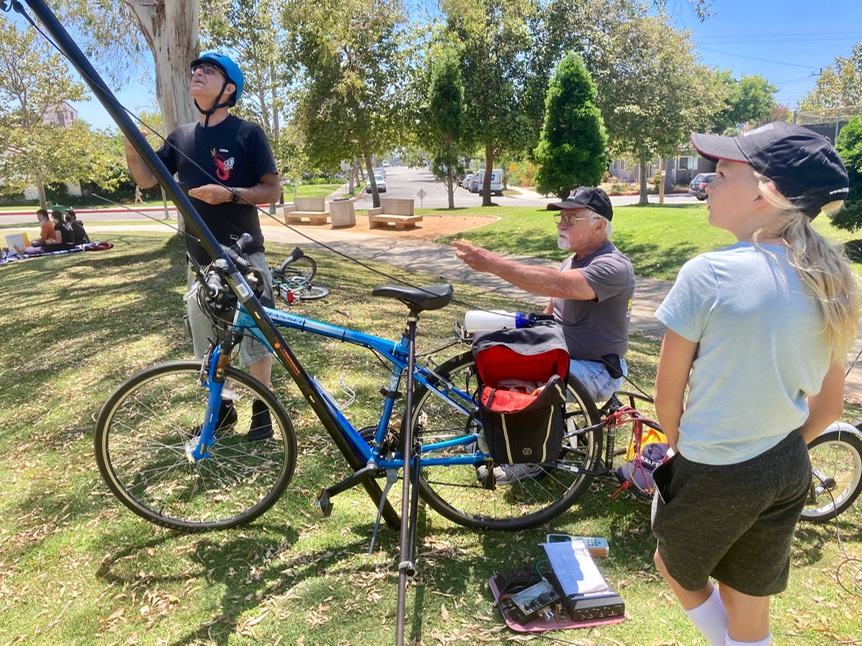 Field Day 2022 at Clover Park
About Us
The Westside Amateur Radio Club has been serving the needs of Amateur Radio Operators in the West Los Angeles, California area and vicinity since 1987 and has been acclaimed by the ARRL, local newspapers, and civic officials for its dedication to providing emergency communication services and for its fight against restrictive antenna ordinances. Our Speaker Program, Educational Workshops, and Elmer's Assistance are among the very best.
The  weekly club radio nets are held on the Wednesday Night Net at 8:00 pm (local) on the K6CCR repeater (Baldwin Hills) at 445.600 (-) MHz PL 131.8, and on Thursday's Trivia Net at 7:30 pm (local) on 147.240 (+) MHz PL 67.0 on the W6MEP repeater (Mt. Wilson).
Club meetings are now held as part of Monthly Club Breakfast which are held at 8:00-9:30 AM the first Saturday of the month at Fromin's Deli, Santa Monica, 1832 Wilshire Blvd., Santa Monica 90403
Want to become an Amateur Radio Operator? It's not difficult to do! Amateur Radio Operators, often called "hams", do need a license to operate a ham radio. For more information on how to become an amateur radio operator, click this link:
       •  How to become a ham radio operator
Club Member Badges - WARC members can order their club badge directly from our badge supplier at their direct URL address:
       •  www.thesignman.com/clubs/westsidecart.html
Veterans and their Supporters - Join us on a new amateur radio wellness net specifically for veterans living the the Los Angeles area, and for all their ham radio operator supporters. 

RadioNet/LA will kickoff on Monday, August 17th, 2020 at 12:00 Noon on the VA N6GLA FM repeater in West Los Angeles.
        •  447.320 MHz, (-) offset, PL 103.5
For more information, go to:  www.radionet.vet