Welcome to W4YDY's Home Page.

Check out the WHAT'S NEW page. This page has links to items about Amateur Radio, aviation, space, and other interesting sites.
The W4YDY Mobile page was added 1/16/03. A new mobile radio was installed in September 2002 consisting of an Icom 706MKGII and a Tarheel screwdriver antenna. Page was updated August 2004 with Little Tarheel HP screwdriver antenna. Updated again January 2010 with Tarheel Model 75A. Traded cars August 2015. Radio not installed.
Lemmie, W4QI, (Silent Key), my first cousin, encouraged me to get my Amateur Radio License. He passed away in 1997. He was licensed in 1931 and held the same callsign for 66 years. In 2002, relatives and friends organized the Holland Amateur Radio Society and his old callsign, W4QI, was issued to the club on 5/28/02 with W4YDY as Trustee. See the Internet page I made about him.

W4YDY was the first station contacted from the South Pole (KC4AAA) using PSK31 on November 5, 2001! QSL card received December 31, 2001. (QSL card back side).


Named Brightleaf Amateur Radio Club 2020 Ham of the Year. Had same honor in 1997, 2001 and 2007.
Presented with Brightleaf Amateur Radio Club Honorary Life Member award at the 2007 BARC Christmas party. Bios featured in Meet the Member columns in October 1998 and December 2003 issues of BARC Ham Chatter. Click on plaques for larger version.
Presented with Brightleaf Amateur Radio Club 2011 "In Recognition of 14 years Meritorious Service" as Ham Chatter Editor and Web Site Editor. The award was presented at the January 2012 meeting since I was not able to be at the December 2011 Christmas Party.
Icom IC-756PRO
Station
Connected to a custom computer (put in service 9/13/11) using a 3.1 GHz i5-2400 quad core microprocessor, is an Icom IC-756PROIII transceiver and Collins 30L-1 amplifier for HF. An Alinco DR-610 is used for the 144 and 440 MHz bands. Also at the operating position is a Collins KWM-2 transceiver and 321B-5 station control. Modes of operation used are CW (12/25/52), AM (4/11/53), SSB (6/22/57, in Raleigh, Wake County, NC), FM (8/24/70), RTTY (4/5/79), Packet (11/25/86), PSK31 (9/8/00), MFSK (12/28/00), PSK63 (2/16/11), FT8 (11/6/17) plus other digital modes. (Dates are first contacts with that mode)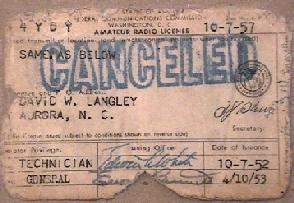 W4YDY and WN4YDY licensed October 7, 1952, first contact December 25, 1952. Second station call signs: K4IWJ (4/16/56 to 12/8/82) and K5NC (4/12/77 to 12/8/82). Repeater call sign: WR4ACH (7/20/73 to 12/8/82).
Also, check out the page with 49 callsign auto tags starting in 1956.
Picture on left painted and presented to me by my wife. It's Ham! The picture is displayed in the shack.
Click on the picture for large version.
At the right is a 60 foot Rohn foldover tower with a Mosley TA-33 (bought and first installed in 1960) with the12-17 Meter modification (installed 12/99), a 3 element 6 meter yagi and a 11 element 2-meter antennas up 70 feet. At the 40 foot level is an inverted vee with 160, 80 and 40 meter elements. The inverted vee also works good on 30 meters! (Click on picture for larger view. Opens in new window.)
November 1971 - North Carolina Governor Bob Scott issued an executive order designating W4YDY as an Official Radio Amateur Station of the Governor's office for the 1971 Holiday Season.
(Click on certificates for full size view. Opens in new window.)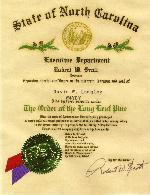 December 1971 - North Carolina Governor Bob Scott conferred to W4YDY The Order of the Long Leaf Pine with the rank of Ambassador Extraordinary, the highest honor bestowed to citizens of the state. Quote from the Raleigh, NC News & Observer when NASCAR race driver Dale Earnhardt received one, "The award is the highest one given by the governor. It is for individuals with a proven record of community service, extra career efforts or service to an organization. Past winners of the Order of the Long Leaf Pine include Michael Jordan, Oprah Winfrey, and former U. S. Sen. Sam Ervin." Joint Chiefs of Staff Chairman General Henry Shelton received the award in 1999.

My WITN-TV History - For my story in 1955, go HERE. It was an experience!