The Station


The W3PP station is housed in a 16' x 48' foot building constructed by local hams during the summer of 1997. The operating room is approximately 16 x 30 which includes a kitchenette. On one end of the station is a 4 bunk sleeping area which is insulated from the operating room by a bathroom and small storage area.
There are currently (Nov 2007) 6 operating positions. All positions are networked through an Ethernet with Dell Dimension 3000 computers and are set up for use with N1MMLogger software. Here is the present equipment lineup

10 Meters 160 Meters 80 Meters
FT-1000MP TS-940SAT FT-1000MP
Alpha 76C Amp Titan 425 Amp AL 1500 Amp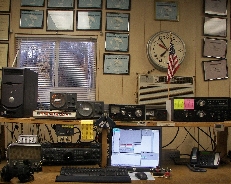 15 Meters 20 Meters 40 Meters
FT-1000MP FT-1000MP FT-1000MP
Alpha 77D Amp Alpha 91B Amp Puma Amp

NOTE ! If the print doesn't line up well with the graphics, click on the "View"
button on the tool bar at the top of your screen. Change the print size to "Largest".
The station is configured in a "U" shape. I tried to stitch some of these photos together to show there relative positions. Angles at the corners of the "U" make it a little funky though so I have put together a top view plan that shows the station arrangement.



The left side of the operating room.


The right side of the operating room.