US Naval Academy
Amateur Radio Station W3ADO
MARS Station NNN0NNN
Annapolis, MD

Latest news: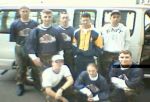 Updated 11/30/00 N5A Special Event
W3ADO will be on the air on 80/40/20/10 meters SSB as N5A for the 101st Army-Navy football game. Midshipmen from the club will be attempting to beat last year's contact record, from 1600Z Friday 12/1/00 to 1600Z Sunday 12/3/00. We will QSL 100% with a colorful 8.5x11 certificate but postage assistance is greatly appreciated!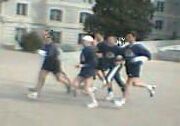 Also Friday 12/1/00 from 1600Z to 2400Z, the Amateur Radio Club will be providing APRS tracking and SSTV documentation of the traditional Football Run of the game ball from Annapolis to the PSInet (Ravens) football stadium in Baltimore. Voice coordination will be on the Anne Arundel Radio Club repeater 147.075+ PL 107.2, along with SSTV imagery. Look for W3ADO, WB4APR, and USNA callsigns on the 144.39 national APRS channel or www.aprs.net or www.findu.com
SSTV images will be linked from HERE once the event starts.


11/18/00 National Eagle Scout Association (NESA) and SSB Sweepstakes Visiting Boy Scouts are hosted by the Naval Academy NESA organization for military demonstrations and a football game. Visitors also got a tour of the W3ADO station and watched real amateur radio contesting in action, including contacts with fellow scouts in Venezuela, Italy, Germany, and Canada.



10/21/00 Jamboree on the Air (JOTA) Members of the Radio Club assisted over 600 Cub Scouts from the Maryland Four Rivers District in learning about mobile, field, and emergency communications, including amateur, FRS, and military. Next year, more stations will be added and more mids will be able to participate. See Skip K3FOR for details.



10/5/00 Congratulations to new hams! Welcome to a great hobby:
Bachta, David J KB3FMH
Reddell, Noah F. KB3FMG
Wilcox, Jeffrey P. KB9YAR
Barber, Jr, Don E. KB3FMF
Sousa, Kevin J. KB1FSE
These guys passed their tests at the USNA VE session in Rickover Hall on September 18th, led by Bob Rose AA3RR and volunteers from the Laurel VEC and the Anne Arundel Radio Club. BZ and well done!



9/10/00 Long Distance ROBOT! The midshipmen at W3ADO are preparing a robot that may one day carry the Army-Navy football from Annapolis to the game stadium. The robot will be controlled by the Naval Academy station the entire way, using ATV, SSTV, APRS, and DTMF. See the prototype in construction HERE
8/15/00 OFFICIAL Naval Academy Radio Club given reprieve and re-evaluation in January 2001, thanks to (click here) YOUR support!

9/15/00 Repeater antenna The MARS repeater on 148.400 should be up soon. The mast is up, supporting a simple half-wave vertical, which will be replaced by a Hustler G6 when the move to the 600-foot tower is scheduled. Left to right: T3 (137Mhz circ-polarized sat beam and Cushcraft 2706 2/440 beam) on Yaesu Az-El, T1 (Cushcraft R7000, Diamond X50, GMRS for Public Works, APRS digi half-wave vertical), T5 (MARS repeater), leaning (?) T4 ( 440 collinear vertical and Ringo 2m APRS), T3 (Radio Shack mast supporting MARS HF G5RV)

9/1/00 Become a ham! Next test date TBD in Rickover Hall Room 103 6:30pm-8pm. The USNA Amateur Radio Club periodically offers testing sessions for anyone interested in becoming a licensed Amateur Radio operator. This is a no-fee test being offered to the brigade. The test covers basic knowledge of electronics and FCC rules governing Amateur Radio. You do not need to know Morse Code to take this test. Your basic technician license can be earned from a short 30-question multiple-choice test. For those Systems and EE majors and those who have taken any weapons or EE courses, this material will be a review of what you have already learned. However the test is open to all classes. This license is FCC issued and good for 10 years. For more information or to reserve a seat contact MM1 Waranis (

[email protected]

) or club president 1/C Russ Meier (

[email protected]

) by email. Check out this webpage for practice tests: http://w5ac.tamu.edu/~w1agg/hamexam/index.php3

8/25/00 10-meter APRS propagation testsBob WB4APR has procured one of the retail HTX-10 10-meter all-mode (except CW) 25-watt mobile radios (pictures HERE, HERE, and HERE) to test propagation for some local 10-meter simplex links for APRS data and channeled audio.

See what we're doing with APRN (Amateur Picture Relay Network) -- just into Beta testing!


4/20/00 USNA hams launch amateur telemetry test balloon: Photos and details here


3/1/00 We need a Telrex rotator! Our mini Bertha's won't turn -- we can rejuvenate the motors and gears, but without a box, our beautiful beams are LOCKED! See Phase 1 of the repairs here!

Special Event N5A was successfully completed on 3-4 Dec 99
100th anniversary of the Army-Navy Game. We QSL'd everyone in our log that was good in the callbook or who sent us a QSL. If you did not receive a certificate, QSL us please:
Michael Waranis (KF4PVN), 422 Halsey Rd, Annapolis, MD, 21401.

(courtesy Chris Peat @ Heavens Above)







US Naval Academy and Naval Station transmitter facility seen from a Soviet satellite photo in 1996 (1.5 meters/pixel)


Map of approximate locations of Navy/Marine Corps MARS stations in the MD/DC area

| | |
| --- | --- |
| | Old QSL card |
| | New QSL card |
Current equipment (pics coming soon):
Kenwood TS-440 HF 100W
Kenwood TS-120S HF 150W
Kenwood TS-50 HF 50W mobile
Kenwood TS-790 VHF/UHF 35W
2 Kenwood TS-251 50W mobile rigs
Astron RCS-4 HF 4-pos switcher
Astron RCS-8 VHF/UFH 5-pos switcher
AEA PK-900 TNC for MARS packet and APRS
APRN station: Kenwood TM-251, MFJ-1278B TNC
Yaesu GB-5400 az-el motor system and
Kansas City Tracker for satellite ops on tower 3
MFJ-949E antenna tuner
3 mini-Bertha Towers next to the Basin:
10/15/20 tri-band Yagi at 60' *
40m Yagi at 60' *
10m Yagi at 60' *
* We have Telrex rotators, but no controllers. If anybody has any, please contact us!
Roof Tower 1:
Cushcraft R7000 HF at 140'
Diamond X-50 omni 2m/440 vertical at 130'
fixed 2m beam at 350 degrees
(toward Baltimore Navy MARS packet switch
2m half-wave Navy MARS digipeater (20watt GE, 80watt Pryme amp, KAM TNC)
Public Works 440 Ringo
Roof Tower 2:
G5RV multi-band at 150'
3.3MHz dipole for Navy MARS at 155'
Roof Tower 3:
Cushcraft A2706-3 2m/440 beam at 130'
12-element satellite antenna at 130'
G5RV multi-band at 150'
3.3MHz dipole for Navy MARS at 155'
Roof Tower 4:
30 foot mast with 4-element collinear 440 vertical for temporary repeater work
Coming soon:
Navy MARS 125watt voice repeater (Motorola MSF5000) vertical StationMaster 145'
4.0Mhz MARS dipole
Cushcraft A3S 10/15/20 meter beam on tower 1 (move R7000 to the north)


Links for midshipmen

MARS

MARS Operator Study Course
Naval Tactical Pub (NTP)-8 MARS Instructions
Navy MARS Afloat/Overseas Operations
Navy MARS National Home Page
MARS Region 2
(VA, WV, NC, SC, KY, TN, MS, AL, GA, FL, MD/DC and Caribbean, Europe, and Iceland)
MARS MD/DC Area


Other Ham


Amateur satellite visibility in Annapolis for next 24 hours
USNA Earth Station page
Anne Arundel Radio Club (AARC)
Maryland Mobileers Radio Club
HAM exam bank and practice exams
QRZ callsign lookup for find addresses to send QSL's
Hints to learn (faster) Morse code
Basic HAM beginner info
QSL homepage: send email to a callsign, or check out a HAM's web page
Practice Morse code on the web via Javascript
Ham Radio Online magazine
Download Supermorse 4.16 here If you have a better morse program, email me the link
FCC HAM search by anything (call, zipcode, city, name..., wild card is %)


USNA Support Staff
MM1 Mike Waranis, Engineering Faculty, KF4PVN/NNN0OOQ
Noel Welch, Public Works, N3JVF
Dean Hockenberry, Public Works, N3ORT
CDR Bob Bruninga, Engineering Faculty, WB4APR
Anne Marie Novo-Gradac, Physics Faculty, AC4OQ
Steve Werner, Naval Station Armory, NP3C
Skip Johnson, K3FOR/NNN0PEK

---
Point of Contact : Skip Johnson/K3FOR/NNN0PEK, club advisor
Revision Date :
URL : http://www.qsl.net/w3ado/