LAB ROVER DOT COM
PROUDLY PRESENTS:
RUFUS & CLEO'S AMATEUR RADIO
SPECIAL EVENTS STATION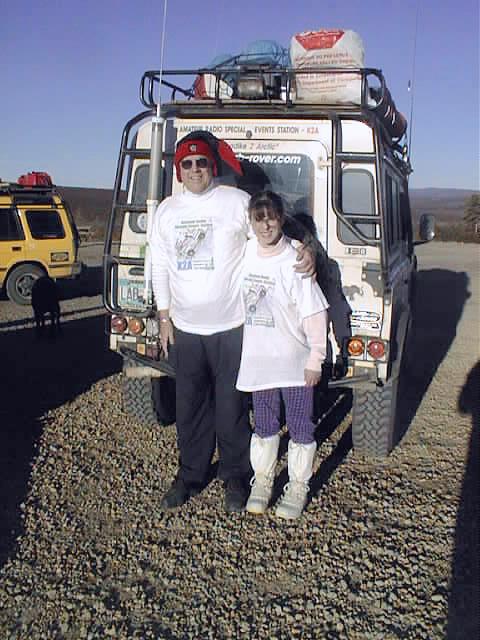 Jim, W2EMT/VE8 & Glenna Barron VE7DSC/VE8 arriving
at The Arctic Circle - 66degrees - 33 minutes North Latitude!!
"KLONDIKE TO ARCTIC"
Welcome to all those schools already utilizing this wonderful hobby in your classrooms! An equally hearty welcome to those of you who have yet to experience this unique educational tool. During our expedition across Alaska & The Northwest Territories, we conducted daily QSO's (two-way radio contacts) on a number of radio frequencies sharing our real-time journey and adventures with schools and youth groups around the world!
As you will learn below, there are many ways in which you can participate even if you do not have a "ham radio" station set up in your classroom. Please contact us at [email protected] if you would like information about developing such a program for your school. You may also contact The American Radio Relay League (ARRL) Education Department directly at ARRL. Rosalie White, WA1TSO, The Educational Coordinator, would be happy to help you.
Now is the best time to search around your community to see if you can locate a "ham radio" operator who could help your school set up a portable station for this project. There are a couple 100,000 of us around!!
For those schools without "ham radio" access: Listen for TEAM LAB-ROVER over a general coverage "shortwave" radio tuning into the frequencies at the times posted.
1)Try listening to our conversations on a "shortwave" radio receiver. You can find plenty of introductory information about this part of our hobby at these sites: http:/www./itre.ncsu.edu/radio/faqs/shortwave.html & http://www.itre.ncsu.edu/radio/
2)At these sites, you can actually tune-in a "shortwave" radio receiver right on the Internet!! We will be posting the frequencies we will be talking on and you can just dial us right in and listen to our conversations at Chilton Radio & RA Labs
3) If you hear us - let us know by e-mail and we will send you and your school a special SWL (shortwave listening) card.
4) Don't forget the chat room for registered schools. Have a keyboard to keyboard conversation with a team member.
5) Registered schools can also e-mail questions, comments, stories, photos etc. to TA99 Team vehicles and connect with and visit other schools via the message board.
6) Through arrangements with a local FM radio station WMDI-FM in Bar Harbor, Maine, daily audio reports from the field are posted at Lab Rover Dot Com.
For those schools with "ham radio" access: CLICK HERE
TEAM LAB-ROVER"S MOBILE COMMUNICATIONS EQUIPMENT:
TRANSCEIVERS: Yaesu FT- 900AT HF 100 watt Transceiver - Alinco DH-70T HF Transceiver - Ameritron ALS 500M RF Mobile Amplifier - Icom TM-G707A 144/440 50 watt Transceiver - Yaesu FT11 VHF 5 watt Handie Talkie
ANTENNAS: High Sierra HS-1500 MK II Mobile HF Antenna System - Maxrad 144/440 & 6 meter Mobile Antennas w/ MNO mount
COMPUTERS & DATA: MAC Powerbook; Dell Inspiron 7000 Laptop
MISC: Mini-M Satellite Telephone - Cellular Telephone - CB Radio - FSR Radios - Astron 20 amp. AC power supply - Cherokee 1500 watt AC/DC Inverter - Garmin III+ GPS w/Maxrad external antenna...and of course plenty of music CD's (from Willie to Grateful Dead!!)
We were fortunate to have support from a great group of corporate sponsors - Please take a moment to learn about them and their products on the Sponsor Page at Lab-Rover.com. Without this kind of participation "K2A" operation would not have been possible. THANK YOU!!!
--------------------------------------------------------------------------------------------------------------------------
To learn more about this Awesome hobby, check out the ARRL link and other links: click here
To return to the main page click W2EMT
To return to Special Events Station "W1C" click here
To return to main Team Lab Rover page click here
Expedition E-Mail: [email protected]

last updated: Monday, September 29, 2003 15:44
by
Jim Wilmerding M.Ed.,EMT-P
Andrew Wilmerding, BS
Michael Slade, BA