Brad Bradfield, PE
W5CGH
AMATEUR RADIO PAGE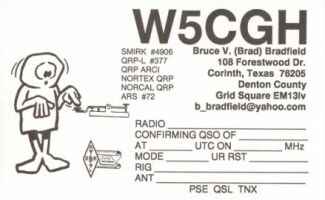 I was interested in amateur radio as far back as 1960 when I was 12 years old, but never stuck with it long enough to learn the code until 1970, when my college room mate and I decided to teach it to each other. I passed my 5 WPM code test in the late spring of 1970, and my Novice written test the night before Field Day in June. My Elmers were Ray Johnson, WA0SJK (now K0WW), Roy Jorgenson, W0MMQ (SK), and Ade Weiss, K8EEG (now W0RSP).
In July 1970 I left for Navy Electronics Technician school at the Naval Training Center at Great Lakes, IL, and my Novice license, WN0CGH, was issued in August. Great Lakes had a very active club station, K9NBH, in those days, and I became very active there, often operating every day of the week. I became good friends with Terry Travis, K5WNH, who was also attending ET school at the time. We would sometimes go the club station late on Friday or Saturday evening, and ham all night long.
In December 1970, after finishing ET school, I was assigned to the USS Kansas City (AOR-3), homeported at the Naval Station in Long Beach, CA. The Naval Station had a club station, WB6GUI, which was inactive at the time because they didn't have anyone to run it. Another ham, Keith Birdwell, and I convinced Special Services to let us run it in our free time, so it would be open at least part of the time. Keith got out of the Navy in the spring of 1971, and I continued running the station when I was in port until I got out of the Navy in July 1972. In February 1971, Keith and I drove to the FCC office in downtown Los Angeles so I could take my 13 WPM code test along with the General and Advanced written tests. I passed and was upgraded to Advanced. While in Long Beach, I also became lifelong friends with Capt. John Duke, W4FMB (SK). Also in Long Beach, I helped build the Navy MARS station in the shipyard.
In 1978, while I was still in the Naval Reserve, I did my annual two weeks active duty at NAVCOMSTA Washington, DC, where I operated extensively from the base club station, K3NSS.
My amateur radio interests have been varied over the years, ranging from HF SSB/CW, VHF/UHF weak signal, and RTTY, to a bit of VHF packet. But one thing has always remained pretty constant, HF CW. I've never been a big time contester, but have always enjoyed Field Day, and some of the QRP Contests. For many years I operated Class 1B-Battery on Field Day with my friend Dave Luscombe, W5RIF.
Take a look at some of the pictures of my mobile station. You can also see many of my ham license plates dating back to 1973.
Select this hyperlink to see some of my QSL and eyeball cards, and name tags.
Visit some of my favorite amateur radio related links by pressing the button below.






SEND E-MAIL TO BRAD:

[email protected]
Page updated 07/22/2003