THANKS TO OUR FORMER GUESTS:
Jens Will,DL7VHS - Olaf,DL7CX - Uwe,DL8UD (3000 QSOs in 4 days) - Abo,DK6ST -
Sigi,DJ4IJ - Bernd,DL7BS - Conny,DL1DA - Cal,VE6NS - Carrie,VE6CQA - Helmut,DJ4VW -
Bob,N4CD (9500 QSOs in two weeks) - Bill,K6KM & XYL -
travelogue by DL8UD - travelogue by N4CD - travelogue by KI7WO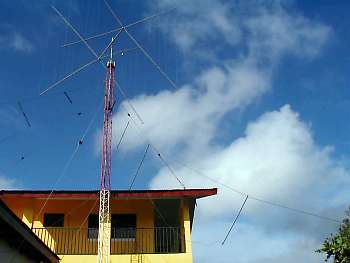 Shack in the upper floor Hammocks to Relax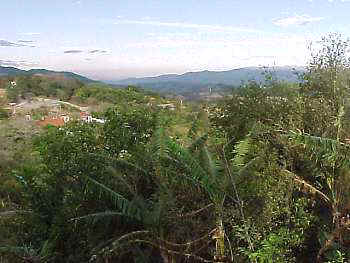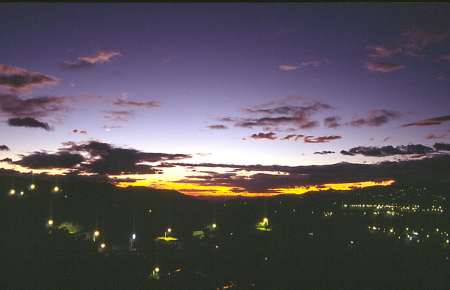 View from balcony to the west Sunset above pacific coast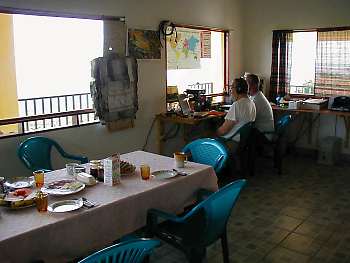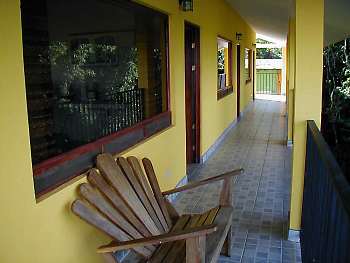 Shack in the upper floor Balcony of the apartments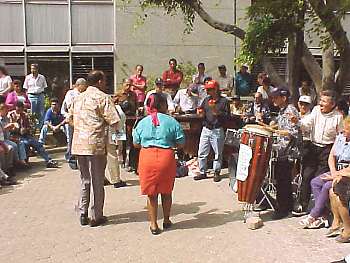 Marimba dance in San Jose Souvenier market in San Jose
Who rents ?
I am German and live in Costa Rica since 1992, because I love the flora and fauna of the country. Together with my wife, I run a small family hotel on the country with awesome view down to the central valley...

Where is it ?
Our village is located about 10 miles west of the capital San José und 10 miles south-west of the international airport, between Santa Ana and Ciudad Colon on a hill with an impressing view down to the central valley and to the volcanoes Poas and Barva. In good wheather conditions, you can see the Gulf of Nicoya at the Pacific Ocean.

How do I get there ?
Very easy, it will be a pleasure for me to pick you up from the airport.

Which pros does the location have ?
Living in a village in absolutely quietness - no sound disturbs your sleep
The capital San José is easy reached by bus, taxi or rental car in only 20 minutes
Ideal, central tour base and starting point for tours in the whole country
Best climate of the country - with low rainfall and about 77 to 86 Fahrenheit
Good contest location for shortwave.

Which excursions are possible ?
We can arrange nice day tours to the following places:
Vulcano Irazu (highest of Costa Rica)
Vulcano Arenal (activ, always eruptions)
Vulcano Poas (with cloud forest)
Vulcano Barva (with lagune)
National park Carara (red Aras)
Butterfly farm (with guided tour)
Rainforest tram (explore the canopy)
Orosi valley (with National park Tapanti)
Sarchi (artist village)
Ojo de Agua (Pool with well of 4000 gallons/minute)
Boat trip on Rio Sarapiqui (Krocodiles, monkeys, etc.)
Riverrafting in Quepos (different levels)
Mountain climbing on Cerro Chirrippo (highest peak of the country, 3864m)
Farm of the Quetzal bird (guided tour available)
and much much more....just ask us..... !

Which is the best time to travel ?
If you don't mind some rain in the afternoons, the month is not important. If you want to travel during the most driest months, we have to recommend you to come between first of January until the end of April. But also November, December, May, June, July and August are fine. Just try to prevent coming in September or October. However, even during these months, the mornings are always sunny until rain starts around 2 pm.

Who offers cheap tickets ?
Unfortunately, we can not give recommendations for the US. Please contact your travel agent.

Which extra costs do you have ?
Absolutely nothing ! Water, electricity and so on is included already. You only need to bring some money to travel around, to buy souveniers and for additional meals. After enjoying our extensive breakfast, you will not be hungry before the evening.

How do I book ?
Just fill out our online reservation form or simply send email and we will confirm immediately. Please leave your fax number, just in case of mail problems!
more questions...?

copyright © by TI2HMG