In 1998 already, I tested a traveling offer in CQ-DL and it was a good experience. So I wrote to Henry, TI2HMG ([email protected]), in the beginning of 2000, to spend my next vacation in Costa Rica. He always answered all my questions immediately.
Since I like to do contesting, I took a quick look on the contest calender and saw the WPX-Contest in SSB in March 2000 so I did know the date of my trip.
Soon I received the booking confirmation for the desired time. Several apartments were available.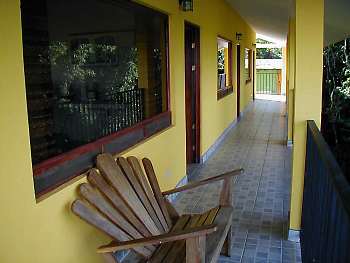 All I had to do now is ask for vacation in my QRL and book a suitable flight (Continental Airlines). My trip started the 18th of March in Hamburg with 4 degrees Celsius and rain.
After an exhausting 18-hours flight with stops in Frankfurt, Washington DC and Mexico City, I landed on time at 1:45 am at the international airport Juan Santamaria in Costa Rica.
I did not have any problems with customs, neither with the suitcase nor with my 40 pounds of hand luggage (Henry told me later, that only natives get checked). It was still warm and without the German rain when I was standing alone in front of the airport building in the middle of the night.
After scaring away duzens of taxi drivers offering their service, Henry, TI2HMG arrived with his Jeep to pick me up, just like he wrote by email. At about 2:30 am we arrived in the small village on a hill side in the so-called "Valle del Sol" (Sunshine Valley).
The familiar hotel with 7 studio apartment style rooms (each with own bath and kitchen) is located about 10 miles southwest of the airport. Because of the bad roads, it was a 30 minutes drive. If someone wants to rent a car there to explore the country, I can only recommend a 4 x 4.
Even if I was very tired, I could not await to be on the air and since Henry did not mind either, I started calling in CW on 20m and in only some seconds I produced a big pile up from Japan with only 100 Watts and a dipol (has been replaced by a 2-element 5-band quad by Lightning Bolt).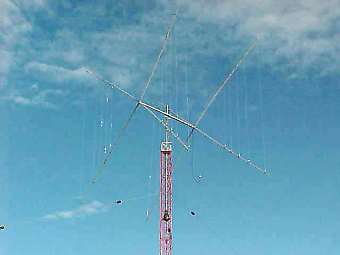 At 4:30 am I went to bed. After a short rest, I worked on 10 and 12m. I should say that Costa Rica is not so wanted anymore in SSB because of the Big Gun Stations like TI4CF (now the new quad produces pile ups even in SSB with only 100 W).
I tried it again in CW, especially on the WARC-Bands. The conditions on 12m have been perfect in the beginning, but at the end of the vacation as well as during the WPX-contest, they decreased.
Henry helped me to put up my dipoles for 30, 40 and 80m. The feeding point was on the 17m high tower.
Even with these simple antennas, I produced always pile ups in CW without amplifier (now Heathkit SB 220 with 1 kW output available).
Montag the 20th of March, we went to the radio controll office to pick up my guest license. Henry was so kind, to bring me and help out translating. One does not need to ask for a permit in advance. It is enough, to go there with the original of the passport and the ham license plus a copy of both.
(questions: [email protected] )
My guest call was DL8UD/TI2, because TI-calls will be given only to people with residency in Costa Rica.
San Jose with its 1 million inhabitants has to offer several attractions like the gold museum, the jade mueseum, the national museum, theaters and shopping centers, the central market and the souvenier market.
In the late afternoon there is heavy traffic going on and the people do not pay attention too much to the rules. "Knock the horn and drive"! and a drivers license can still be bought today.
Never pay the regular price in a shop. You can always get discounts of 10 % if you pay cash. However, you should speak some Spanish, because English is still spoken seldom. After a visit in the capital city, one is glad to be back in Henry´s small village on the country.
His house and apartments offer an incredible view down to the wide valley. To the west (in good weather conditions) you can see the pacific ocean, to the north the volcanos Poas and Barva, to the east the airport and to the south to the mountains, which are not desturbing for the radio signals, so one has free radiation all around.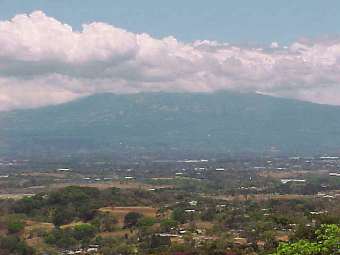 The awesome view can now be enjoyed also from the new shack in the upper floor of the apartment building, with a large balcon all around.
Sunday the 19th, Cal ( VE6NS ) and his XYL Carrie ( VE6CQA ) arrived. The Canadian couple from Alberta just married some days before.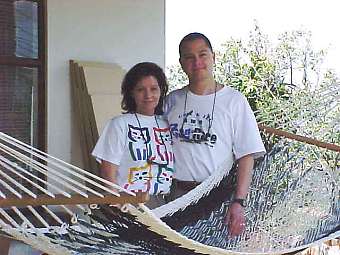 The local currency is the Colon. When I was visiting, one US$ was equal to 302 Colones. The temperature is between 25 and 30 degrees centigrade during day and there is always a light breeze.
If you are looking for a beach vacation, you will be dissappointed. To the pacific coast it is 60 miles, ( 2 hours ) and to the Carribbean about 90 miles ( 3 hours ). However, Costa Rica is not a country for beach vacation but a country that offers much nature wonders like volcanos, national parks, rivers and lakes and a large variety of plants and animals that make it become a treasure. This large variety is unique in the world and the nature lover has much to enjoy.
The central location of Henry´s property allows beautiful day trips to many different places like for example to the volcanos Poas, Barva, Irazu and Arenal, the pool "Ojo de Agua" (water eye) with a fountain of 5000 gallon per minute, the artist village Sarchi (painted ox cars), the national park Carara, the valley of Orosi, and many other places of interest. If someone likes to walk, they will find wide coffee farms directly behind the house with tranquil trails offering peace and relaxation.
Another plus for the location (3300 feet above sea) is, that there are no mosquitos or other insects. You will not need any repelent.
During my stay, we visited Bruce (TI5BAT), an American, who is married with a "Tica" (nick name for local women) and lives in Heredia, the city of the coffee barons. He had an amplifier by Heathkit for sale, which Henry wanted to buy.
It was without any signs of use and made a very good technical and optical impression. A check at the power meter showed about 1000 Watts output and the deal was perfect soon.
Bruce showed us proud all his other equipment for sale and we had to say goodbye.
Before the WPX-Contest, which began the 25th of March 2000 at a nice time (6 pm), I had about 4100 QSOs in my log already, most of them in CW.
During the WPX-Contest, I could experience how it is to participate in the Low-Power-Class, without a PA and big antenna, which was not so easy, having the Caribbean in front and the USA to the north. Still I could make 900 QSOs, mostly on the high bands of 10, 15 and 20m.
TOTAL-QSOs

Band
SSB
CW
160
-
-
80
5
171
40
30
275
30
-
548
20
78
533
17
3
124
15
108
279
12
312
746
10
201
483
All
737
3159

WPX-CONTEST

Band
QSOs
Prefixe
160
-
-
80
-
-
40
11
7
30
-
-
20
211
113
17
-
-
15
286
169
12
-
-
10
392
132
All
900
421
Sunday, after the WPX-Contest, I packed all my things and gave Henry the dipoles as a gift what he accepted thankful.
Monday the 27th of March at about 6:45 am I was sitting in the plane back to cold Germany, where I arrived at 10:00 am.
I would like to thank DF9LBA (Axel) for the power amplifier, which for some reason did not work, DL3TW (Thorsten) for the Delta Loop for 30m as well as Mr. Grimmeiser from the company Schurr Key for the portable keyer and of course also to Henry (TI2HMG) and his wife for there hospitality and to all other hams for the QSOs. QSL-cards direct or via buero.

73 de Uwe - DL8UD