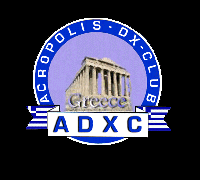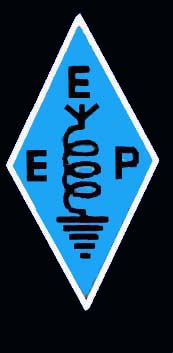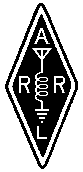 SOME INFO ABOUT ME....
I am 45 years old and i was born in TRIPOLI (Peloponese-area SV3) on October 19th of the year 1958.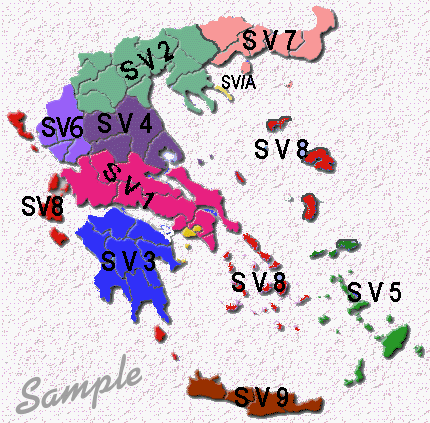 For the last 25 years I live in ATHENS ,the capital city of GREECE.




I work for the Greek Telecommunications, as a technician, since 1983.
My favourite HOBBIES are, of course, the HAM RADIO , as well as my computer , scuba diving , travelling and rock music.

I really love and enjoy DXing.I am a member of RAAG since 1993 and ARRL since 2000.
There is a lot of activity by me on HF bands and i spend a lot of time in my shack looking for NEW COUNTRIES.

The DX4WIN (my electronic logbook IS EXCELLENT !!!)till now (OCT-2012) counts a total of
338 countries worked and 338 of them are confirmed (SSB MODE).

I NEED KP1 - NAVASSA ISL. AND KH5 - PALMYRA & JARVIS ISLANDS

Of course my DXCC - 5BDXCC - WAZ - WAS is O.K.My DXCC #34,141 (phone) with 340 pin label on it. Honor Roll 338 (341) , My WAZ 20 SSB #1152 , WAZ 15 SSB #631 etc.

On WARC bands also good activity .
I have on 18 Mhz 316 countries worked and 268 confirmed (SSB)
and on 24 Mhz i have 270 countries worked and 219 confirmed (SSB).
On RTTY Mode 292 countries worked and 233 confirmed.
Also good activity with 50 MHz(6m) - 144 MHz(2m) - JT-65 , SSTV , PSK-31 , FELD-HELL , MT-63 ,MFSK-16 , ROS etc. Dig Modes.
All this activity has been taking place since 1993 , when i took my licence.

Thank you for spending time on these lines .
I hope we have a QSO (if we don't have already one).
I m looking forward to receiving your comments and ideas about my web site.

See you on the air....73's de SV1CNS and enjoy DXing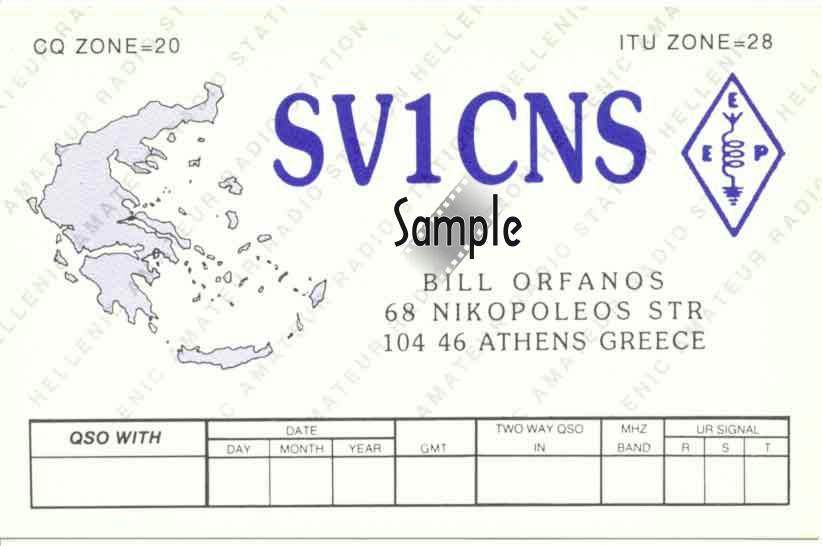 MY OLD QSL CARD
If you have any problem in QSLing with me, please let me know via E-MAIL sv1...@otenet.gr for fast.
I' m O.K in any CALLBOOK since 1993 (PO.BOX 31748 ATHENS 10035 GREECE ).
QSL-CARD is also O.K via RAAG's QSL bureau.

MY QSL-INFO is also O.K via QRZ.COM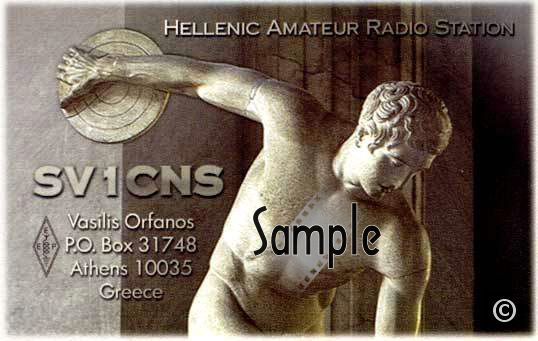 MY NEW QSL CARD

---
---
TRANSLATE THIS PAGE WITH...
---
The Author | DX-Cluster | QSL-Info | DX-Bulletins | SV Web Sites | Software | DX Web Sites | Propagation
DX-Peditions | Manufacturers | Satellites | DXCC-5BDXCC
Amateur-Societies | FTP | Web-Search



Last Updated 13-OCT-2012 by
sv1...@otenet.gr