to RW3AH's personal WWW home page!

---
Hi! I'm Andy
Amateur radio call sign is - RW3AH.
"Romeo Whiskey Three Always Happy"
---
---
The main office and headquarters of the Russian Amateur Radio Emergency
Service (RARES) is located in Moscow, Russia.
This is the telecommunication center of the Russian Amateur Radio Emergency Services (RARES) sponsored by EMERCOM of Russia.
From this center we control and maintain connections with our regional
departments located throughout Russia, from Siberia in the Far East to European Russia in the West. RARES H.Q. is the working digital network of the first Russian DXCluster R3ARES, with more NET/ROM systems of the VHF/UHF and Internet Gateways. RARES also co-operates with the professional Rescue Services in Moscow and with many other cities in Russia.

The H.Q. and RARES operating "under the roof" of EMERCOM (we are about 500 meters from Red Square - the Kremlin). The callsign of RARES H.Q is R3ARES and RE3A.
RE3A has been active in Rwanda, Africa as 9X/RE3A since March 1997 to the present time. (QSL via RW3AH).
Since 1988 I've been a Rescue Officer and the Chief Coordinator of the Russian Amateur Radio Emergency Service (RARES) in the Ministry of Emergency Situations and Civil Defense of Russian Federation (EMERCOM).
Rescue operations is my life! Russian ARES is active everyday:
RARES HF-NET Daily (incl. Sat and Sun)
QRV-14347 KHz SSB/CW at 07:00 AM GMT (Winter), and 06:00 AM GMT (Summer).
14292 and 14347 KHz. is a duty emergency channel
---
This is my FAMILY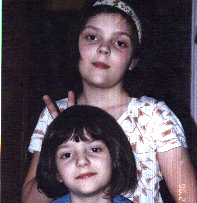 My two daughters.
- Antony -
- Stasy -


and wife Nady
---
Some short story of my missions
(Alaska USA)

It was spring 1989. My first visit to Alaska with Ski-Dog "Bering bridge" expedition over the Bering Sea. We was discovered some new IOTA islands on the Air. (Big Rotmanova and Little Deomide isl's).
Call sign was EK0AH, KL7/RW3AH.
---
My second visit to Alaska.
WL7AP is my second ham radio callsign from US. Since 1991.
ex: WL7CDB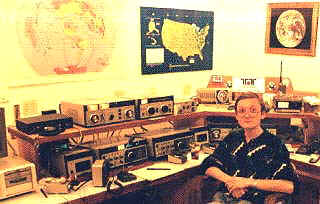 1991 Anchorage city, State of Alaska , USA.
Visit to KL7KI - Bill ("Mr.TEN-TEC") ham shack.
Thank you Bill for very nice hospitality!
The Greater Alaskan Glaciers

August month! Ice on background. Strong wind and the temperature is about 50F (+10c) A few miles outside the temperature is 77F (+25c)!
My special thanks for hospitality to my Alaskan ham-friends : Hal - KL7HJD and his wife Voila, Jim -W4IGM/KL7 and his wife Dores, Jim -KL7GID and his wife Alice "Cat And Dogs" - WL7CAD, Fred "Happy Fred Men" -KL7HFM, Roger - KL7HFQ, Bill - KL7KI and his wife, KL7AA-all ARC members, and many many others!
---
4U/RW3AH (Former Yugoslavia)
1995 .UN Mission. This is border of the Bosnia and Herzegovina, former Yugoslavia Republic. Best place of the World. Nice and Great land, but unfortunately deep tragedy of the small nation.

Special thanks to my HAM friends : Rade, Zik at YU1AVQ "Zemun" ARC.
---
(Rwanda Africa)
9X/RW3AH call sign

during my 1st visit in Africa,

(9X0A)
call sign

during my 2nd visit in Africa
1997 - 1998 . UN Mission in Africa, Rwanda. QTH was on the cross of 3 borders - Zaire, Rwanda, Burundi.
---
List of related amateur radio links
---
This is my HAM-shack in Moscow
EQUIPMENT
The amateur radio station of RW3AH is consist :

HF Radio station: YAESU trcvr. FT-1000mp, Power Amplifier ETO-ALPHA-91b, Russian HF receiver (military) R-399a.

Computer PC: Pentium Intel 200 Mhz,HDD - 2,5 Gbt, CDROMx8, 32Mbt RAM, USRobotics 28,8 FAX modem, DVP K1EA internal voice card, Sound Blaster Creative-16, TV tuner Video card Cirrics Logic 2Mbt RAM.

PACKET Radio station: TNC KAM-7plus, PK232, Pico-Packet TNC
VHF radio: h/t FT-51Rh YAESU, TM-2530a Kenwood,
Antennas: Cushcraft A3S 3 bander antenna - 10/15/20 mtrs. with Yaesu G-800s rotor, Half rombiq antenna for 160/80/40 mts with a home made antenna tuner. GP-144 MHz..x2. SWR meter "Daiwa-101L"
[ Main Page | Russian ARES | 9X0A Home Page | Photo Gallery | Links | "5th Ocean" Ham's Club | IRC | Chat room ]
Sign My Guestbook
View My Guestbook



---
This page was visited
visitor times since Jan 3th. 1999
---
WWW page of rw3ah was created Jan.1997 Updated - Oct 24th. 1998
Designed by rw3ah © Copyright 1996 1997 1998 1999