N9EWO Review :
ICOM IC-R70 HF Communications Receiver

This Page is Under Construction
(please check back)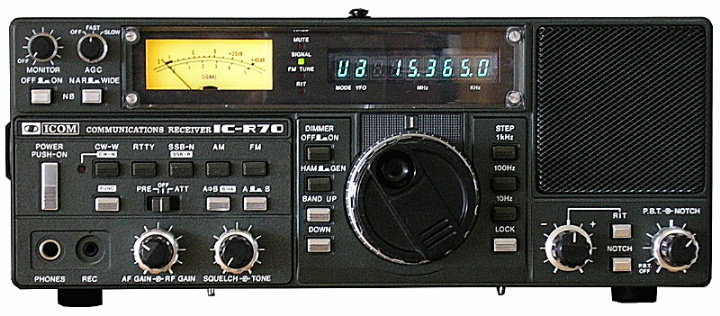 The Icom IC-R70 "Quad Conversion" HF Communications Receiver.
Icom's first HF communications receiver made from 1982 to 1984.
Audio badly exhibited excessive "IF hiss" (all modes).
Issue was fixed with the later IC-R71 model in late 1984.
However the IC-R70 did NOT use the IC-R71's totally insane battery RAM scheme.
(see our IC-R71A review here, bottom of page).
Can suffer from sticky S-meters and plastic VCO trimmer capacitor failures in it's old age.
Also experienced some QC issues in it's short 2 year run in the marketplace.
455 kHz stock wide CFW455

HT

murata bandwidth filter is a bit wider when compared to the
narrower IC-R71A CFW455

IT

"wide" filter for less pinched audio quality. IC-R70's audio tends to
have less overall distortion vs. the IC-R71 (so be it has more hiss). Aged electrolytic capacitors notwithstanding.
Landmark receiver for the day that included Passband Tuning and IF Notch at a reasonable price.

---
Country of Manufacture : Japan (Osaka)
Test Sample Approx Serial # :
---
N9EWO's Review on the Icom IC-R70 HF Receiver



Discontinued Receiver

We are in need of reader

DONATED

properly working test sample for us to write a extended review on this receiver. Please contact me directly if you can help.

See the main page for contact information.



"Thank You"




Dave N9EWO



Dave N9EWO
© N9EWO, all rights reserved
Ver 0.0

---
Icom IC-R70 Links (all subject to change without notice)

IC-R70 Owners Manual

IC-R70 Service Manual

eham IC-R70 Reviews

W4JBM's ICOM IC-R70 Page

N4NRW IC-R70 Repair Page

June 1983 IC-R70 QST Review


---
---
---