N5TIM's
Public Service Information
Information for ARES©, RACES, EmCom and Public Service Communicators
These web pages are presented as a public service to the Amateur Radio community providing information for and about public service events, EmCom activtivities, ARES© and RACES groups. Just click on the an item listed on the left to go to information on that subject. You may use infromation from these pages for use with your event or group.
---
Public Service Events are an important way to display Amateur Radio's capabilities to the general public and to practice with our equipment in a non-emergency situation. Many of the functions amateur radio communicators perform at these Public Service Events are identical to those performed during incident and EmCom situations.
---
Amateur Radio Resource Typing is another important item for Amateur Radio Communicators. The use of Typing simplifies the identifying, ordering and supplying of Amateur Radio Communicators for specific tasks at events and incidents. Click on Resource Typing on the left.
---
If you or your Amateur Radio Club are supporting an event or need help providing communications, this is also the place to list the event. Events posted here are generally in the North Central Texas area although any event information received will be posted. Postings need to include the date, event name, served agency, contact, estimate of amateurs needed and any other related information. Information can be sent via email or phone. Most Dallas area events, if conducted as a controlled net lasting at least 3 hours, qualify for RACES credit. Check with your local RACES radio officer if in doubt. Most events are conducted on 2 meters.
---
Riley Hollingsworth, Special Counsel for Amateur Radio at that time, speaking at the Ft. Wayne Indiana Hamfest says "it's time for more amateurs to get involved with public service." He went on to say that since September 11, Amateur Radio and its potential have moved into a prominent position on the national front and that we must move quickly to establish our place. (WorldRadio)
---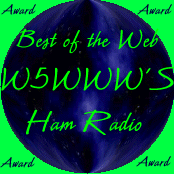 ---
The Fine Print

Whatever rights I have are reserved. All trademarks and copyrights are the sole property of their respective owners. I have no relationship with any of the authors or companies mentioned on this site. Products and links are for reference only and no responsibility is assumed for the ultimate performance or lack of same. I also cannot assume responsibility for any advice or information that is given since I have no control over what happens after said advice or information leaves this site. Always use prudent judgement in implementing any advice or information. You may link to this site as long as credit is given. Email information gathered from users of this site will only be used by event coordinators in conjunction with an event.
Created June, 1996 Copyright © 1996 - 2012 Updated 12/2010 ©N5TIM