Main Page

Who We Are

Upcoming
Events

"Membership"
Information

MATH T-Hunt
Rules

T-Hunting
Software

T-Hunting
Links

Back to N3KEV
Home Page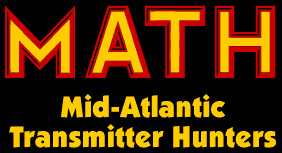 Transmitter Hunt Rules
As of 5-2-97
Intro
M.A.T.H. is not about making rules, but in having fun. That is why the rules are divided into two groups, those that are written in stone, and those that were written to be broken. Those written in stone absolutly, positively, without-a-doubt, must be adhered to in all hunts! (Don't even ask) The reason for this is to eliminate any unruly or less than sportman-like behavior on the part of the "fox".
These rules also put the hunters on a level playing field.
Remembe : we hunt to have fun!
Written in stone
Once the hunt has begun, the fox may not QSY except in an emergency.
Once the hunt has begun, the fox may not change location.
Unless it is for the benefit of the hunters (which means at their request) the fox will not change transmit power levels either by changing antennas or setting transmitter power.
If the fox is using a directional antenna, it must remain stationary throughout the hunt, i.e. he/she cannot change the direction the antenna is facing.
If the fox is not present at the transmitter, he/she must provide instructions in the form of a note on the transmitter telling hunters how to find him/her to claim victory.
The boundaries of the hunt must be clearly set before the beginning of the hunt.
The fox must be able to be heard at the starting point with a 4 element yagi or lesser antenna. This means it has to be tested prior to the hunt.
Written to be broken
The following rules can be broken but the change in rules must be announced just prior to the beginning of the hunt.
The fox must hide on public property. This includes :
Public schools
Parks
Shopping center and mall parking lots. (This does not include behind the shopping center in the alley!!!)
Along side public streets in a legitimate parking spot.
The fox must hide in an area which has easy access to public parking. The hunters should not have to pay for parking. This does not include tolls for crossing bridges or using state highways. Tolls are OK but will make you enemies very quickly.
The fox shall use a "fox-box" or similar beacon as a transmitter (M.A.T.H. members have access to one that can be shared)
The fox must be able to be heard at the starting point using a 5/8 wave mobile antenna.
All hunters shall start from the designated starting point unless otherwise stated by the fox.
These rules are subject to addition and deletion. Check back before a t-hunt to make sure you are aware of them all.