VHF Repeater on 146.97 (100.0 hz tone) - UHF repeater on 444.80
Node#: 394682 - Link: KE8IL-R

The Marquette Repeater Association is a nonsocial club that operates and maintains two repeaters that are located in the city of Marquette, Michigan. Marquette is located in Michigan's beautiful Upper Peninsula on the southern shore of Lake Superior in Marquette County, the largest county east of the Mississippi River.

We have two repeaters: 146.97 (VHF) and 444.80 (UHF). We have Echolink on the 146.97 repeater with the node number 394682, and the link is KE8IL-R. Echolink is open for anyone to use. Additional Echolink information can be viewed here. The Echolink is open to the World. Feel free to use it.

Both repeaters are located near the ski hill on the south side of the city on a tower owned by the Gospel Opportunities Network (WHWL - 95.7). The repeaters are open repeaters and are very active as we welcome anyone to make use of them when in the area. The repeaters are used during emergencies and severe weather. We also operate in conjunction with another club in Marquette County, which is the Hiawatha Amateur Radio Association.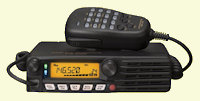 The Marquette Repeater Association, along with the Hiawatha Amateur Radio Association, provide communications to events throughout the year. Two popular events include the U.P. 200 Sled Dog Race, which is a 3 day 200-mile race through the central part of the Upper Peninsula. It's held annually in February. Also, there is the Noquemanon Ski Marathon held in January; a 51K - 25K cross-country ski race. In August, the clubs provide communications for the Ore To Shore Mountain Bike Epic, which uses the same course as the ski race.