! DOCTYPE HTML SYSTEM "HTML.DTD"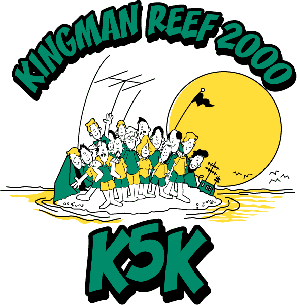 THE KINGMAN REEF/PALMYRA DX GROUP PROUDLY PRESENTS KINGMAN REEF 2000
Kingman Reef

K5K QRT AT 18:30 31 OCTOBER
QSL CARDS ARE CURRENTLY BEING MAILED (MARCH 1, 2001). ALL QSLS RECEIVED VIA MAIL WILL BE ANSWERED FIRST. WE WILL LET YOU KNOW WHEN WE ARE CAUGHT UP, IF THEN, AFTER SEVERAL MONTHS YOUR DIRECT SASE HAS NOT ARRIVED FEEL FREE TO INQUIRE TO THE MANAGER AND HE'LL CHECK HIS LOGS FOR STATUS. PLEASE ALLOW 1 YEAR FOR A BUREAU RESPONSE.
15 OPERATORS TRAVELED TO THIS TINY REEF (.62 SQUARE MILES) IN THE NORTH PACIFIC 920 MILES SOUTH OF HAWAII. THEY OPERATED FOR 10 DAYS MAKING IN EXCESS OF 80,000 QSOS. KINGMAN REEF IS LOCATED AT 6' 24" N, 162' 24" W. WE HOPE THIS WAS A NEW ONE FOR YOU.

Our boys and girl on the Reef...more pictures are being added daily to our scrapbook.

K5K
CONTENTS:

Facts about Kingman Reef
Our cast of operators
Our operating frequencies and Great Circle Chart
Press Releases, operating news, hot items, and scuttlebutt
Our sponsors
Pictures from the Island
On-line log lookup NOW AVAILABLE
---
QSL ROUTE:


CARDS ARE GOING OUT STARTING 1 MARCH 2001
Dudley's DXers of NE Georgia K4TSJ
2011 New High Shoals Rd.
Watkinsville, GA 30677



---
Our DXPedition will employ the use of regional pilots to keep the operators in touch with their audience.

North America/South America Pilot:
K6GNX Bill Avery, [email protected]

Europe/Africa/Middle East Pilot:
DL1XX Klaus Wagner: [email protected]

Japan/Asia/Australia/New Zealand Pilot:
JA3AAW Takeshi Yoshida, [email protected]
Six meter Pilot:
N5JHV Dave Batcho, [email protected]
---
---
You are visitor number
since 09/24/00

This page designed and maintained by N1DG.
Last updated 11 MARCH 2001