THE KINGMAN REEF PALMYRA DX GROUP PROUDLY PRESENTS KINGMAN REEF 2000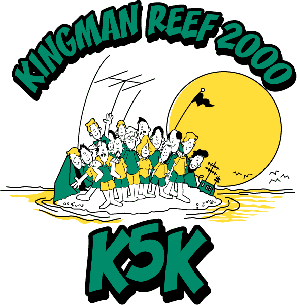 Kingman Reef is a triangular formation at 6' 24" N, 162' 24" W about 920 miles south of Hawaii and 35 miles north of Palmyra. It is a bare reef, 9 by 5 miles, running north and south the long way, with one corner of the triangle pointing north. Inside the reef lies a lagoon of considerable depth. The only land area is on the east side, where a small islet rises about 3 feet above sea level at high tide.
Kingman was discovered in 1798 by the American Captain Fanning, but it was named after Captain Kingman, who visited the reef in 1853. It was annexed by the US in 1922 and made a US Naval reservation in 1934. In 1937, Pan Am began air mail service between Hawaii and New Zealand using flying boats, and they used Kingman Reef's sheltered lagoon as a stopover. A schooner was anchored there as a sort of hostel and supply ship. The route was abandoned after a seaplane was lost off Samoa in 1938. Kingman Reef is still under control of the US Navy and permission to visit is only occassionally granted.
Past DXPeditions include the following: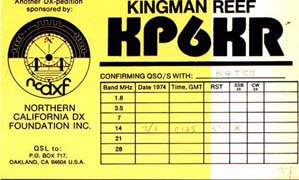 KP6KR 1974 The FIRST KR Expedition

KP6BD 1977

WA2FIJ/KH5K 1980

AD0S/KH5K 1981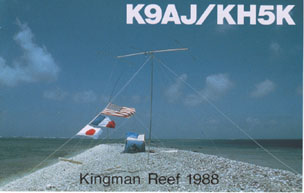 K9AJ/KH5K 1988

N9NS/KH5K 1993

This page designed and maintained by N1DG.
Last updated 30 October 2000