McDonald TERRITORY
SECESSION ATTEMPT

AND RESULTING PRIVATE DISPATCH
McDonald County, Missouri: 1961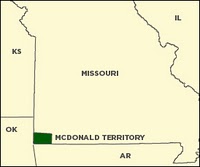 McDonald Territory, April 1961
This began as a working page for a planned tribute issue by Spring River Local Post, Missouri's oldest modern-day local post, to commemorate and honor the McDonald Territory Private Dispatch, which marked its 50th Anniversary in the spring of 2011. This dispatch was part of the overall secession attempt by McDonald County authorities, and to me is perhaps the defining tangible to be had commemorating its existence. Postal history is often overlooked as far as its role in such events, and I hope to illustrate its importance here.

Contributions from Community groups, residents and philatelists were sought, especially those within McDonald County itself and Southwest Missouri. Just one of the ideas that was proposed as a means of commemorating this unique Missouri historical event include holding a trail ride or a pony express event to carry mail from Noel to Neosho, or to other towns outside the "territory", to serve as a re-enactment of the extra-territorial carriage of mail during the pendency of the secession attempt in 1961. Unfortunately, none of these ideas met with any interest from McDonald County residents.

The intent was that mailpieces would be franked with a commemorative local post stamp in tribute to the originals; other appropriate markings and then stamped with a U.S. stamp, possibly including a pictorial cancellation.



Visit Friends of the Historic Pony Express

Unfortunately, due to changes at Ning, Friends of the Historic Pony Express site appears to now be defunct.


---


AUTHORITY FOR CARRIAGE OF SUCH SOUVENIR MAIL?

The intention is that souvenir mail, presented as a historical recreation, as a way of celebrating the 50th Anniversary of the Secession Attempt would be carried out of the mailstream under Federal Law, Title 18 U.S. Code, § 1696, (commonly called The Private Express Statutes) which allows and authorizes a private courier [such as Spring River Local Post or an agent thereof] to receive and deliver properly stamped mail to the nearest post office, postal car or other authorized depository for mail matter, for onward transmission by the United States Postal Service. To do so is not illegal, nor would doing so constitute a violation of the Private Express Statutes.

A motor route to carry mail out of McDonald County in this fashion would not be recreating any regularly scheduled USPS routes, and would not duplicate any times or conveyances of the regular schedule. As of this date, the Postal Service has not scheduled any historical recreations of the events that occurred in 1961 as to carriage of mail outside of the county, either as a one-time event, or as a series of mail transfers, so this planned philatelic celebration will not be in substitution for, in addition to, nor in competition with any future USPS commemoration of said historical events. In addition, certain souvenir mail pieces (which collectors call "covers") may be carried pursuant to Title 39, USC § 601 (a),(b), [The section which relates to private carriage of letters] totally outside of the USPS, and in such an instance, the requirements of said section would be observed as to each piece, including application of the same amount of postage that would have been paid had it sent by mail, and the date of the letter and of its transmission and receipt will be endorsed on the envelope in ink, along with cancellation of the postage stamps so applied to commemorative envelope. A local post may charge a fee for its services in transferring / delivering such mail, just as a private carrier like Federal Express would, or in the alternative could assess "fees" to be donated to a non-profit organization such as an IRS 501 (c)(3) organization; the Local Post Collector's Society has such a group to promote youth philately, or a deserving McDonald County non-profit could be designated.

While President of the Joplin Stamp Club I coordinated Pony Express Covers in 1984. I'm the proprietor of Spring River Local Post and creator of this webpage, and I designed the special postmark and cachet that was used on that mail. Mail was carried from Jefferson City to Fort Leonard Wood, Missouri, by Pony Express riders. Much of the mail was documented by being signed by the actual rider that carried the souvenir cover, and then a special hand-stamped postmark was applied at the Fort, and then part of the mail was presented in the mailstream for mailing to those who had ordered in advance, and other were reserved for future orders. Profits of the venture went to the Missouri Special Olympics and it was a very successful event. Hopes are that something similar to this idea could be duplicated for this McDonald County event. The philatelic press can be used to publicize the event, including recognition in philatelic/social networking boards and philatelic forums to spread the word about the availability of these unique philatelic souvenirs and of a bit of Missouri history that is colorful and full of drama.

---

History and Background
of the
McDonald Territory Secession Attempt and the
Resulting Private Dispatch of Mail Outside the Territory


Much of the information here comes from the 1961 archives of The Joplin Globe, Joplin, Missouri, and the Carthage Evening Press, as found on microfilm at the respective libraries. Later revisions will include contemporary articles from McDonald County and Northwest Arkansas newspapers as well as others, if found.
Several out-of-state newspapers as well as foreign papers were believed to have picked the story up from the AP newswire. Residual publicity continued for years!

For an introduction to the McDonald County Secession Attempt, a brief history of the event is documented in Wikipedia at http://en.wikipedia.org/wiki/McDonald_Territory It all began when the Missouri Highway Commission renamed one of the local highways without any notice to residents, in 1960. Then, still smarting, residents were furious when the State left McDonald County and Noel off their Familyland Vacations brochure, printed in 1961. Some officials of the State of Missouri claimed it was an honest error, while the Highway Commission reported it was not an oversight, but was an intentional omission. McDonald County residents fumed. They declared their independence from the State of Missouri, and established a provisional government, or as they themselves described it, a "pseudo-state." While the focus here may seem to be primarily on the McDonald Territory stamps and the ensuing private dispatch of mail, there were many other interesting goings-on during that time period, including the erecting of road signs that stated "Entering McDonald Territory," creation of a territorial flag and the issuance of temporary visas to travelers passing through, as if McDonald County were a totally separate country. It really was a fascinating segment in Missouri history, and is worthy of being preserved in this electronic venue.

---


Listing of Elected Officials of the McDonald Territory

Who were the other "players" in this event?
United Sons of the Union and Confederacy Issues Ultimatum to McDonald Territory "Rebels"

Territorial President McGowan offers McDonald Territory back to the Indians

Listing of newspapers which carried stories about the McDonald Territory Event

Excerpt from the Declaration of Independence Often Quoted vis a viz Secession

April 12, 1961, Missouri Senate Resolution No. 51, by Senator Lee A. Bachler

April 17, 1961, Missouri Senate Resolution No. 55, in response to Resolution No. 51

Content similar to that in the previous paragraph is found at the Absolute Astronomy page at http://www.absoluteastronomy.com/topics/McDonald_Territory

More similar historical overview at McDonald Territory: Totally Explained

Eight Secessionist Movements in the U.S., from mental_floss Blog See #7

Listing of McDonald County Towns, Villages and Hamlets: See entry at Noel for information about McDonald Territory

Secession Attempt mentioned by State Senator Singleton in 1999; Document honoring McDonald County's Sesquicentennial
---
Philatelic and Regular Mail

from McDonald Territory,

1961... and beyond



A McDonald Territory Private Dispatch stamp enlarged approximately 400%
Stamp might appear to be intended to frank mail to a post office outside McDonald County, but a large portion of the covers
were postmarked in Noel

---
The gist of the story for laymen is that mail [us collectors refer to them as "covers"; you may have heard of 'First Day Covers' before] was carried out of McDonald County (then being called McDonald Territory) by the organizers, to the nearest U.S. post office outside the "territory", most notably to Neosho, Missouri [the county seat of Newton County, to McDonald County's immediate north] where it was deposited for onward transmission. At that time, it was still called the United States Post Office, and this was prior to Zip Codes. It is possible that other routes to forward mail were established; I am particularly looking for any mail postmarked after April 1961, from an Arkansas town, perhaps Sulphur Springs, or from a town in adjoining Oklahoma. In most all instances of mail I have seen, a McDonald Territory stamp was applied to the front (address) side of the envelope, in addition to the U.S. postage, and a fee had supposedly collected for this service. The fee would have been collected at the time the stamp was sold, and its intended purpose was as stated on the front of the stamp. My initial thoughts were that it would appear to be hard to identify a piece of mail that emanated from McDonald County to the extent of calling it territorial mail unless it is postmarked in one of the towns outside McDonald County. In other words, the existence of a postmark from say, Neosho, along with a McDonald Territory stamp and rubber-stamped markings was originally thought to be a good indication that the territorial mail officials carried that piece of mail to Neosho, and deposited it in the mailstream there. Not necessarily, I have found. The Territorian's feud was not really with the federal government, since they spoke of interest in wanting to create a new State. Their anger was really against the State of Missouri. This aspect probably accounts for the large number of covers known to be postmarked from within the "territory." With the discovery of an unattributed short blurb which probably appeared in one of the three primary Missouri papers (Globe, Daily News, McDonald County Press) datelined Noel, Missouri; which stated "three territorial postal dispatch offices" had been established in Noel. Without mentioning any costs, it says the territorial offices will put "Noel Territory" stamps (sic) and relay the letters to the Noel post office, where they will be processed.

Obviously then, mail is commonly seen postmarked from within the territory, which fits in with the mail having served a propaganda purpose as well, as at least one philatelic author has noted. The organizers would have not had any control over the stamps once sold, so it appears that at least some private parties applied the McDonald Territory stamp to their outgoing mail, and mailed it from the post office in Noel instead of delivering it to one of the territorial postal dispatch offices or to territorial Postmaster General, Walter R. Arndt. This accounts for mail which would have plain McDonald Territory stamps affixed, but with no McDonald Territory markings. Someone connected with the secession movement may well have been taking mail to Neosho or other towns for onward transmission, but it is not known if this was done on a daily basis, although the presumption might be that this would have been expected. More actual mailpieces are needed to develop the history of this aspect.

Christmas cards are known from 1961, postmarked as late as December 25th, cacheted with the well-known green Noel Christmas Tree cachet and a McDonald Territory stamp. The McDonald Territory stamp was tied to the envelope with the combination pseudo-postmark consisting of two lines of text, one reading Noel, Mo. and the other McDonald Territory and 4 simulated wavy lines as in a machine cancel postmark. [There seems to be several one-line markings, some of which appear to have been made from the rubber stamp kits that were available at that time; clearly they are not manufactured rubber stamps due to irregularities in font alignment and spacing.]
---


The first exemplar I found of Walter R. Arndt's autograph;
Postmaster General, McDonald Territory; this one is postmarked 12-25-1961
This is the black on yellow version.


Reduced to approx. 50%

On the reverse of many of the envelopes, including the example above postmarked on December 18th, there was the approximate 2" diameter round rubberstamped marking that had Noel at the top of the dial, and McDonald County at the bottom. That marking is known to have been applied in blue ink as well as in black. We would especially like to know if anyone out there knows the whereabouts of these rubber stamps, or what happened to them. If they still exist, they need to be placed in the county archives, or at least the McDonald County Historical Society or a museum. They, along with the covers from this event, represent a fascinating segment of Missouri postal history!


McDonald Territory Stamp, Red on Yellow version
Perforated 12½

The McDonald Territory stamps were issued in black on yellow, brown on yellow, green on yellow, red on yellow and black on orange. They were issued 5 X 5 in sheets of twenty-five (25) stamps, and were perforated 12 1/2 and also imperforate (not having any holes and which would be cut out by scissors, just like the first US stamps issued in 1847.) By Christmas time 1961, the attempt at secession (regardless of whichever motivation you believe) had already ended, but it is possible that some wanted to continue milking a bit more publicity by (continued) use of the McDonald Territory Private Dispatch stamps. Some may have just wanted a way to "dress up" their outgoing Christmas cards, and use of the colorful McDonald Territory stamps was certainly a way to do that, and to perhaps use up supplies of the stamps they had on hand. These stamps actually appear in online auctions with some regularity, so I don't know that they can be considered rare, but 'elusive' would be accurate.


Latest known usage of McDonald Territory Private Dispatch stamps: 1971


Philatelic, histories and Internet sources:

Crossman, Robert, Dr., "Walter Arndt Elected Postmaster General of McDonald Territory,"
The American Philatelist, December 2008

Erwin, James L., Declarations of Independence: encyclopedia of American autonomous
and secessionist movements, Greenwood Press, 2007. ISBN # 0-313-33267-3

Forster, Lewis, History of MacDonald Territory (sic); Wichita Stamp Club

PDF Presentation of Missouri Postal History Society, St. Louis

Here's a site that I have to take some exception to; in that they have listed the McDonald Territory stamps as being bogus issues. I disagree strongly. In fact, my research has led me to believe that they served several legitimate purposes. Unlike one author's assessment, I think these stamps should, in fact, be considered as a modern-day local post, and that they are different from a "cinderella" issue. They meet the definition of a local post stamp, especially when they were employed to transport mail to a post office outside McDonald County. If nothing else, their continued use on mail, to publicize McDonald County's tourism industry lends their usage a certain legitimacy, and in my book, removes them from a definition of bogus. I'm not from McDonald County, so I don't really have a dog in this fight, but if those McDonald Territorians who started all this in 1961 were around, I think they would object to these stamps being called bogus. So, with that qualifier, and just to keep the list of internet sources current, and to present opposing points of view, I'll list this site. Click on the link in the first sentence of this paragraph, go to the page and then look under "M" to find the McDonald Territory reference.


---
McDonald Territory Forums


If you would like to add personal recollections, ask questions, or share comments, feel free to use the McDonald Territory Forum found at:

http://www.forumjar.com/forums/McDonald_Territory

or there is also another forum dedicated to McDonald Territory at the Absolute Astronomy Board.
---
Back to Spring River Local Post page.

Point of contact for webmaster given on SRLP page.

Page last updated 12 April 2012 1300Z

KEYWORDS: McDonald County, McDonald Territory, postal history of McDonald Territory, McDonald Territory Private Dispatch, McDonald Territory local post, Philately, Missouri, Secession Attempt, 1961, Tourism, Pony Express, Local Post, Local Posts, private carriage, souvenir, 50th Anniversary, philatelic treatment, 18 USC 1696, Private Express statutes, Private Dispatch, Private despatch, courier, private courier, MacDonald Territory, Walter Arndt, Walter R. Arndt, label, Cinderella, propaganda, road signs, Noel, John Dalton, Ozarks, philatelic, McDonald County postal history, MacDonald County postal history, McDonald Territory postal history, McDonald Territorians, rubberstamped markings, McDonald Territorial office, Battle of Noel, Great McDonald Territory War, Sons of the Union and Confederacy, land rush, Combined Union and Confederate Armies of Spring River, Cherokee Indian tribe, McDonald Territory forum, provisional government, Carthage Light Guard, General Gene Crawford, Fairfield Woods, First Carthage Volunteer Cavalry, McDonald Territory Border Patrol, McDonald Territory militia, Combined Armies of Spring River, Spring River, Elk River, Elk River Basin Improvement Association, territorial postal dispatch office, Z.L. McGowan, Dan Harmon, Bob Yocum, G. Bennett Wilson, McDonald Territory flag, McDonald Territory battle ensign, April 1961, 16 April 1961, Shadow Lake resort, Mt. Shira, Shadow Lake, Elk River Bridge, Carl Robie

The URL for this page is http://www.qsl.net/kg0yh/mcdonald.htm
NOTE: DISCLAIMER: THIS SITE IS NOT IN THE PUBLIC DOMAIN Any photographs, graphics, icons, web page devices or images used or depicted herein are either personally owned by me under license of software purchase; believed to be within the public domain; used with specific permission; obtained from a publicly-funded website or from websites that granted or of which I could reasonably understand as giving implicit permission for subsequent re-use. If you are the copyright holder of a device or photograph used herein, are aware of any copyright infringements or similar restrictions in my usage or have a concern about any of the web page devices used here, please e-mail me with full details. I will not consider such a notice "received" unless it is sent to me by electronic mail. I will remove any offending items or devices upon demonstration of valid ownership and objection. Likewise, if you are wishing to use any of the textual descriptions, photographs or cover scans that appear herein for philatelic, historical or research purposes only, common philatelic courtesy reigns and I will most likely grant specific permission if you request the same in advance. Please e-mail me with the details of your request, including intended usage. Otherwise, note that all rights are reserved, and no "public domain" status or endorsement is granted or intended by their publication on this web page in pictorial or written form. Reproduction of this web page in a "mirror" format or the exact duplication of/ copying of HTML and pictorial content herein, either in part or whole, to produce a new web page in any language, residing at a different server is prohibited.