Still Got Site
This year the site location was not determined until a short time before operating. It turned out to be in the vacant lot next to the Sheriffs department for the third year in a row.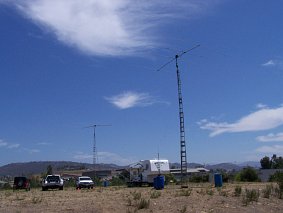 The club put together a 5f station this year. This included a GOTA (Get On The Air) station, a satellite station, 6 meters, and an assortment of HF stations with CW and SSB modes.
While setting up the site, it appeared there was a Killdeer pair nesting on the ground, and the activities kept them alert defending the nest and its 3 eggs.
The Roadkill Cafe served its usual fine fare, and the themed Atomic Cafe made its debut for those who wanted an alternative selection.
You can click on each picture to see a larger version.
Bob
KC6VDX
PARC Field Day 2007