A Site with a view
2010 Field Day was held at the hilltop home of Nash, W6HCD in Bonsall. The view from the location was spectacular. Fallbrook and Palomar were visible to the east. Vista, Carlsbad and Oceanside could be seen to the south.
The station class this year was 6E. The HF stations ran CW and SSB modes, and there was a 6 meter station working the "Magic Band". A few members tried their luck at packet on 2 meters to see what could be reached from this location.
You can click on each picture to see a larger version.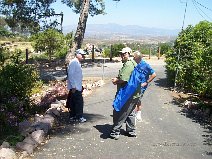 73 until next year!
Bob
KC6VDX
PARC Field Day 2010