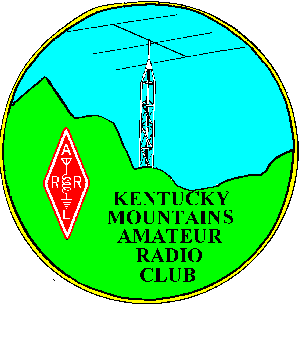 The Kentucky Mountains Amateur Radio Club
Hazard, Kentucky
President, Tim Osborne, K4TDO
V. President, Morris Caudill, WB4NZS
Sec.-Treasurer, Newsletter/Web, John Farler, K4AVX

---
THE 2003 HAZARD SWAPFEST
was held on Saturday, November 15th. at the Hazard National Guard Armory. The SE KY DX Association had a Program and Hospitality the night before.
---

THE 2002 HAZARD SWAPFEST was held on November 9th, 2002. Check out the details and pictures.

---

FIELD DAY 02 was held on June 22 and 23 this year at the Jackson National Weather Station and the Jackson Airport. There was a good turnout, with over 30 hams and and other visitors.

---
SKYWARN APPRECIATION DAY
was held in conjunction with the Jackson National Weather Service Office on Saturday, December 1, 2002. A great time and successful special events operation was held.
---
FIELD DAY 2001 was held at the Hazard Airport on route 15 north near the Breathitt Co. Line. Twenty seven area hams attended and had a great time. The score was somewhat lower than last year, but the weather was great, as was the site, and the operation had several new wrinkles. Take a look....
---

Operator of the Month features:

Check out the operator of the month, Tim Calhoun, KU4YY, May 2000.

Paul Burcham, KD4ZAO, for March 2000!!

For May, 2001, check out Philip Slone, KC4OPE.

---

Check the Field Day activities on June 24 and 24, 2000, with the Leslie Co. club at tower mountain in Leslie County. Look at the crew here, and the whole Field Day story is available.

---

The Kentucky Mountains Amateur Radio Club is an ARRL Special Services Club in Hazard, Ky., with members in Perry and surrounding counties. Special Events Stationoperations have been held in the past, with one each year at the Hazard Black Gold Festival in September. A favorite club event is Project Day, which is usually held twice a year on Saturdays.

---
The archives include The 1995 Web Pages.
---