The BUG is essentially the mechanic father of the paddle and can be compared to a paddle like an electronic keyboard can be compared to a piano. The sound of a Bug is unique, as unique is the conception of this key: this mechanical device allows speed up to 50 WPM without killing your muscles (
Glass Arm
).
A Bug is essentially an horizontal pendulum, (ARM), kept together by a
mainframe
(A) and controlled by a Damper (G).
The operator pushes the dot contact (E) and a spring counterreacts with an ad-hoc force, which in conjunction with a weight on the arm produces mechanically a series of dots. Dashes are made manually by the operator using the (B) contact.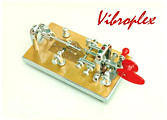 Here is the procedure I use (thanks to Claudio IK0XCB, also):
Clean contacts B, E.
Put some oil on the pivot points between (ARM) and mainframe (A).
Loosen the H spring and register C.
Tighten spring H of a couple of turns.

Tighten register D so the arm touches slightly the damper G.
Tighten of one turn and an half the spring H, check the arm to slightly touch the damper.
Comparing with a paddle and an electronic keyer, tune-up contacts C and E until the bug produces a series of dot which are identical in duration and spacing.

Tune register B until you obtain the desired distance.
Tune the dash spring J so you are able to produce a series of distinct dashes

To purchase a Bug
search on eBay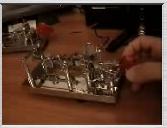 This film
(195KB, needs
Apple Quicktime
) shows an example of manipulation.
When manipulating a bug, try to stay as close as possible to the 3:1 ratio dash/dot.