The G8GTZ Amateur Radio and TV pages
Welcome to Noel - G8GTZ's - amateur radio and TV pages - yes I've updated it! My main amateur interest is microwaves and ATV. I also dabble in video editing, take pictures of steam trains, find time for a family life and am a committed Christian.
Due to loads of unwanted rubbish if you want to contact me you'll have to work it out from "my first name at my first name and sally diddly dott fishing net"!
Old photographs associated with radio - Miscellaneous collection of radio related pictures, including photos of Radio Caroline, Veronica & RNI and some very suspicious characters with 19 sets!
| | |
| --- | --- |
| | Last edited 29/01/04 |
---
QTH: Basingstoke, Hampshire, UK. Locator = IO91KF NGR = SU 600496
I operate on 23cms running 15 watts from home brew equipment into a 39 element quad loop yagi at 12 metres. I have receive and low power transmit capabilities on 13cms and could be active on 10 GHz if persuaded! 144.750Mhz is monitored when ever I am in the shack.
| | | |
| --- | --- | --- |
| The house and aerials (not fully wound up) | The shack, it's smaller than it looks here! | Close up 13 and 23 cms aerials |
(click on any of the pictures to open larger high resolution image)
Even though I am 400 feet ASL take off is not good to the south as I am at the bottom of the local hill.. I have a reasonable view East round to North.
| | |
| --- | --- |
| GB3HV in High Wycombe (30 miles - NNE) | GB3AT in Winchester (15 miles - due south ) |
---
Portable operation
As well as home operation, I can run 2mt talkback, 23cms ATV, 13cms ATV and 10 GHz ATV portable.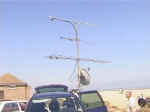 2mts talkback is either a Kenwood hand held or FT221r

23cms is Homebrew RX and Tx running 15 watts (when 12 volts = 13.8v!!) with mast head filter and preamp into a 23 element yagi.

13cms is a very long yagi with low noise down converter to UHF and only 40 mwatts at present.

10GHz is a WDG design *4 multiplier on the end of the 13cms Tx and a low noise LNB in to a 60cm offset Astra dish
---